Vegan Paella Recipe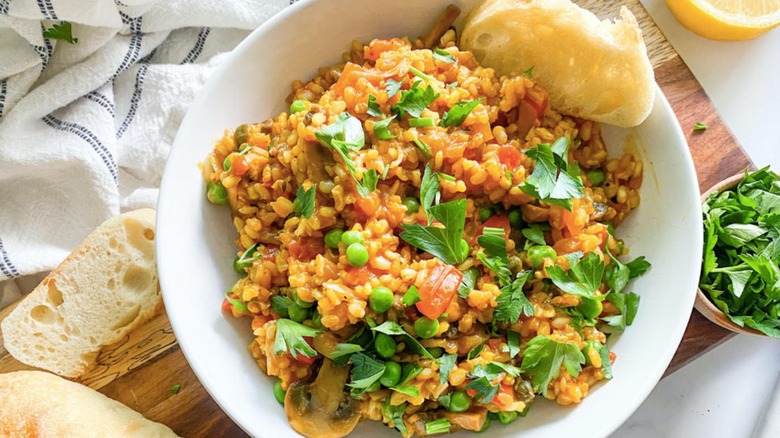 4 cups vegetable broth
½ teaspoon saffron threads
1 tablespoon oil
1 onion, chopped
1 red pepper, chopped
1 8-ounce carton mushrooms, sliced
1 cup marinated artichoke hearts, chopped
1 large tomato, diced
4 cloves garlic, crushed
2 tablespoons capers
1 teaspoon Old Bay seasoning
1 teaspoon paprika
1 teaspoon smoked paprika
1 teaspoon salt
1 teaspoon thyme
½ teaspoon cayenne pepper
½ teaspoon black pepper
1 ½ cups short grain rice
1 cup peas
Pour the broth into a medium-sized pot and add the saffron. Set to simmer.
Add the oil to a large pan or stockpot. Heat to medium-high and add the onions and red pepper. Cook for 5 minutes, then add the mushrooms and cook for 5 more minutes.
Add the artichoke hearts, tomato, garlic, capers, Old Bay, paprika, smoked paprika, salt, thyme, cayenne pepper, and black pepper. Stir to combine. Now, add the rice and stir again.
Add the broth to the other ingredients, then cover and reduce the heat to low for 45 minutes. Check to see if rice is cooked. If it needs more time, continue to cook.
Add the peas and top with parsley and lemon, if desired.