Healthy Stir Fry Recipe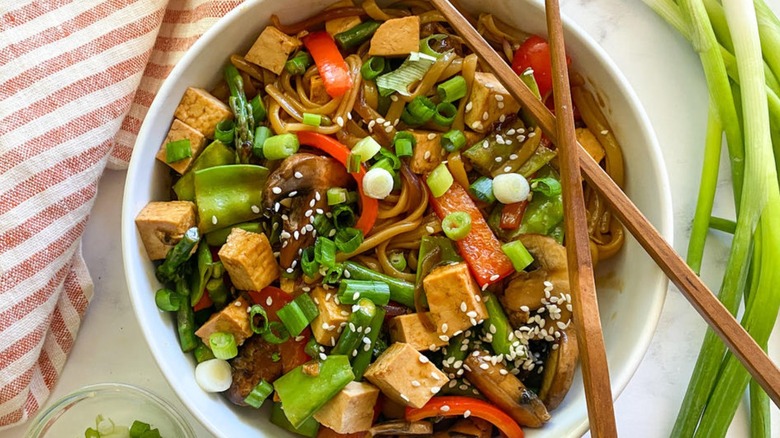 1 red bell pepper, sliced
1 bunch asparagus, chopped
1 ½ cups sliced mushrooms
1 ½ cups chopped snow peas
8 ounces rice or soba noodles
⅓ cup soy sauce
⅓ cup vegetable broth
¼ cup date syrup
2 teaspoons grated fresh ginger
2 cloves garlic, minced
1 teaspoon arrowroot powder
1 (7-ounce) package baked tofu, cubed
chopped scallions, for serving
sesame seeds, for serving
Cook the noodles according to the package directions, then drain them in a colander. Set aside.
Heat the oil in a sauté pan over medium-high. Add the vegetables and cook for 10 minutes.
In a separate pot, combine the soy sauce, broth, date syrup, ginger, garlic, and arrowroot powder. Cook on medium-low, stirring frequently, for 5 minutes or until the sauce has thickened.
Stir the noodles, sauce, and tofu into the cooked vegetables.
Serve and top the stir-fry with scallions and sesame seeds if desired.