Does CBD Help With Multiple Sclerosis Symptoms?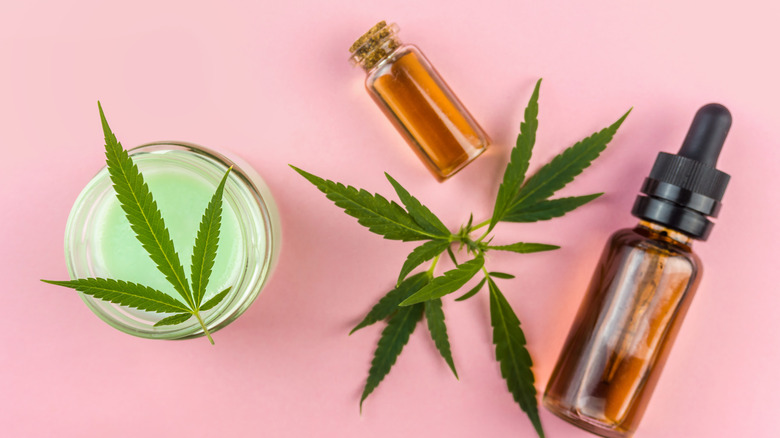 Creativan/Shutterstock
CBD is an abbreviation for cannabidiol, one of the main ingredients in marijuana or cannabis. According to a survey conducted by SingleCare in 2020, 33% of adults in America have used CBD at least once, indicating its popularity. In the United States, CBD has surpassed all other supplements in history in terms of sales increases and usage, per Mayo Clinic. But what's causing the popularity of CBD, especially since marijuana is still classified as a Schedule I substance by the U.S. Drug Enforcement Agency?
Harvard Medical School explains that CBD differs from tetrahydrocannabinol, or THC, which means it doesn't cause a "high," and it may also be a remedy for various health issues. With all these benefits, it's no surprise that the United States passed the Agriculture Improvement Act in 2018, which legalized the production of CBD derived from hemp.
Significant studies are ongoing into CBD and its ability to help with the symptoms of multiple sclerosis (MS). This long-lasting chronic disease attacks the nervous system, including the brain and spinal cord, with symptoms ranging from mobility challenges to blurred vision (via Johns Hopkins Medicine). As for whether CBD can treat MS symptoms, no concrete results are available; multiple sclerosis has different forms and the symptoms also vary, so CBD might potentially prove useful for some symptoms but not for others. It's also important to note that the U.S. Food and Drug Administration hasn't approved any CBD products for use in MS patients (per WebMD). 
How CBD may help with multiple sclerosis symptoms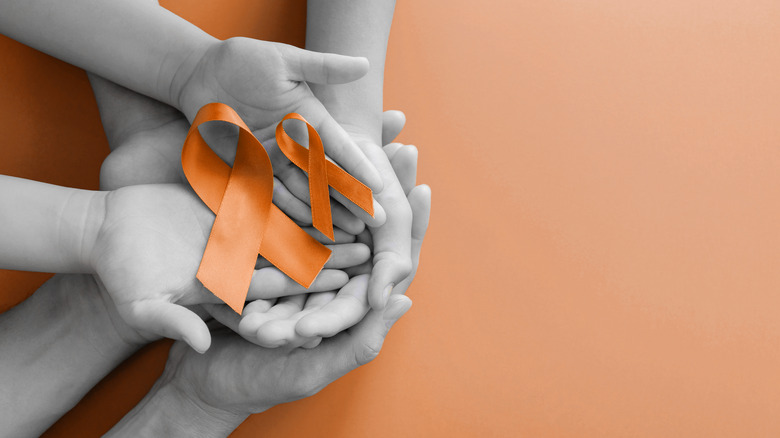 SewCream/Shutterstock
With that caveat in mind, Healthline notes that some people with MS use CBD to manage insomnia and chronic pain symptoms. The connection between cannabinoids like CBD and pain management has been known for quite some time; A 2018 study published in the journal Frontiers in Pharmacology found cannabinoids to be an effective pain management option and supports the use of medical cannabis in the treatment of chronic pain. According to WebMD, experts also believe that CBD can change how certain receptors in the central nervous system respond to stimuli, easing inflammation and helping with other MS symptoms like depression, muscle stiffness, and mobility challenges.
Despite the promise of cannabinoids like CBD for MS symptoms, the National Multiple Sclerosis Society states that it's still too early to confirm with confidence if they have any effect. The society further believes that most studies conducted into the impact of cannabinoids on MS involved relatively small units of analysis and resulted in varied outcome measures. On this same tangent, the U.S. Food and Drug Administration says that it's aware of unapproved cannabis and CBD products being used to manage MS symptoms. However, there have been no rigorous clinical trials to this effect, and the administration warns that using unapproved CBD products might lead to unintended consequences. 
What's the best way to take CBD?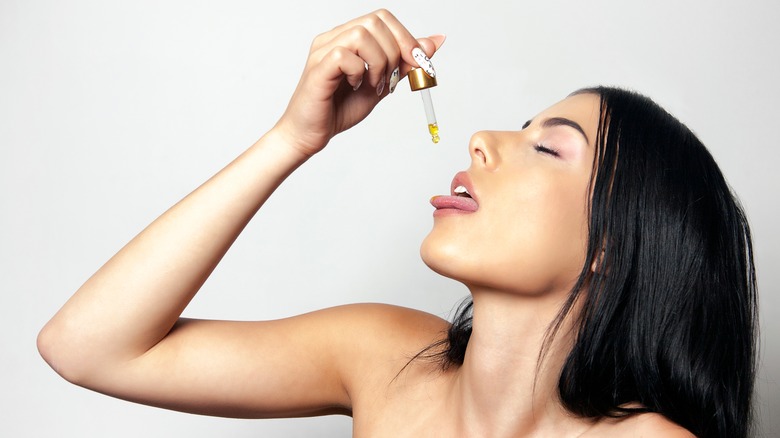 Jevgeni Mironov/Shutterstock
Various consumption methods exist for CBD; however, it would be best to speak with your doctor to understand the correct dosage and method. As a general guide, some sources advise taking CBD with food. Medline Plus notes that when taken with food, CBD might absorb faster in the body, increasing the effects of the compound. Fatty foods or drinks, such as whole milk and alcohol, might also help the body absorb more CBD, per Medline Plus.
According to Healthline, you can take CBD orally via under-the-tongue oils and tinctures. The source also mentions the use of CBD topical products like creams and other oral products like pills. However, liquids may be preferable if you have trouble swallowing pills. If you choose to consume CBD orally, try to be critical about your dose. WebMD recommends taking 300 milligrams daily for up to six months or 1,500 milligrams for up to a month.