Unexpected Benefits Of Adding Chamomile To Your Skin Care Routine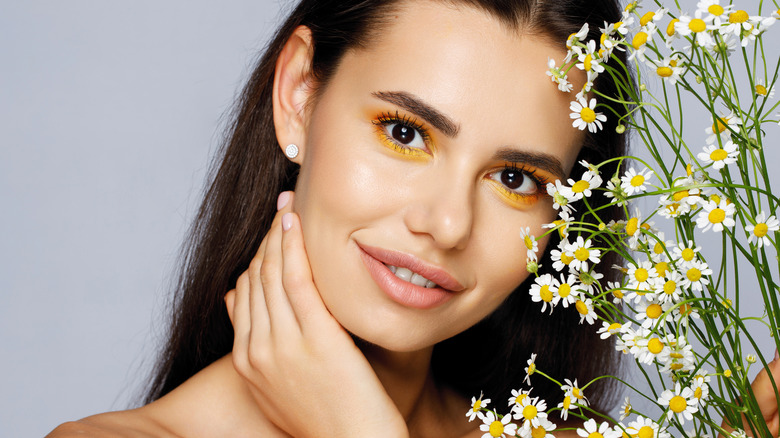 KDdesignphoto/Shutterstock
Chamomile's soothing properties have been prized as a skincare staple for many years in Greece and Egypt (via Healthline). Recent research has proven its multiple transformative properties make it a worthy addition to nearly anyone's daily skin care practice. According to eMediHealth, chamomile's potent polyphenols, phytochemicals, and other antioxidants fight free radicals that can cause oxidative stress and lead to fine lines, wrinkles, scars, and other signs of aging. Among its many uses, it can soothe irritated skin, reduce signs of aging, treat acne, and heal minor cuts and wounds.
It works as a topical application in the form of an oil or ingredient of other skin care creams and serums. But you don't have to spend a lot of money on expensive products to acquire its benefits. Drinking chamomile tea or making your own topical solutions at home, while still incorporating chamomile, can work wonders for the skin too. Here are some unexpected benefits of adding it to your skincare routine.
Chamomile can heal acne lesions, reduce redness, and fade acne scars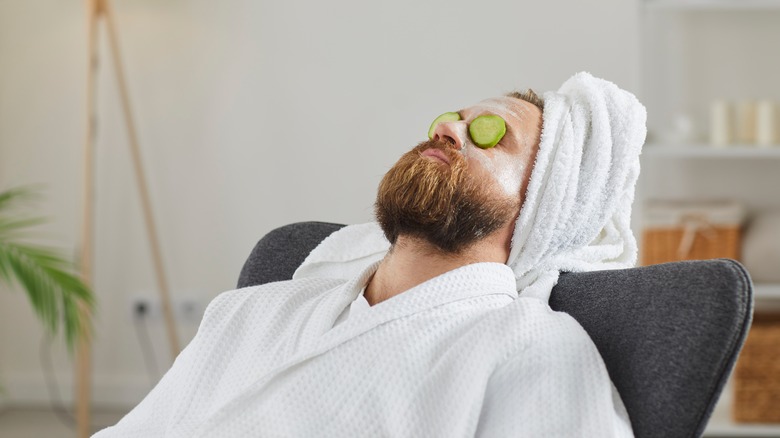 Studio Romantic/Shutterstock
While there aren't many human studies into the skin-soothing properties of chamomile, animal studies suggest using chamomile can mend, repair, and protect skin in many ways. A 2010 study in the Journal of Veterinary Science showed that German chamomile (GC) oil alleviated dry, itchy, and inflamed skin in mice with atopic dermatitis by lowering serum histamine levels. 
Another 2010 study published in Molecular Medicine Reports found the terpenoids and flavonoids in chamomile tea and other chamomile preparations can help repair your skin and hair, while the chemical chamazulene provides anti-inflammatory actions. But one of the most unexpected benefits of using chamomile in your skincare routine is how it can help with acne, as per eMediHealth. Chamomile's strong antioxidant actions and anti-inflammatory properties can help reduce redness, swelling, and tenderness, exfoliate the skin to prevent future breakouts, and even fade acne scars.
To see the unexpected benefits of chamomile for yourself, try eMediHealth's DIY recipe from home. Pour hot water over dry chamomile and let it soak for 20 minutes. Get ahold of a container and use it to strain the liquid. Mix two to three tablespoons of chamomile water with one tablespoon of honey, one egg white, and a few drops of fresh lemon juice. For a gentler mask suitable for super-sensitive skin, simply add more chamomile water. Apply to a clean face and allow to set for 15 to 20 minutes. Rinse with warm water and apply a moisturizer.