Why You Should Ask Your Pharmacy For Senior-Targeted Flu Shots If You're Over 65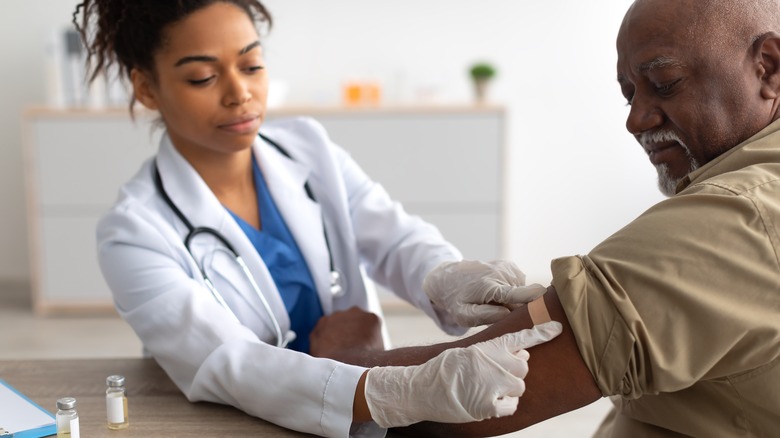 Prostock-studio/Shutterstock
With flu season fast approaching, doctors are urging Americans not to skip their annual flu shots this fall, especially those who are over the age of 65. That's because public health experts are worried that this year's flu season could be significantly more severe than it has previously been within the last two years (via Associated Press).
While very few people have gotten the flu since the start of the pandemic due to COVID-19 safety measures like masking and social distancing, the flu is expected to make a comeback this year now that those precautionary measures have ceased. Although there is no way of knowing for certain whether or not the U.S. will be hard-hit by the flu, Australia just came out of its worst flu season in years, which has caused some concern that the U.S. will follow suit. As a result, adults aged 65 and older are being urged to get extra protection against the flu by opting for high-dose flu shots instead of the standard vaccine.
Older adults are more susceptible to flu complications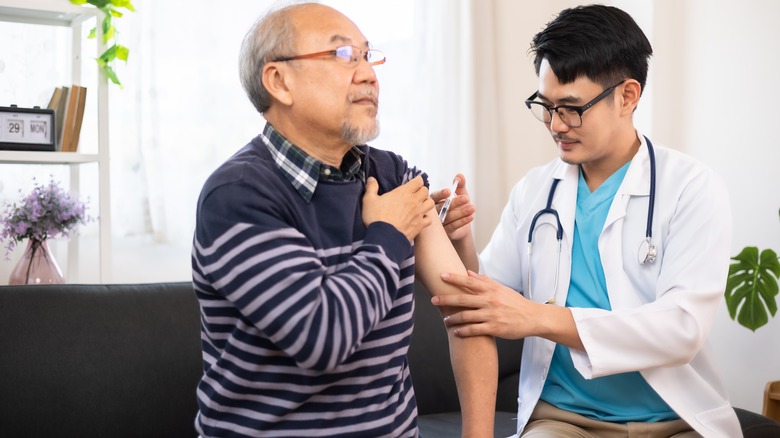 anon_tae/Shutterstock
The reason they're giving this advice is that older adults are more susceptible to experiencing complications from the flu. In fact, 70% to 85% of seasonal flu-related deaths and 50% to 70% of flu-related hospitalizations occurred in people 65 years and older, according to data from the Centers for Disease Control and Prevention (CDC). Experts at Everday Health say that this is largely due to the way older adults' immune systems tend to function.
"We know that as people age, especially in people 65 and older, their immune systems don't respond as vigorously as they did at younger ages," Dr. Paul Auwaerter, a clinical director of the division of infectious diseases at Johns Hopkins Medicine, told Everyday Health. This leaves them more vulnerable to severe illness, hospitalization, and even death. That's why experts recommend that people over the age of 65 receive high-dose flu shots. Getting any one of the three enhanced flu vaccines on the market is more effective at preventing infection than the standard-dose vaccine and can provide better protection against the flu by reducing the risk of severe illness.