Why Some US Airports Are Starting Ebola Screenings For Passengers From Uganda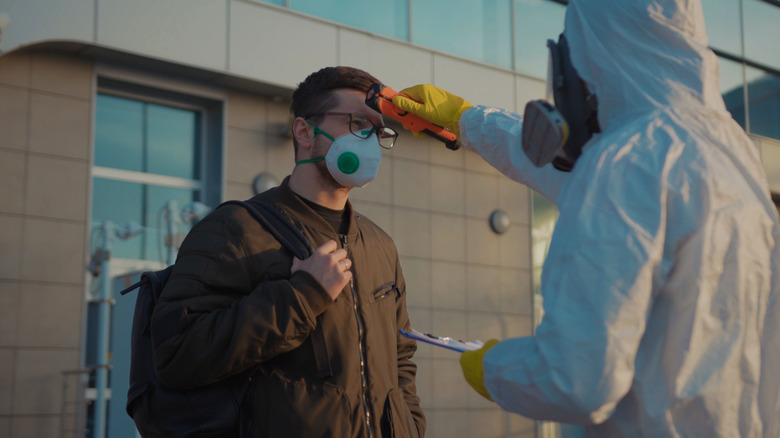 nazar kantora/Shutterstock
With most of the world still experiencing pandemic fatigue from COVID-19, Uganda is battling yet another disease head-on. According to Axios, Uganda declared an Ebola outbreak on September 20 after a case was detected. There have been 63 cases and 29 deaths reported as of October 5. Due to the severity of the disease, the United States announced that all passengers from Uganda must land at one of five airports in the country in order to be screened for Ebola before entering the country (via WebMD).
Temperature checks will be given to passengers who have been in Uganda within the last 21 days and who are arriving at JFK International Airport in New York, Washington Dulles International Airport in DC, Newark Liberty International Airport in New Jersey, Chicago O'Hare International Airport, and Hartsfield-Jackson Atlanta International Airport. Travelers will also be monitored for 21 days after their arrival by state and local health officials. This is the incubation period for the Ebola virus. No suspected or confirmed cases from this outbreak have been reported in the United States. The risk of contracting Ebola in the United States remains low.
What is Ebola?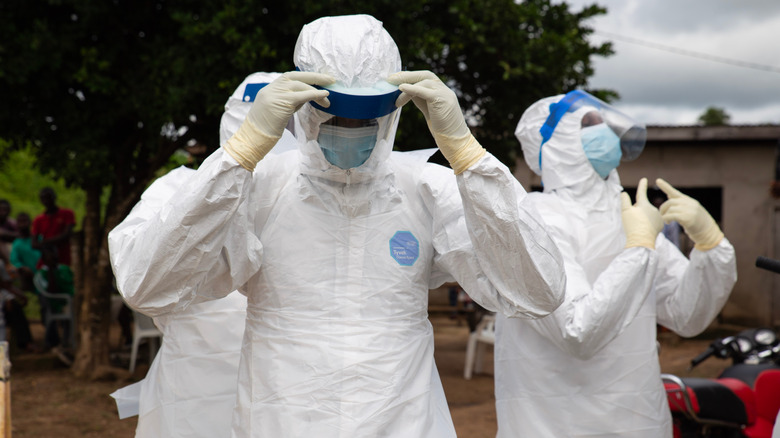 Belen B Massieu/Shutterstock
Ebola, also known as Ebola hemorrhagic fever or Ebola virus disease, is a rare and deadly disease caused by infection with one of the Ebola viruses, which are found in animals in Africa (via The CDC). People can get Ebola through contact with infected animals, such as bats or monkeys. They can also get it from contact with the body fluids of a person who is sick with or has died from Ebola. Once a person is infected, the virus can spread to other people through direct contact with the body fluids of the ill person or exposure to objects that have been contaminated with these fluids.
The Ebola virus causes severe bleeding (hemorrhage), organ failure, and often death. Symptoms include fever, headache, joint and muscle aches, weakness, diarrhea, vomiting, stomach pain, and lack of appetite (via The CDC). People may also experience rashes, red eyes, hiccups, cough, and chest pain. Ebola can only be diagnosed definitively in a laboratory through specialized tests. There is no specific treatment for Ebola. Care is focused on supporting the patient's body as it fights the virus and preventing dehydration. There are currently no licensed vaccines to prevent Ebola infection. However, there are a number of ongoing clinical trials testing different potential vaccines.