Is SUP A Good Workout?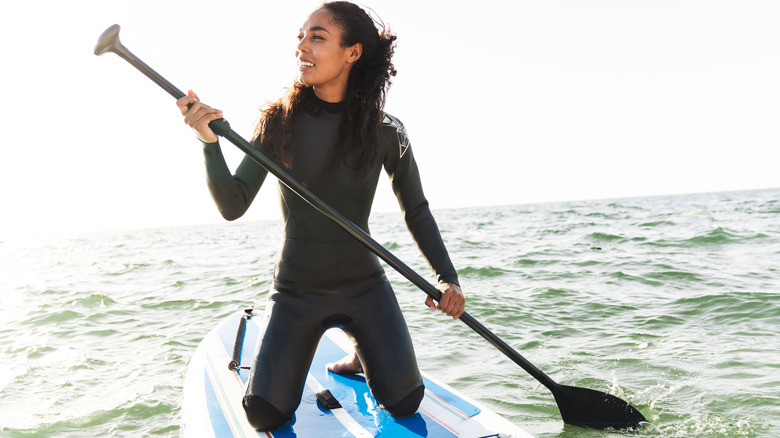 Dean Drobot/Shutterstock
Stand-up paddle boarding (SUP) is a fun water sport that's growing in popularity, as it's no longer reserved as a getaway sport at beachside hotels. Now you can sign up for SUP classes or rent a board to transverse the closest body of water to you. Depending on your cruising speed, it's possible to even burn up to 700 calories, points out Men's Journal. But how good of a workout is SUPing?
According to a case study published in the International Journal of Sports and Exercise Medicine, long-term participation in SUP has several positive physiological, psychological, and musculoskeletal effects. The researchers found that stand-up paddle boarding for 12 months can enhance body composition, aerobic fitness, and improve overall weight. What's more, the researchers found it can also increase one's quality of life and boost trunk muscle endurance.
A different study published by the American Council on Exercise (ACE) explains that SUP is a major core workout. This is because SUP recruits core muscles to help a person maintain balance while transversing (or paddling) the water, an inherently shaky platform. However, the paddling benefits are only one of the fitness perks of stand-up paddle boarding. Men's Journal explains that SUP is an excellent cross-training tool since you can choose different workouts that range from fiery ab-burning workouts to sweaty interval training.
What muscles does paddle boarding work?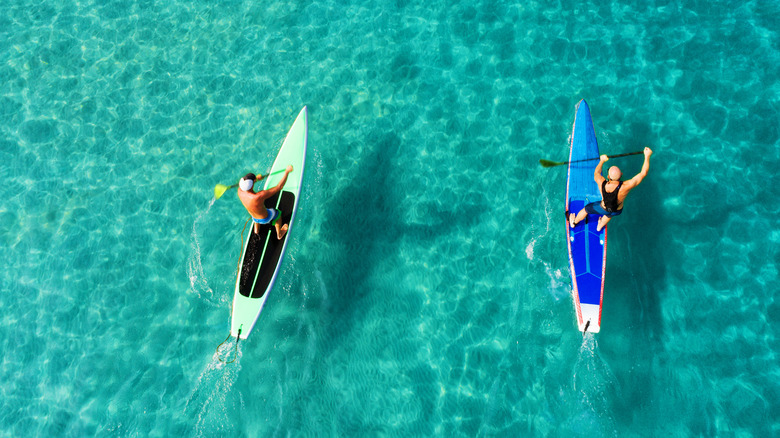 Olesya Kuprina/Shutterstock
Stand-up paddle boarding targets various muscle groups. Even "simply paddling requires lots of upper-body, leg, and core strength," points out Larry Cain, co-founder of Paddle Monster and former Olympian (via Men's Journal).
When it comes to the core, SUP targets the rectus abdominis and erector spinae muscles when paddling at a light level, explains a study published by the American Council on Exercise (ACE). The external obliques, on the other hand, are only stimulated during really heavy paddling. To really activate the external obliques, the key is to focus on the rotation and twisting when paddling. Turning the shoulders and really digging into the paddle causes the torso to rotate more, which generates more power in the stroke and better activation of the external obliques, explains John Porcari, one of the lead researchers, to ACE.
Stand-up paddle boarding also targets the back (specifically the trapezius and deltoid muscles) and shoulder muscles (per Men's Journal). These muscles are under demand during the paddle stroke, since a good stroke requires hinging, twisting, dipping, and pulling. To optimize the recruitment of these muscles, Men's Journal recommends keeping these muscles constantly engaged and prioritizing the back and core muscles to support the paddle movement. This will also take pressure off the arms.
The best exercises to do on a paddle board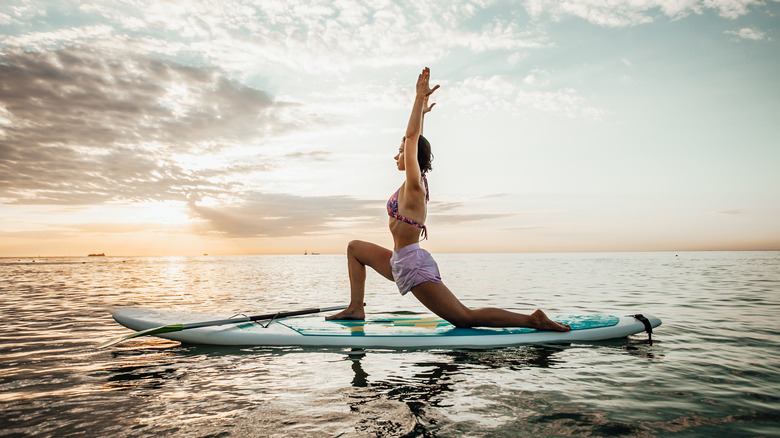 victoria karlova/Shutterstock
Believe it or not, paddling isn't the only way to get a good SUP workout in. From balancing on a SUP board during a core workout to practicing a lower-intensity yoga pose like downward dog, there are a lot of exercises SUPers can try out. For those seeking a fiery core workout, pick a few core strengthening exercises like planks, scissor kicks, mountain climbers, or Burpees, and then perform these exercises for 30 seconds (via Men's Journal). Without taking a break start paddling for up to a minute, then repeat this interval 2 or 3 times.
Yoga is another SUP-friendly exercise that offers all the same benefits as a land-based practice. However, SUP yoga offers water-specific benefits, recruiting muscles that may have been overlooked during a land-based practice, points out REI. It will also fire up the core and target those deep stabilizer muscles, explains Carly Hayden, a yoga instructor at Professional Stand-Up Paddleboard Association (via Men's Journal). Think downward dog, sun salutations, child's pose, and more.
But if you prefer to only stick with paddling, that's okay too, as paddling is a great workout for both the body and mind. For modifications, try sitting on your board for a one-sided row, per Self. This will still work the core, back, chest, and arms.