What Causes Sharp Intermittent Leg Pains?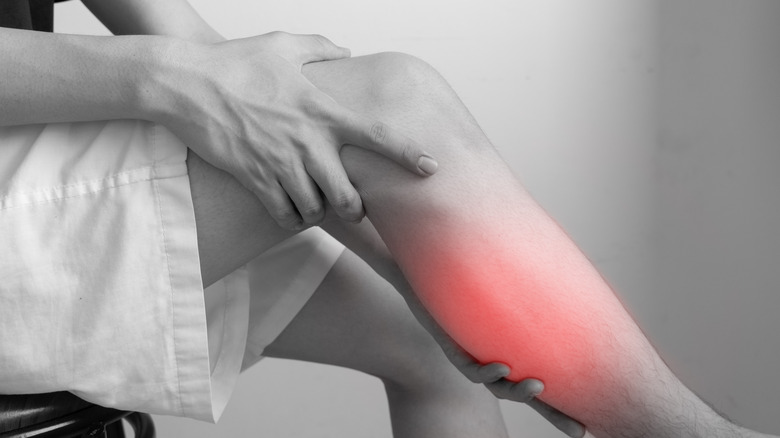 CactusG/Shutterstock
When you have pain, of course, you want it to go away, but what if you don't know what's causing it? Aside from being painful and discomforting, sudden off-and-on leg pains can even become disabling, so what could be causing these random sharp pains?
Intermittent leg pain comes on suddenly, can occur anywhere throughout the legs, and happens repeatedly, reports Medical News Today. When it strikes it can cause twitching, cramping, aching, and weakness. Keep in mind, not all intermittent leg pain should be considered an emergency. However, it may require the help of a healthcare professional to diagnose. After testing, there are a few common causes with different levels of severity that the doctor may indicate. Some intermittent pain may be related to physical injury in the ligament, muscle, or tendons of the leg. This pain may feel sudden as you try to walk or put the leg to use for activities. Repetitive motions, such as exercise, can cause chronic leg pain and may indicate more serious problems.
Compartment syndrome, for one, causes pain or numbness in your arms or legs from damage to groups of muscle tissue, reports Healthline. Likewise, enlarged calf muscles can compress the popliteal artery behind the knee, preventing blood flow and causing leg pains called popliteal artery entrapment (via Mayo Clinic). Muscle cramps, too, can cause leg pain as the muscles improperly contract (via the American Academy of Orthopaedic Surgeons). These spasms can be related to muscle fatigue, dehydration, poor conditioning, or inadequate stretching.
Leg pain may indicate other problems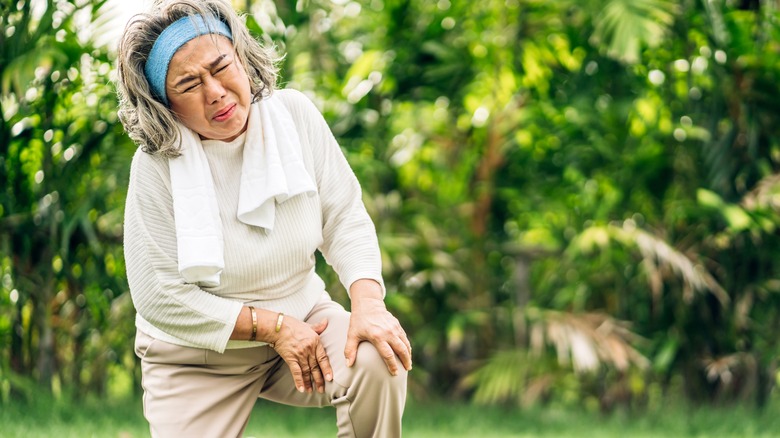 Art_Photo/Shutterstock
Some conditions that cause sudden leg pain aren't from not drinking enough water in the heat. These conditions usually result from a health issue that ends up affecting the nerves of the legs, reports Johns Hopkins Medicine. Radiculopathy occurs when a nerve in the spine is compressed or pinched and causes pain or sensations in the body, such as the legs. Pinched nerves can occur from being overweight, sitting improperly, or lifting heavy objects with poor form.
Diabetic neuropathy, on the other hand, results from long-term high blood sugar (per Mayo Clinic). The high blood sugar damages nerves and blood vessels that supply them, preventing them from signaling properly and leading to pain or tingling in the feet and legs. This condition can worsen and lead to complications, such as sudden lightheadedness, infections, and amputations. In a way, peripheral artery disease (PAD) is similar, as it is caused by the narrowing of arteries and is common in those with Type 2 diabetes (via Healthline). The buildup of plaque in the blood vessels stops the blood from flowing properly to your extremities, including your legs, causing numbness and pain. This restriction of blood can occur in any artery so it puts you at risk for stroke and heart attack. Lastly, a rare condition that affects blood flow and can cause leg pain is adventitial cystic disease, where a cyst builds until it presses on the artery behind the knee and causes pain (per Cleveland Clinic).