The Downsides Of Using Telehealth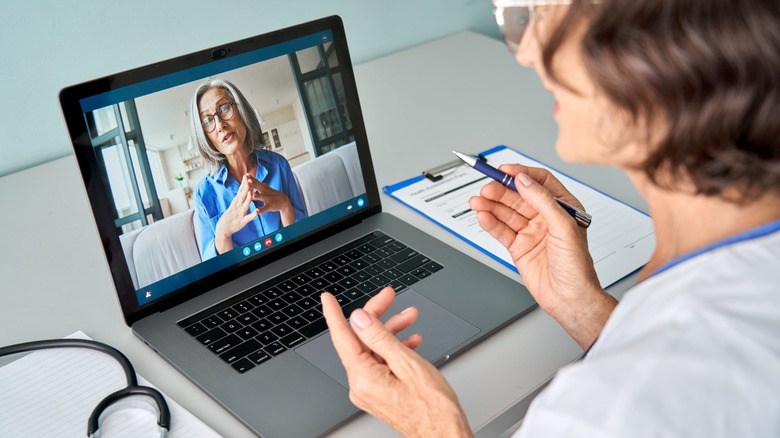 Ground Picture/Shutterstock
The coronavirus pandemic has had lasting effects on the daily life activities of many Americans. As we faced a worldwide shutdown, companies boarded up their physical offices and many switched to a virtual world. From workouts to dinner dates and even therapy services, society began to witness the advantages and disadvantages of the virtual world.
Much like many services, health care needs did not cease simply due to the inability of individuals to travel to their doctors or physicians. To help prevent the continued spread of COVID-19, instead of offering in-office visits, many physicians and medical clinics began offering telehealth services.
Telehealth is a term that is used to describe the exchange of health information through audio and video communications, according to an article in The Journal for Nurse Practitioners. Telehealth is a term that also encompasses telemedicine, which refers specifically to clinical services. However, these two terms are often used interchangeably. While many people believe that telehealth is a relatively new option for health care, in reality, these practices have been available in some form since the 1940s, when telephone lines were used to transmit radiology images between two towns in Pennsylvania (via eVisit).
Though there are some advantages to telehealth or telemedicine services, there can also be a number of drawbacks that come with choosing this health care option.
Advantages of telehealth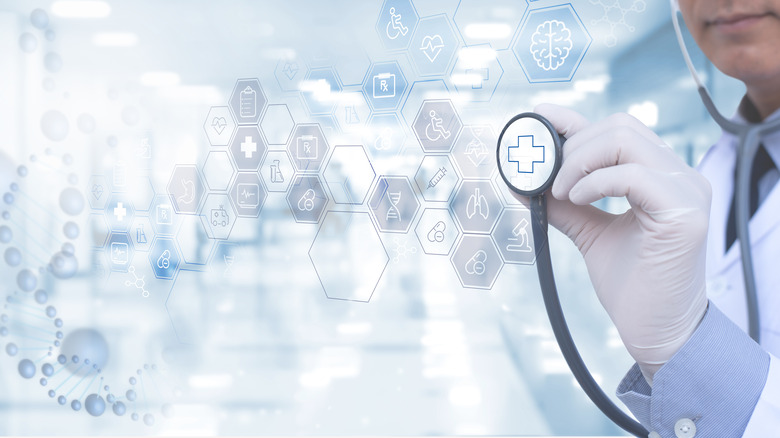 TippaPatt/Shutterstock
Telehealth options have continued to advance along with technology, providing more and more service availability for patients. In fact, telehealth services have seen a surge in usage, with reports showing that 76% of hospitals in the United States are now offering telehealth services. This is an increase from the 35% reported only 10 years earlier, according to Harvard Health Publishing. Part of this growth can be attributed to the increased usage of smartphones by patients.
The advantages offered by telehealth can include reduced cost, ease of use, and the overall convenience offered by the ability to connect with a doctor without leaving the house. According to Harvard Health Publishing, these were some of the reasons believed to be contributing to the increased popularity of telehealth services. During the COVID-19 pandemic, these virtual services offered individuals the ability to remotely connect with doctors to provide vital statistics, discuss health updates, establish a need to visit a hospital, schedule other medical procedures, and more. Telehealth services allowed individuals to continue receiving their needed health care without increasing the risk of exposure to the virus (via The Journal for Nurse Practitioners).
Yet, as with many things, there are some downsides to using telehealth services.
Disadvantages of telehealth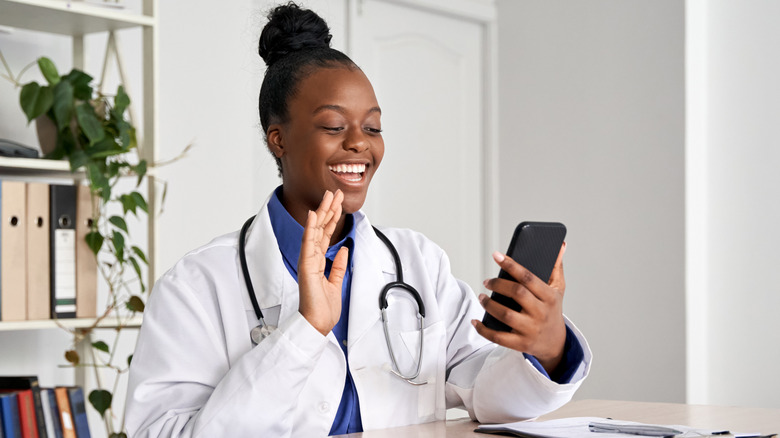 Ground Picture/Shutterstock
While telehealth services can offer cost-saving opportunities and access to a doctor for those who live in more rural or remote areas, there are also some limitations and downsides to the service. Healthline explains that while telehealth services are increasing amongst providers, access can still be limited as providers may need to have specific equipment that is needed to offer such appointments. Another limitation comes down to the type of services that can be offered via telehealth appointments. For example, while things like test results, consultations, and sharing images can be done electronically for telehealth services, appointments that require lab work, new imaging or testing, and other physical processes cannot be performed virtually (via Harvard Health Publishing).
Another concern for telehealth services comes down to the security and privacy of medical information shared during these appointments. The Journal for Nurse Practitioners explains that while most telehealth services are required to have high security measures in place, no virtual platform is 100% secure from hackers or other malicious internet attacks.
In addition to being limited for services, telehealth appointments may also be rejected by your health care insurance provider, according to Harvard Health Publishing. While more and more insurance companies are making allowances for telehealth services, some stipulations may need to be met by the patient, provider, or both before insurance companies will foot the bill for the cost of services.