A Plastic Surgeon Offers Important Considerations Before 'Bundling Procedures'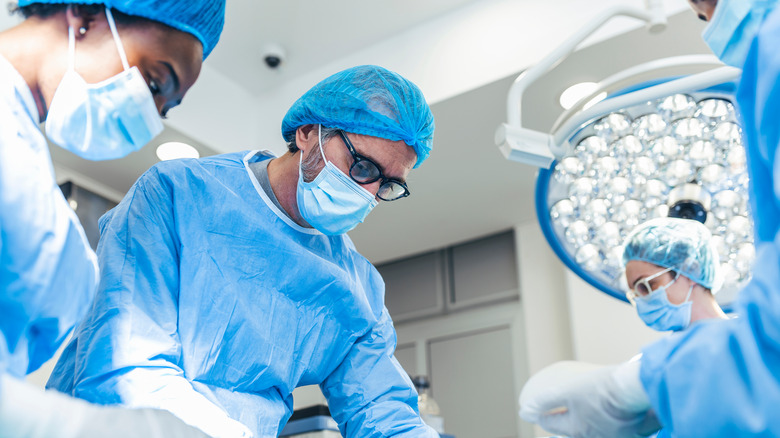 Photoroyalty/Shutterstock
The demand for plastic surgery and cosmetic procedures in the U.S. has skyrocketed since the start of the pandemic. According to a survey from the American Society of Plastic Surgeons, around three-fourths of plastic surgery clinics have seen a sharp increase in demand for cosmetic surgical procedures compared to pre-pandemic levels, with nearly 30% of plastic surgeons saying that their business has either doubled or more than doubled in the past year (via Healthline).
The survey also found that the majority of this business is coming from women between the ages of 31 and 45. Some of the most popular procedures include tummy tucks, liposuction, and breast augmentation, as well as fillers and Brazilian butt lifts. In fact, many patients are getting multiple procedures, especially when it comes to their face, waist, and butt. In an exclusive interview with Health Digest, Dr. Richard Westreich, a facial plastic surgeon at New Face NY, tells us about a new plastic surgery trend and explains all of the potential safety risks.
What is plastic surgery bundling?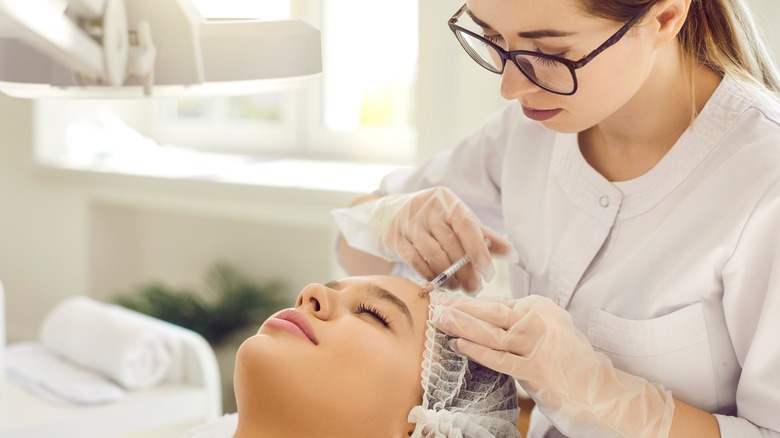 Studio Romantic/Shutterstock
According to Dr. Westreich, plastic surgery bundling is a recent trend that involves bundling multiple cosmetic procedures into one surgical appointment. For many patients, the main goals of this trend are to save money, reduce the amount of time spent in the operating room, and decrease the overall post-surgery recovery time. "When you have a surgery, there is a lot of time devoted to getting prepared, going under anesthesia, and waking up, as well as time in the recovery room," Dr. Westreich says. "In total, this can be as much as 1.5 to 2 hours, which can be several thousands of dollars for anesthesia and facility and has nothing to do with the surgeon's fee." 
In addition, the recovery time of many surgical procedures can last at least a week. As result, Dr. Westreich says that it makes more sense to endure one recovery period instead of having to recover more than once from several different procedures.
Which procedures should not be bundled?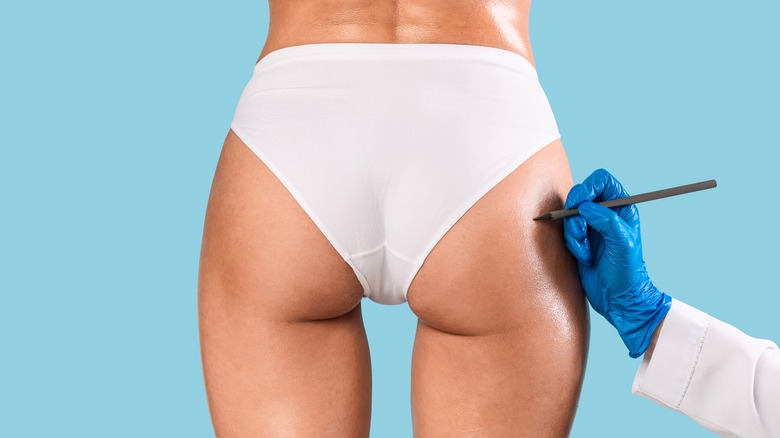 Prostock-studio/Shutterstock
Not every cosmetic procedure should be bundled, however. For instance, certain procedures cannot be done all at once due to positioning issues. "When a patient needs to be prone (lying face down), sometimes you cannot bundle a procedure where the patient is supine (lying on their back)," Dr. Westreich explains. "The issue is whether the fresh operative site can tolerate pressure after that portion of the procedure is complete." As a result, it's best not to bundle a Brazilian butt lift and any facial procedure, like a rhinoplasty, chin implant, or brow lift.
While it may be possible to bundle a butt lift and a facelift, Dr. Westreich says that most healthcare providers would not recommend doing both of these procedures at the same time. In addition, some procedures may have conflicting aftercare routines or are simply not feasible due to technical reasons. For example, you can't bundle a brow lift and a hair transplant because there is too much going on in one particular area of the body, which can potentially reduce the success of each separate surgical procedure.
Which procedures are safe to bundle?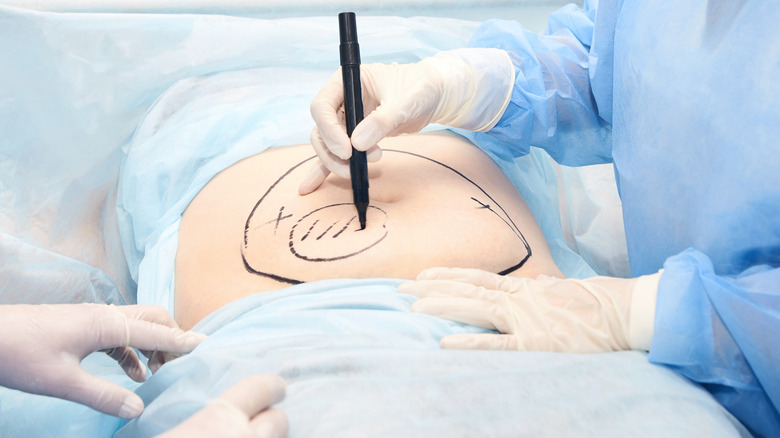 elenavolf/Shutterstock
As it turns out, however, most cosmetic procedures can be bundled if there are no major positioning, technical, or aftercare issues. "Many patients will have some combination of rhinoplasty, blepharoplasty, brow lift, facelift, [and] chin implants," Dr. Westreich shares. "Many facial patients can simultaneously have breast augmentation and abdominal liposuction or a tummy tuck." According to Dr. Westreich, one type of bundling procedure, known as the "classic mommy makeover," involves an eye lift, tummy tuck, jawline definition, and sometimes a breast lift.
These surgeries are safe to perform at the same time because the surgical sites are far away enough from each other and all occur on one side of the body. Generally speaking, however, most elective procedures, including bundling procedures, should be kept to a maximum of 6 to 8 hours in the operating room. That's because surgeries with longer operating times are associated with an increased risk of surgical complications.
Questions to ask your doctor about the safety of bundling procedures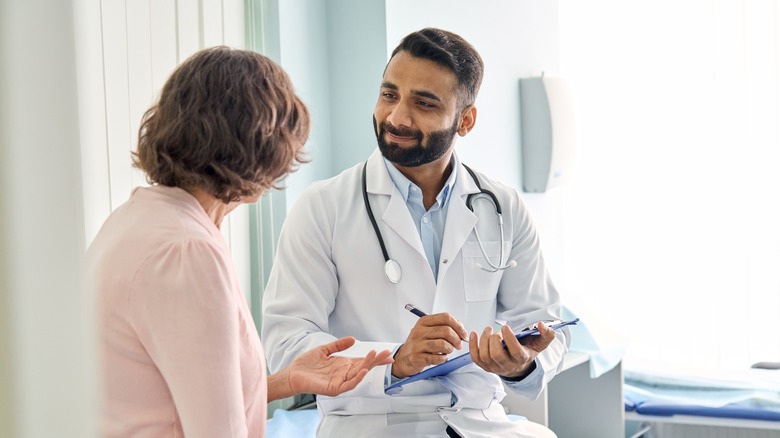 Ground Picture/Shutterstock
At the end of the day, safety is not much of an issue when it comes to plastic surgery bundling. If any issues do arise, however, they will be addressed by your surgeon. In the meantime, Dr. Westreich encourages patients to ask their physicians about different aspects of the surgery and recovery period. "Patients should confirm safety by asking about aftercare conflicts, length of procedure, and technical conflicts in the operating room," Dr. Westreich shares. "Examples of aftercare issues are positioning (whether you can lie on your back or front), ambulating (whether you are allowed to walk around or should be walking early), and bathing restrictions." 
Self-care is another important part of the aftercare routine. Depending on the procedure, patients may want to have a nurse around to help them recover for the first day or two after surgery. Since relying on friends and family members can sometimes be burdensome, Dr. Westreich recommends that patients have a nurse with them for at least the first night.
To learn more about Dr. Richard Westreich, go to Newfaceny.com or visit @newfaceny on Instagram and TikTok.