Can You Exercise While Breastfeeding?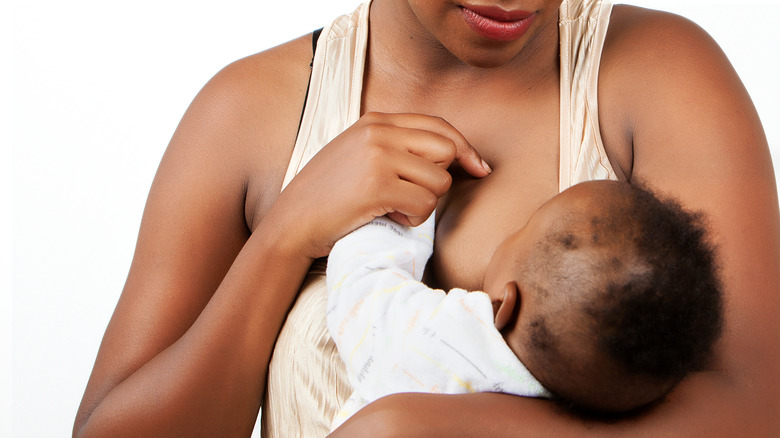 Kingspirit Image Room/Shutterstock
During pregnancy, research has shown that exercise has many benefits. The American College of Obstetricians and Gynecologists (ACOG) states that some of these benefits include reducing aches and pains related to the growing baby, soothing constipation, ensuring a healthy amount of weight is gained throughout the pregnancy, and even minimizing certain risks that come up during this period, such as gestational diabetes and preeclampsia.
While exercise is well and good during pregnancy, it's important to do so safely. Prenatal and postpartum fitness expert Brooke Cates told Healthline, "While the majority of exercises can be continued throughout each trimester, modifying and scaling back where needed can help increase the strength, stability, and physical adaptability as your body changes." As a general rule, you'll want to discuss your specific needs with your doctor before starting or continuing an exercise regimen.
Even after giving birth, exercise is incredibly beneficial. The ACOG points out that keeping up with regular exercise during the postpartum period and beyond (and once you feel ready and well to do so) is important for a number of reasons, including relieving stress, facilitating quality sleep, and reducing the risk of developing post-partum depression. They recommend around 150 minutes of moderate-intensity aerobic activity on a weekly basis. If you're breastfeeding, you may be wondering if these guidelines extend to you as well. Here's what we know.
Exercise while breastfeeding is safe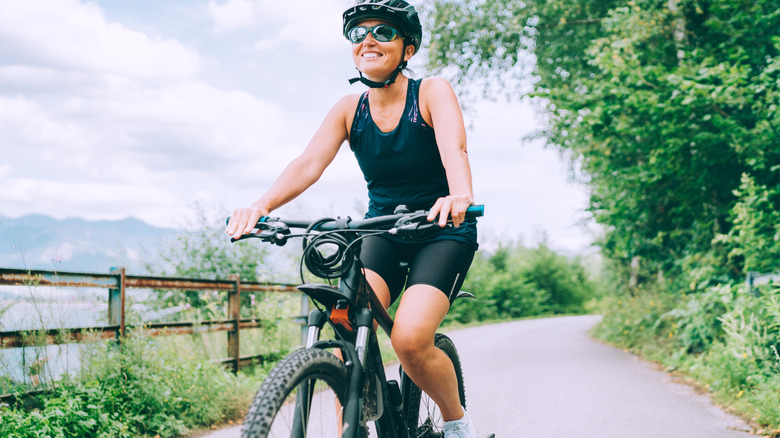 Soloviova Liudmyla/Shutterstock
You may be relieved to learn that you can safely continue exercising into the postpartum period if you're breastfeeding. The Australian Breastfeeding Association explains that one of the primary preoccupations around exercising while breastfeeding has to do with a lactic acid build-up in the body and whether it can get into the milk and cause harm to the baby. Lactic acid is naturally produced during exercise as a way to fuel working muscles, but it also serves other purposes even when aerobic activity is not taking place, as per Medical News Today. The Australian Breastfeeding Association specifies that as long as exercise is moderate in intensity, lactic acid does not pose a risk to the composition of the breastmilk or the baby. Additionally, exercise won't negatively affect the other important components of breastmilk, such as immune factors, nutrient makeup, and mineral constitution. That being said, the association recommends ensuring that you have established your breastfeeding relationship with your baby before jumping into your exercise routine after giving birth.
Luckily, La Leche League International provides some tips on exercising while breastfeeding. For starters, you'll want to wear a supportive sports bra that fits correctly and always have water on hand during and after your workout to rehydrate (WebMD specifies that you should be taking in 128 ounces of water every day while breastfeeding). You should also take things slowly and opt for mild aerobic exercises, such as walking (via La Leche League International).