What It Means When Your Alkaline Phosphatase Is High
Choksawatdikorn/Shutterstock
Enzymes are proteins that facilitate various chemical reactions in the body, from breaking down big molecules to helping smaller ones form bigger structures (via WebMD). Alkaline phosphatase is one such enzyme, and it can be found in numerous parts of your body, including your liver, digestive system, kidneys, and bones. According to a 2022 review published in StatPearls, more than 80% of the alkaline phosphatase found in the serum in your blood is released from the liver and bone and sometimes, from the intestines in smaller amounts. However, the precise physiological function of alkaline phosphatase remains largely unknown.
Doctors assess your alkaline phosphatase level with an alkaline phosphatase (ALP) blood test. According to the Cleveland Clinic, ALP tests are usually part of blood tests known as the liver panel (HFP or LFT) or the comprehensive metabolic panel (CMP). 
Your test may produce a normal, high, or low ALP count. The normal levels vary based on age and sex and might also vary from one lab to another, says Cleveland Clinic. As a guide, the clinic says the range is usually between 44 and 147 international units per liter (IU/L).  If you've recently had the test, you might wonder what it means when your alkaline phosphatase is high. Keep reading as we delve into the possible reasons.
Causes for high alkaline phosphatase levels in the blood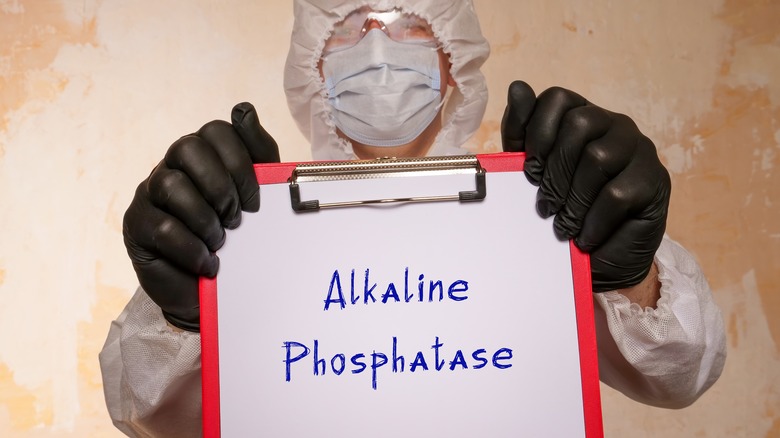 Yuriy K/Shutterstock
A high alkaline phosphatase level can be linked to various medical conditions. According to a 2022 review published in StatPearls, people with AIDS usually have high ALP levels caused by infections such as cytomegalovirus and cryptosporidiosis. Some other conditions associated with high alkaline phosphatase levels include Hodgkin lymphoma, myeloid metaplasia, and osteomyelitis, says the review.
A 2021 study published in the Journal of Bone Oncology found that serum ALP levels in women with breast cancer increase significantly as cancer progresses. This might be due to cancer metastasizing to the bone, as explained by the study. High ALP levels can also occur in people without underlying illnesses. According to Medical News Today, you can also have high ALP levels if you're malnourished. Other factors that can cause high ALP levels include age, pregnancy, and blood type. People with O and B blood types may experience high intestinal ALP levels after eating fatty meals, says Medical News Today. Generally speaking, food may influence your ALP levels — hence the reason why you are sometimes required to fast for six to 12 hours before the test, says Medline Plus.
The importance of the alkaline phosphatase test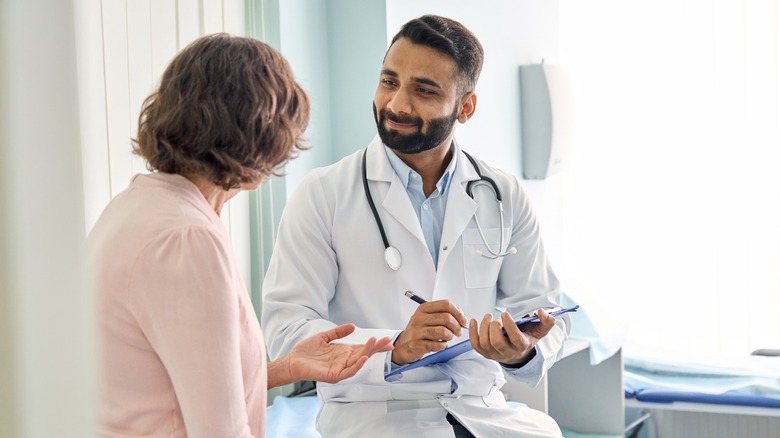 Ground Picture/Shutterstock
This test can help your doctor understand the type or severity of a condition depending on how high or low your ALP level is. According to Healthline, doctors usually check ALP levels when conducting liver function and gallbladder tests to understand how well those organs work.
In such patients, the ALP test can help confirm symptoms or conditions like liver scarring or cirrhosis and blockage of bile ducts caused by inflammation or cancer. You might also need an ALP test if you are taking acetaminophen or Tylenol since such medications are linked to liver damage.
Various other conditions like hepatitis can cause your ALP levels to rise beyond normal, per the University of Rochester Medical Center (URMC). The same applies to bone disorders such as Paget disease, healing fractures, and high bone growth in children. Your doctor may advise you to take this test if you start to experience symptoms of these conditions, especially pain in your bones, inflammation, and arthritis in your joints (via Medline Plus).