Things You Can Do To Avoid Eczema Flare-Ups, According To A Skincare Expert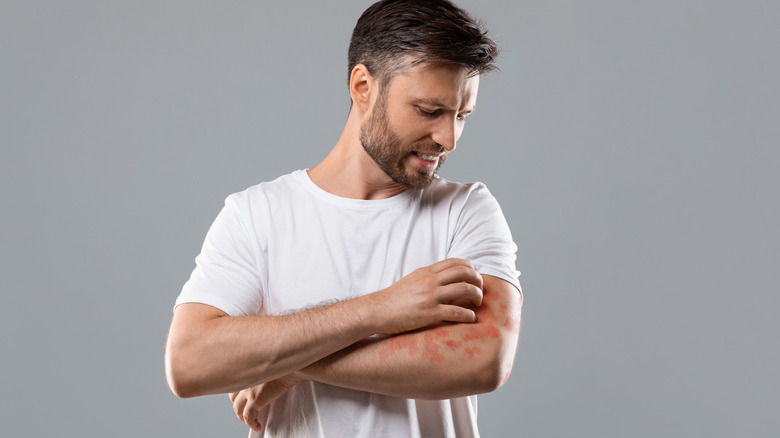 Prostock-studio/Shutterstock
Eczema is a condition recognized by the itchy, bumpy, red patches it leaves on your skin. It can occur almost anywhere, and can become infected if it isn't treated, per Cleveland Clinic. If you have eczema, then you know that flare-ups are common and the most important step is treating them before they progress. To prevent a flare-up, it's important to take good care of your skin, as well as to identify irritants that commonly trigger your symptoms and do your best to avoid or limit exposure to them.
Carlene Higgins and Jill Dunn, hosts of the "Breaking Beauty" podcast, spoke with skincare expert Kate Somerville on the December 7, 2022 episode of their podcast about what she does to avoid eczema flare-ups. She explains that not everyone's the same, and what works for her might not work for someone else. That said, she follows a certain protocol when her skin shows signs of becoming irritated.
Food, clothing, and tender loving care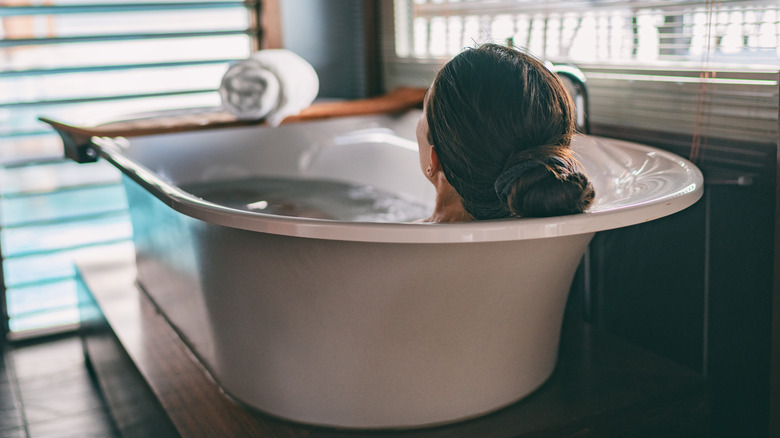 Maridav/Shutterstock
"I have to watch what I eat," Somerville says. The esthetician notes that if she's eating a lot of spaghetti, wheat, or anything acidic like tomatoes, she might start to have a flare-up, adding that when she went on diets that didn't have a lot of wheat and sugar, her eczema went into remission.
Other self-care treatments include giving her skin extra attention. "I can't wear anything like wool ... tags bug me, it has to be soft," she said of clothing. "I have to take a bath twice a day because I have to soak my skin for at least 10-15 minutes. As soon as I get out of the bath, I pat dry, I do not scrub my skin. I do not use any soaps or detergents on my skin," she says. She adds that immediately after bathing, she applies Curel to her skin. Somerville also recommends that listeners with eczema try her product line DeliKate, which contains ceramides and peptides to help combat redness.