Horseback Riding May Be The Ultimate Exercise For Those With Multiple Sclerosis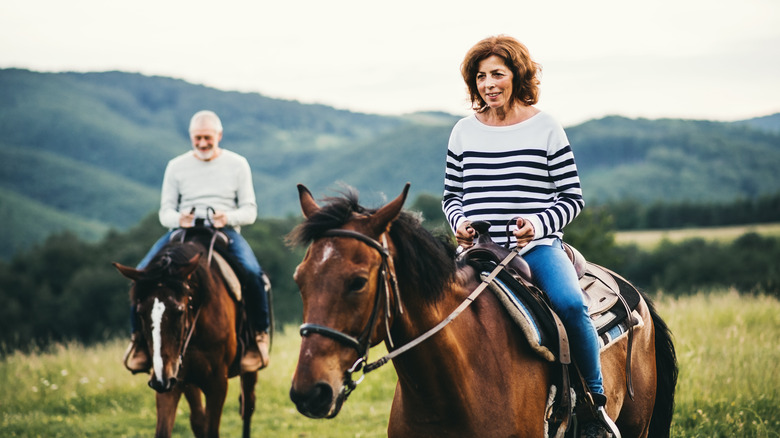 Ground Picture/Shutterstock
If you've ever spent any quality time with a horse, you know what unique creatures they are. Horses are so beloved that horseback riding was integrated into therapy because horses are believed to provide therapeutic benefits. For example, caring for animals and horseback riding is thought to relieve stress and lower blood pressure (per WebMD). According to The Anxiety Treatment Center, engaging in activities with horses appears to provide healing benefits for many medical conditions, including anxiety, depression, cerebral palsy, dementia, and traumatic brain injury.
Due to their intuitive nature, horses are able to mirror human emotions, which allows them to help people identify their own emotions and cope with any psychological issues or past traumatic events (per Psychology Today). Therapy with horses can help an individual build trust because they learn to trust the horse and to trust themselves, as reported in Psychology Today. Additionally, horseback riding can help someone become more mindful and connected to nature while also increasing levels of self-esteem.
Keeping in mind the many benefits of horseback riding, we can look at what advantages the activity may have for individuals with multiple sclerosis. As explained by MS Society, multiple sclerosis impacts the brain and spinal cord by altering the way chemical messengers in the brain communicate with the rest of the body, which can affect someone's balance, vision, memory, and emotional well-being. Can horseback riding be as therapeutic for individuals struggling with multiple sclerosis as it has been found to be with other conditions?
How does horseback riding help individuals with multiple sclerosis?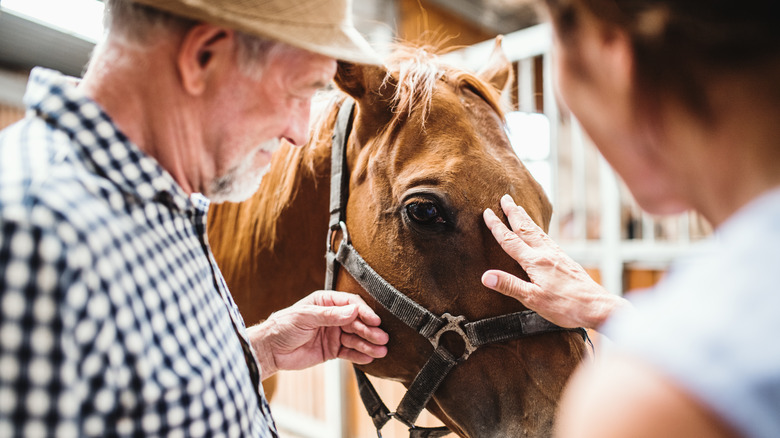 Ground Picture/Shutterstock
The benefits of horseback riding are undeniable, so how can the activity help people with multiple sclerosis? Hippotherapy, translating to "horse" and "treatment" in Greek, uses the movements and gait of a horse as a therapeutic method that combines physical, occupational, and speech therapy for individuals with multiple sclerosis, as explained in a 2015 article published in Northern Clinics of Istanbul. 
Hippotherapy can regulate muscle tone by reducing spasticity, controlling breathing, and improving balance and coordination, according to a 2018 study conducted in Germany and published in the Multiple Sclerosis Journal. In the study, 70 participants with multiple sclerosis were divided into an intervention group that received hippotherapy in addition to their previous therapy, and a control group that did not receive hippotherapy and only participated in their previous therapy. Many of the participants who received hippotherapy reported positive improvements following their sessions, and one woman said that she found her balance improved so much she could climb the stairs again (per Healthline).
Individuals with multiple sclerosis struggling with their balance and coordination may benefit from receiving therapeutic horseback riding treatments (via Horseplay Therapeutic Riding Center). However, therapeutic horseback riding may not be appropriate if the activity exacerbates symptoms or causes tremors. When considering if the treatment is right for you, it's important to choose a reliable program, have a physical therapy evaluation, and keep track of symptoms.