Health Expert Shares How Much You Should Work Out Each Week For Longevity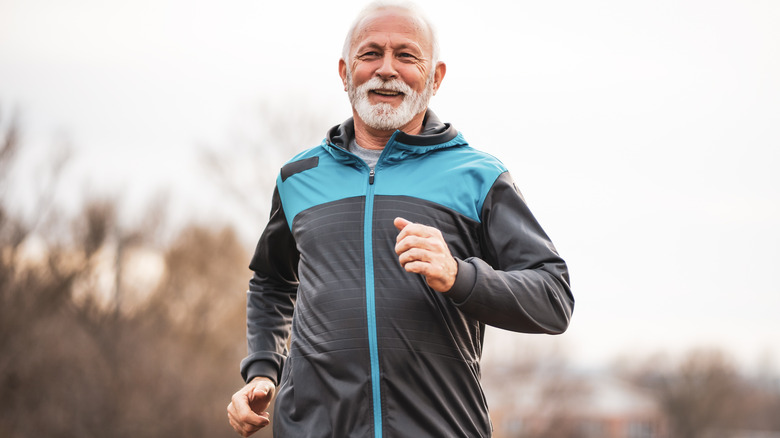 Mladen Mitrinovic/Shutterstock
Aging can be an intimidating part of life. In fact, roughly 87% of Americans reported having a fear of aging in a survey conducted by Harris Poll and Pfizer. While it's impossible to escape aging, we can take steps to increase our chances of living a long and prosperous life. To learn more about how, Health Digest interviewed Carol Espel, MS, and Director of Fitness at Pritikin Longevity Center, about how people of any age can increase their longevity through exercise. 
In discussing aging, we often hear the term longevity, but what does it actually mean? "Longevity typically refers to one's lifespan," Espel explains. "We know that most adults after reaching 65 are living well-beyond past predicted levels." Between the periods of 1900 and 2013, life expectancy increased by over 30 years, from 47 to 79 years old (per Penn Wharton, University of Pennsylvania). Espel explained what she believed to be behind this change. "While aging is certainly part of life, new science, research and technologies have identified several factors that can directly influence how we age and potentially slow the aging process," she told us. 
We all want to increase our lifespan so we can create new memories and spend more time on this Earth with our loved ones. Espel believes that making sure to move your body is a key component to increasing one's lifespan. "Our lifespan or "health" span is positively impacted with regular exercise and physical activity," she shared.
Which exercises increase longevity?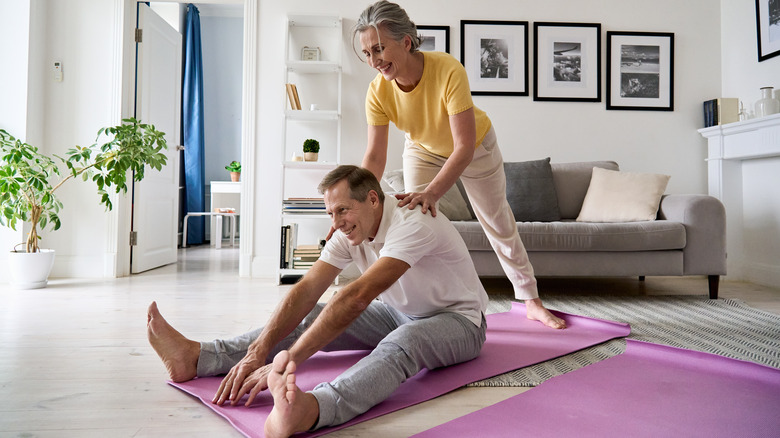 Ground Picture/Shutterstock
Figuring out which exercises promote a longer lifespan is the next step to creating a healthy exercise routine. To begin, Espel listed a number of fun cardio exercises that boost longevity. "Activities like walking, biking, dancing, [and] swimming are all good choices," she noted.
According to Espel, muscle-strengthening activities also appear to prevent many effects of aging. "They've been shown to fend off age-related loss of muscle mass associated with declining strength, bone health, poor resilience, increased body fat, and often, cognitive decline," she told us. 
What exercises can you try to strengthen your muscles? "Exercises like squats, lunges, dips, pushups, pull-ups, and bench presses are great choices and sometimes don't require much more than using one's own body weight." Espel shared. "The most effective strength training programs tend to be those that focus on large, multi-joint, compound exercise that target many muscle groups, especially the hips and thighs." For added strength and endurance, Pilates, some types of yoga, and body conditioning classes are also useful.
Choosing exercises where one can practice flexibility is essential for safety, said Espel. "As we age, joints and muscles become shortened and stiff and more prone to injury and pain," she pointed out. "Flexibility exercises improve balance which decreases [the] risk of falling and injury." Additionally, it's important that the exercise you choose is enjoyable and inspiring. "Success comes when the exercise choices include enjoyable and purposeful programs with manageable and sustainable goals that address one's lifestyle," Espel reiterated. 
How much should you exercise to promote longevity?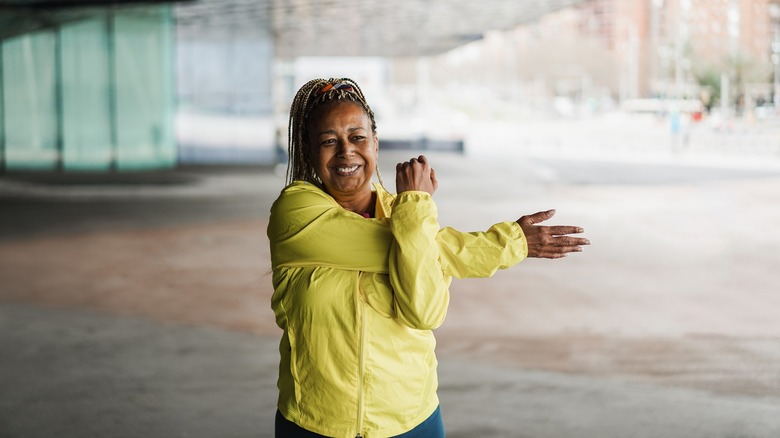 DisobeyArt/Shutterstock
Now that we know which exercises can increase our longevity, we can figure out how often to do them. Espel explains that cardio exercises should be done regularly. "Regular moderate cardio activity of about 150 minutes a week (about 25-30 minutes most days of the week) are best for sustaining cardiovascular health, weight management and avoiding a myriad of health-related diseases." In addition, she shared that strength-training programs should be practiced 2-3 times a week for 10-60 minutes, per the American College of Sports Medicine. 
When considering exercises, we sometimes forget about the benefits of simply stretching. "Regular stretching 10-30 minutes daily also improves posture to help reduce low back pain, chest tightness and hunching over," Espel told us. "Other benefits include the development and maintenance of strength, improved range of motion and freedom of movement without pain, increased circulation, and blood flow, all of which will provide a greater quality of life and healthy aging."
Despite the benefits of exercise, many people feel a lack of motivation to exercise that may only intensify with age. Espel notes that anyone can begin to exercise whenever they're ready. "It's never too late to get started," she says. "Studies document time and time again that people who are overweight or who have been inactive for years can increase their life expectancy by adding moderate physical activity to their routine."
You can learn more about Carol Espel by visiting the Pritikin Longevity Center website.