Could The End Of The US Flu Surge Be Near?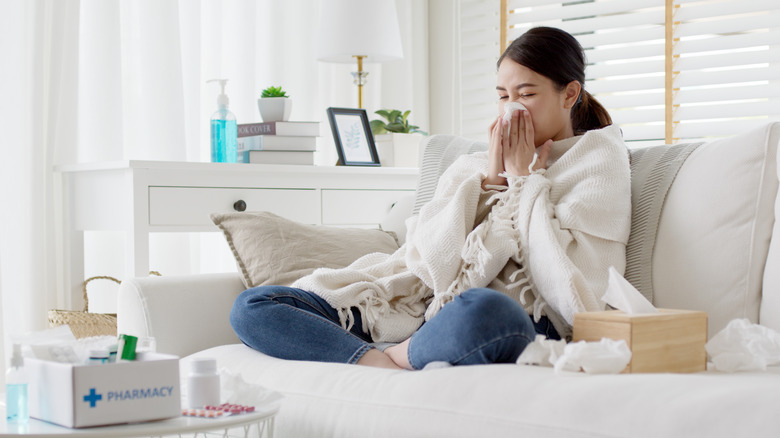 Chaay_Tee/Shutterstock
Everyone seems to be getting sick with something these days, and winter is notorious for being a time of contracting all sorts of viruses. We hear about the importance of getting our flu shots, but what is influenza exactly? Influenza, or the flu, is a respiratory disease caused by influenza viruses and can be spread from person to person, the Centers for Disease Control and Prevention (CDC) says. It's believed that the flu spreads through droplets released during coughing, sneezing, and talking. A runny nose, sore throat, chills, headaches, muscle and body aches, and sometimes fever are some typical flu symptoms.
Earlier this year, experts predicted a "tripledemic" this winter, consisting of respiratory syncytial virus (RSV), influenza, and COVID-19, according to UC Davis Health. According to their predictions, the increase may be partly due to a decrease in mask-wearing and social distancing practices compared to last winter. In the Southern Hemisphere, there was an increase in influenza rates during their winter this year. In Australia, for example, the rate of influenza was three times higher than normal.
As predicted, rates of influenza have increased in the U.S. as winter rolled in. It was reported by the CDC on November 26th that flu activity in the United States was high and was expected to continue increasing. Many people are eager to know when the influenza surge will end, whether rates are still rising, and if there is an end in sight as winter nears its peak.
Are flu rates on the decline?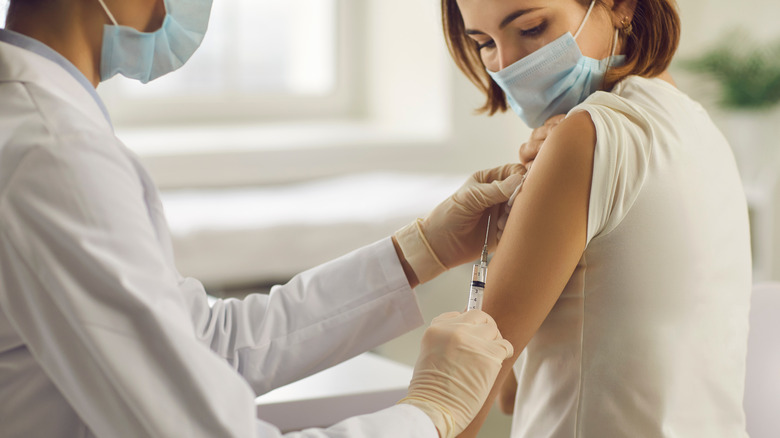 Studio Romantic/Shutterstock
Just a few weeks ago, there seemed to be no end in sight as influenza cases throughout the entire country appeared to be on the rise. In general, flu activity is still increasing across the country, but most areas have seen a decline as of December 17th, as reported by the Centers for Disease Control and Prevention (CDC). According to data provided by the CDC, flu cases are still very high in the areas of New York City, Maine, Colorado, Nebraska, and New Mexico. However, in the states of New Hampshire, Alaska, South Dakota, and Minnesota, influenza rates are low to moderate. Moreover, flu-related hospital admissions declined nationwide compared to the previous week for the second consecutive week.
Although there appears to have been a decrease in flu cases in some areas, it might be wise to remain cautiously optimistic as the CDC reports that there have been a staggering 18 million illnesses, 190,000 hospitalizations, and 12,000 deaths as a result of the flu so far this season. Furthermore, the number of occupied beds in hospitals is near record levels, with 77% of beds being used for patients with influenza and other respiratory illnesses, including RSV and COVID-19 (per CNN). The CDC recommends that everyone over 6 months receive their flu vaccination to avoid contracting influenza during this holiday season.