Study Finds How A New COVID-19 Antiviral May Be On Its Way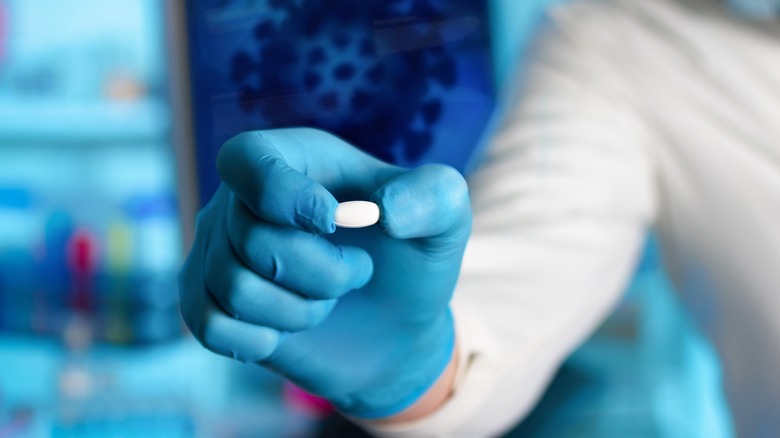 angellodeco/Shutterstock
Scientists have been working hard since the beginning of the COVID-19 pandemic trying to understand the SARS-CoV-2 virus. In particular, researchers have been experimenting with antiviral medications in order to determine the most effective treatment for people who contract the disease. The purpose of antiviral medications is to reduce infection symptoms and minimize the duration of illness (per Cleveland Clinic)
When you think of antiviral treatments for COVID-19, you probably think of Paxlovid. The antiviral pill has been considered by experts as a possible preventive measure against COVID-19 infection and hospitalizations for high-risk patients, according to Yale Medicine. According to a 2022 study published in The New England Journal of Medicine, Paxlovid reduced the risk of hospitalization and death among unvaccinated people by 89%. 
While the efficacy rate of Paxlovid has certainly given it its popularity, you may be surprised to know it's not the only antiviral being investigated for the treatment of COVID-19. Although researchers have also experimented with Lagevrio, it appears this antiviral medication has a lower efficacy rate than Paxlovid (per AMA). When implementing Lagevrio in clinical trials, all-cause hospitalizations or deaths were reduced by approximately 30% when compared to a placebo group, according to the Administration for Strategic Preparedness & Response.
Remdesivir is currently the only antiviral medication approved by the Food and Drug Administration to treat COVID-19, according to the National Institutes of Health, while Paxlovid, Lagevrio, and high-titer COVID-19 convalescent plasma have received Emergency Use Authorizations (EUAs). However, recent research suggests that these may not be the only effective treatments available, as a new antiviral has shown promise.
Is a new COVID-19 antiviral medication coming?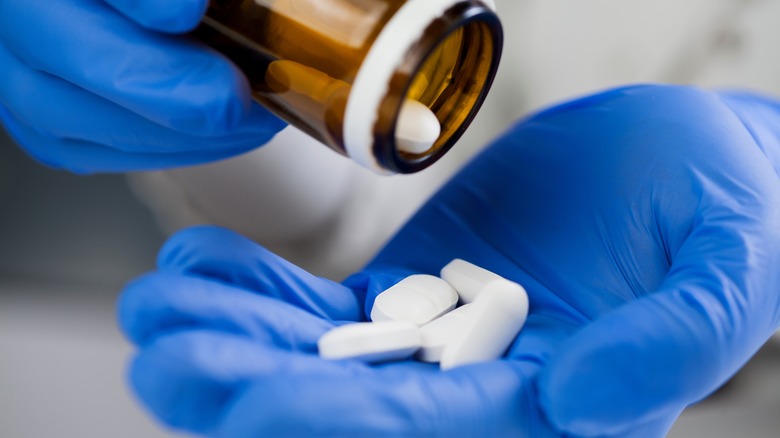 Cryptographer/Shutterstock
The effectiveness of a new antiviral medication called VV116 was put to the test in a 2022 study published in The New England Journal of Medicine. According to a study conducted in China, treatment with the newer pill appeared to have fewer side effects than treatment with Paxlovid. Specifically, 67% of participants who took VV116 reported having adverse side effects compared to 77% of those who took Paxlovid. Furthermore, the results suggested that VV116 was comparable to, or better than, Paxlovid in terms of sustained symptom resolution.
A reduction in side effects related to interactions with other medications — including those for insomnia, seizures, and high blood pressure – was observed in those who received the VV116 treatment (per NBC News). Because of the antiviral's lack of inhibition of major drug-metabolizing enzymes or major drug transporters, drug-drug interactions may be less likely with VV116, the study explains. Alternatively, Paxlovid is associated with having negative interactions with many other medications, as displayed in a table provided by Michigan Medicine.
The researchers believe that this study is just the beginning of expanding upon the currently available COVID-19 treatment options. "We are continuing to invest in the clinical development of VV116 for use in other populations, with the goal of providing better and safer treatment options for COVID-19 patients in China and around the world with this exciting new therapy," Jianjun Zou, Global Research and Development President at Junshi Biosciences, shared in a press release of the study (per BioSpace).