Why TikTok Users Are Advocating For Pain Medications During IUD Placements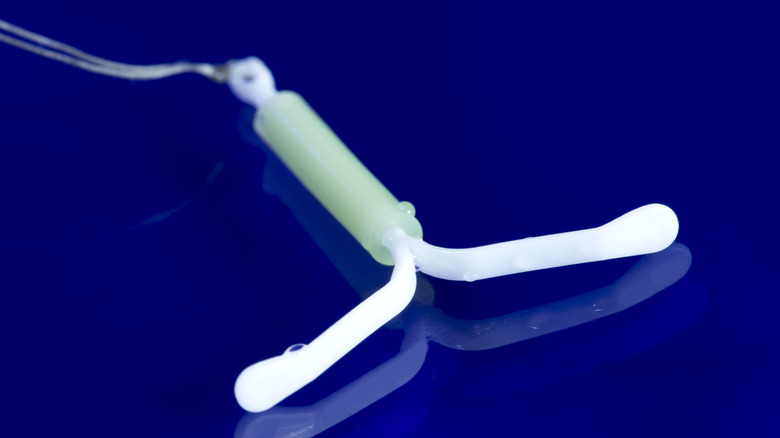 Beate Panosch/Shutterstock
An intrauterine device, more commonly known as an IUD, is a type of birth control that prevents pregnancy over the long term. It's comprised of a small plastic device placed inside the uterus, where it stays for several years — the exact amount of time depends on the specific contraption and the wishes of the individual, as per Planned Parenthood. The presence of the device inside the uterus blocks sperm from making its way up into the fallopian tubes and fertilizing an egg during ovulation. Hormones incorporated into the IUD also prevent eggs from being released, making it more challenging for sperm to enter the uterus through the cervix by augmenting the amount of mucus protecting the opening.
The process of inserting an IUD into the uterus is typically done in a doctor's office without any type of anesthesia (per WebMD). You'll simply lie on the exam table with your legs spread while a doctor opens the vaginal canal with a speculum. They will then place the IUD into an applicator tube and slide it into the uterus via the cervix to release the device. The entire process only takes a few minutes but can be painful for some. You may also feel some cramping following the procedure that can be alleviated with over-the-counter pain relievers.
Given the potentially painful nature of IUD insertion, some people have begun speaking out on TikTok, advocating for pain management during the procedure.
TikTok users call IUD insertion 'traumatizing'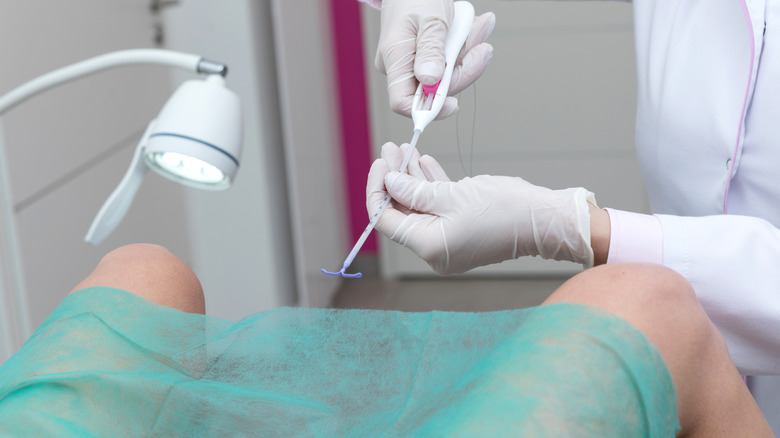 WiP-Studio/Shutterstock
In order to comment on the pain associated with IUD insertions, Dr. Kunal Sood, who works at the National Spine & Pain Centers in Maryland, utilized his TikTok account. In a duet with another user, who demonstrates how an insertion is carried out on a model, Dr. Sood called out the procedure for not being as straightforward and painless as it's touted to be, referring to it as "fairly invasive." He added, "A clamp is used to stabilize the cervix, and a cervix does have nerve endings." The doctor then went on to explain how doctors could incorporate pain management into the procedure, stating "There is research, which shows a paracervical block with local anesthesia could dramatically reduce your pain."
In the comments section of Dr. Sood's video, many fellow users shared their own experiences with pain and discomfort during an IUD insertion. One wrote, "Literally traumatizing," while another commented, "I passed out and threw up on the table. YES, this needs anesthesia."
In addition, OBGYN Dr. Shannon M. Clark also posted a clip about it. She told her followers that doctors are taught that the cervix doesn't have nerve endings and that patients are just being "dramatic" if they claim to feel pain. She emphasized, "There are many options for pain control," following up with written text outlining these options. Dr. Clark concluded her video with a call to action for OBGYNs to acknowledge and address the problem.