Is Huel Safe For Weight Loss?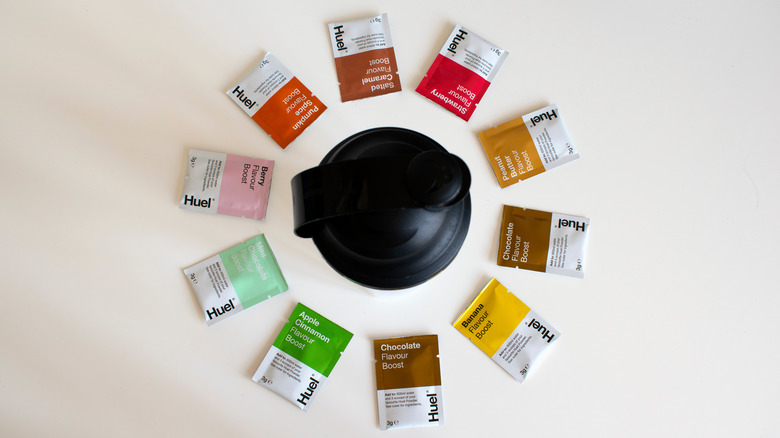 Lisa_A/Shutterstock
There is an unfortunate amount of weight loss gimmicks out there, and some methods can be downright dangerous. It is therefore extremely important to research the reliability and safety of a method before trying it. If you've researched weight loss methods yourself, you may have come across a company by the name of Huel. Huel advertises its products as a "no-prep meal that doesn't compromise your health." 
Huel offers a variety of products, such as protein bars, ready-to-drink meals in a bottle, and powdered meals. Compared to other diet shakes and protein powders, its products contain nourishing ingredients like oats, rice, flaxseed, and coconut oil. It claims that the products have several benefits, such as providing the body with protein, essential fats, carbohydrates, fiber, and 27 essential vitamins and minerals. In addition, Huel has vegan and plant-based products, and they can save you time on meal preparation. 
The objective of Huel products is to fulfill all of the nutritional requirements of the body. Many people replace their breakfasts and lunches with Huel products, according to Healthline. There are 400 calories in Huel shakes, powders, and meals, and 200 calories in its nutrition bars. The potential benefits of Huel sound great on the surface, but are the products safe to consume if you're looking to lose weight? Let's dive in to what experts have to say about the safety of this popular weight loss method. 
How safe are Huel products for weight loss?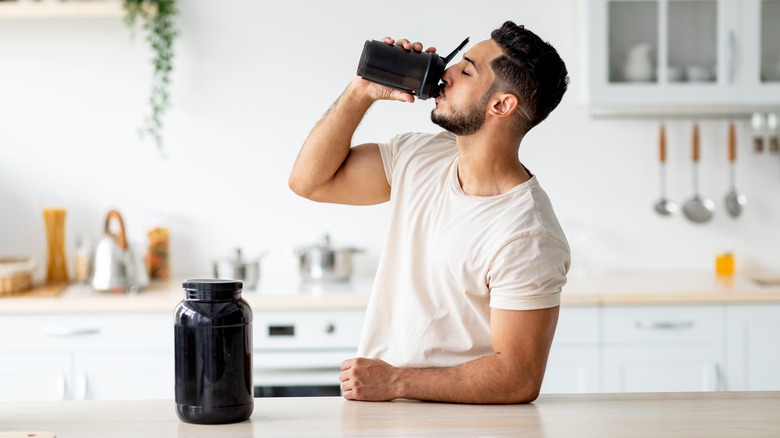 Prostock-studio/Shutterstock
Could Huel products be a worthwhile investment, or should you keep looking for a different way to lose weight? When there isn't time for a full meal, Huel products are a quick, effective way of giving your body nutrients, according to registered dietitian Helen Gardiner (per Cosmopolitan). In addition, they may be more nutritious than snack foods high in fat, sugar, and salt. However, the dietitian doesn't endorse long-term use of Huel products, as they contain high amounts of omega-3 that may exacerbate pre-existing health problems. Some users of the products have reported negative side effects like stomach pains, flatulence, and heartburn in online Huel forums. Others have reported positive effects, like clearer skin. According to Gardiner, Huel products may be beneficial for those looking to try a vegan diet since they contain protein, vitamin D, and vitamin B.
Researchers have begun experimenting with Huel to determine whether the products are as nutritious as advertised. Over the course of four weeks, participants consumed only Huel powder in a 2022 study published in Frontiers in Nutrition. Measurements of waist circumference, body composition, and body mass index were taken in order to determine the micronutrients and energy intake of each participant. It was found that energy intake decreased, and the decreased intake appeared to improve body weight and iron intake. However, it's possible that reduced energy intake may also limit sufficient nutrient consumption.