How To Treat A Bartholin Cyst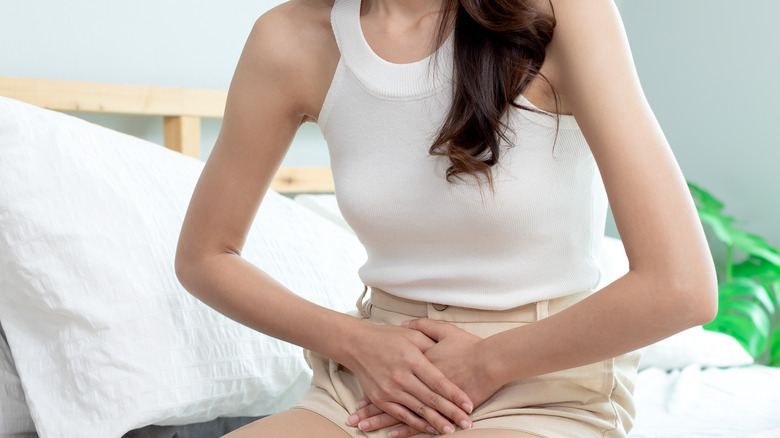 Planter Studio/Shutterstock
Noticing a bump within your vaginal area might set off alarm bells, which is completely understandable given the sensitivity of that area of your body. If you find a single fluid-filled bump in that region, chances are that it's a Bartholin cyst and you're in the clear of anything more serious. According to Cleveland Clinic, a Bartholin cyst, otherwise called a vulvar cyst, can form on either side of the vaginal lips, officially called the labia. However, the location of the Bartholin glands near the opening to the vagina can make the cysts appear scarier than they actually are. The Bartholin glands are located on either side of the labia as part of the female reproductive system, and when one or both of the glands become blocked then fluid-filled bumps can form.
While the ducts of the Bartholin glands can become blocked due to some sexually transmitted infections (STIs), like chlamydia and gonorrhea, they can also become blocked due to other reasons unrelated to any form of STI. Many times, a Bartholin cyst goes unnoticed until a regular women's health exam, but it can also grow larger in size and cause discomfort when sitting, having sex, moving around, or using the bathroom, as per the National Health Service (NHS). If you find a Bartholin cyst that appears soft in texture and remains painless, it's unlikely to be cause for concern. However, if you discover a Bartholin cyst that's inflamed, painful, or discharging pus, then you should seek medical attention.
Treatment options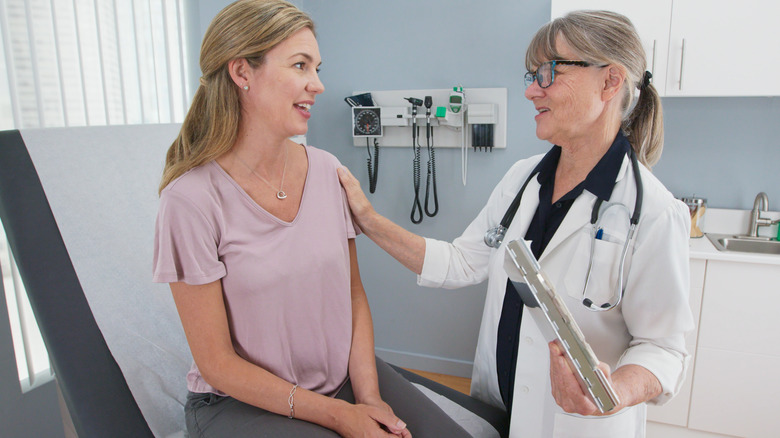 Rocketclips, Inc./Shutterstock
A Bartholin cyst that remains small, soft, and pain-free will usually resolve on its own, and its presence may never be realized (via Cleveland Clinic). Many Bartholin cysts only last a few weeks, and if there isn't a sign of infection, such as pus or thick discharge, the recommended course of treatment is usually the management of symptoms through the use of over-the-counter (OTC) pain relievers. For Bartholin cysts that cause pain, especially when sitting, you can utilize a sitz bath to relieve inflammation and reduce pain. For a sitz bath, sit in a tub of warm water approximately three to four inches deep and allow the water to provide relief. A sitz bath can be repeated for several days.
Should a Bartholin cyst become bothersome, the first step is to make an appointment with your doctor to have it checked out. If the cyst is infected, then your doctor may prescribe antibiotics to fight off the root cause of the infection. An infected Bartholin cyst may also have a sample taken to be tested for the presence of a sexually transmitted disease (STD). In the event of a large or severely infected Bartholin cyst, surgical draining might be required, which is typically performed with the use of either local anesthesia or a form of sedation, per Mayo Clinic. For Bartholin cysts that become recurrent, a treatment called marsupialization may be performed to create a permanent opening in the Bartholin gland that allows for future recurrences to drain.