What It Means If You Dream Of Someone Dying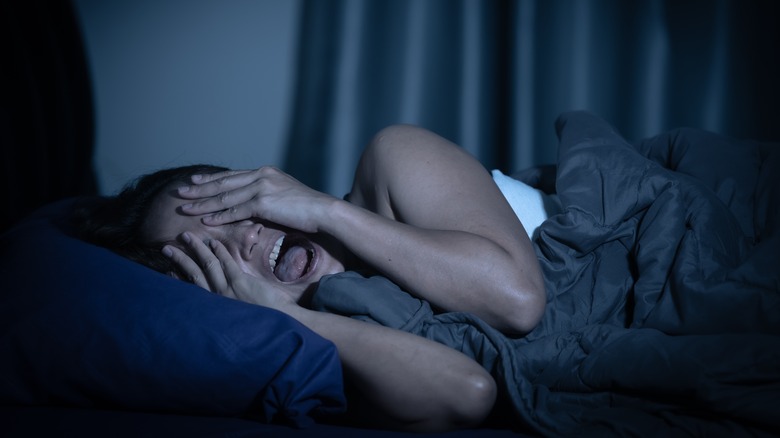 kittirat roekburi/Shutterstock
There's nothing like a nightmare to scare the daylights out of you and make it difficult to get back to sleep, leaving you exhausted the next day. Having a dream where you see someone dying can be particularly disturbing. You could even be afraid of the dream being a bad omen in your life, but there are more likely reasons for your dream that don't have to do with psychic abilities. 
Some explanations for why you may have a dream about someone dying include dealing with stress, grief, trauma, anxiety, or being exposed to death-related content, as described by Choosing Therapy. For example, watching something related to death during the day could increase the possibility of dreaming about someone dying. Although much is yet to be known about dreaming, it's believed that dreams can reflect your thoughts and events that occurred throughout the day, according to Healthline.
Worrying about a loved one's health can also contribute to dreams of someone dying. People who have experienced their loved ones struggling with an illness and those who have aging parents may be more likely to dream of death. 
General anxiety can also contribute to disturbing dreams. A 2018 study published in Scientific Reports examined the relationship between peace of mind and dream content. The research suggested that individuals with more anxiety and less peace of mind may have more nightmares. On the other hand, individuals with more peace of mind may be more likely to have positive dream content.
Dreams about someone dying can be symbolic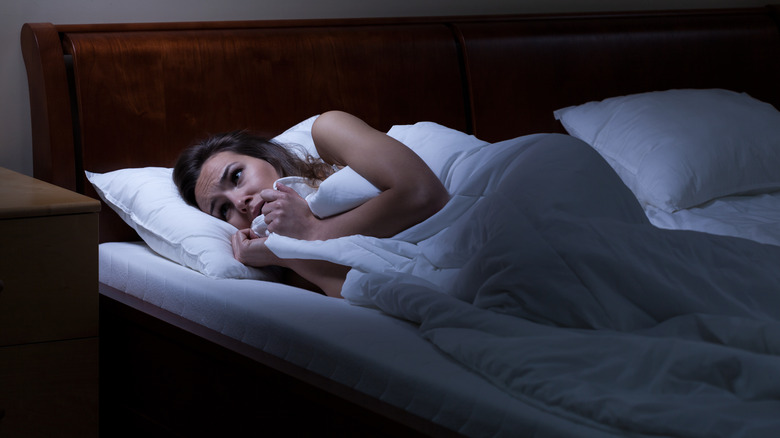 Katarzynabialasiewicz/Getty Images
In some cases, your dream of someone dying may not even be related to an actual death. Dreams are not always literal and can often be interpreted symbolically. In various cultures, death is associated with major change, as pointed out by World of Dreams. As a result, dreams about someone dying could represent a symbolic death and rebirth, the need to let go of something in your life, or fears of losing something you care about. 
Jungian dream analysis, created by psychiatrist Carl Jung, theorizes that dreams allow concerns of the unconscious mind to be brought to conscious awareness, as explained by Dr. Nathan Brandon. In this regard, your dream of someone dying may show you where your fears lie. When struggling with an unhealthy relationship or work environment, a dream of death could symbolize a need for change. These dreams can also symbolize closure from a situation that has ended.
Sometimes the person dying in the dream can be a family member, friend, or loved one, which can be especially upsetting. In these cases, your dream could be representing a shift in your relationships, according to Healthline. Having dreams of a loved one's death may also help the mind process fears of loss since our culture generally shies away from discussing death, as mentioned by The Cut. Furthermore, dreaming of the death of someone who is already deceased can reflect a lack of closure between the dreamer and the deceased person.  
What it means to dream of your own death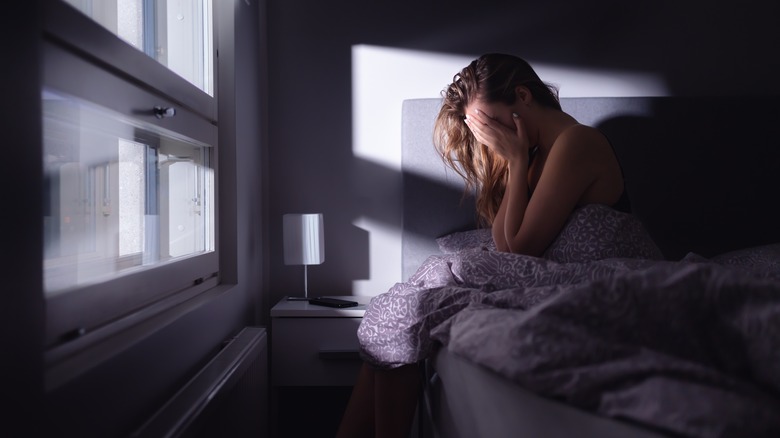 Tero Vesalainen/Shutterstock
For a few days after dreaming of your own death, you might approach your daily activities more carefully out of fear of it happening in real life. However, a dream of dying is believed to be a symbol of transformation, as described by Alicia Forneret. These dreams may be more likely to pop up during major transitions in life, such as marriage, divorce, or relocation. Having a dream of dying can also signify a growing awareness of one's own mortality, as noted by World of Dreams. It's not uncommon to be fearful of death, and the dream could be there to encourage you to confront these fears. 
Dreaming of one's own death can represent resistance to letting go and moving into the next phase of life. Individuals who feel trapped or carry guilt for their past actions may dream of their own death. If the death is due to an attack, it can reveal the intense feelings of the dreamer, like vulnerability, anger, and loneliness. 
Dreaming about your own death or the death of someone else can be terrifying. While we cannot always control our dreams, we may decrease the chances of having a dream of death by managing our stress levels, according to Choosing Therapy. Stress can be reduced by staying active and using coping skills like yoga and journaling. You can also reach out for professional help if you're experiencing depression, anxiety, and other mental health concerns.
If you or someone you know needs help with mental health, please contact the Crisis Text Line by texting HOME to 741741, call the National Alliance on Mental Illness helpline at 1-800-950-NAMI (6264), or visit the National Institute of Mental Health website.