Is It Safe To Wear Masks When Working Out?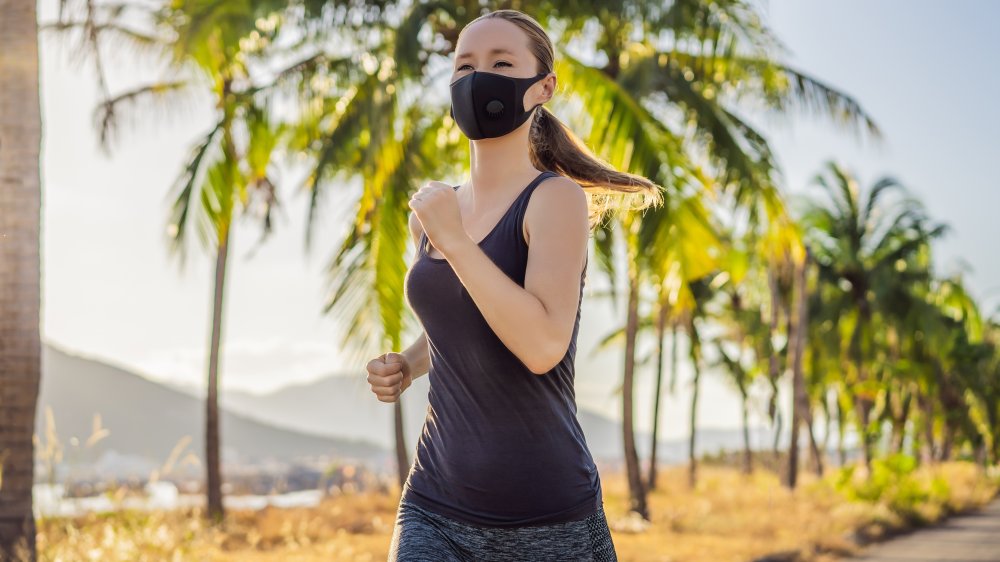 Shutterstock
We are all still adjusting to the new normal of living through a pandemic. Social distancing and expert handwashing are now part of our daily routines, and mask-wearing is not only commonplace, but required in many public spaces. According to the Centers for Disease Control and Prevention, it's recommended that everyone, "wear masks in public settings and when around people who don't live in your household, especially when other social distancing measures are difficult to maintain." 
That sounds easy enough until you head to the local park for an outdoor yoga class and it's 90 degrees in August. Maybe your local gym has even opened up and you decide an airconditioned run on the treadmill is a better plan — that is until you start sweating and breathing heavy and all you want to do is tear your mask off.
Add the discomfort of wearing a mask while working out and the World Health Organization's stance that wearing a mask while exercising "may reduce the ability to breathe comfortably," it's no wonder working out in a mask has become a hot button issue.
To wear or not to wear... that is the question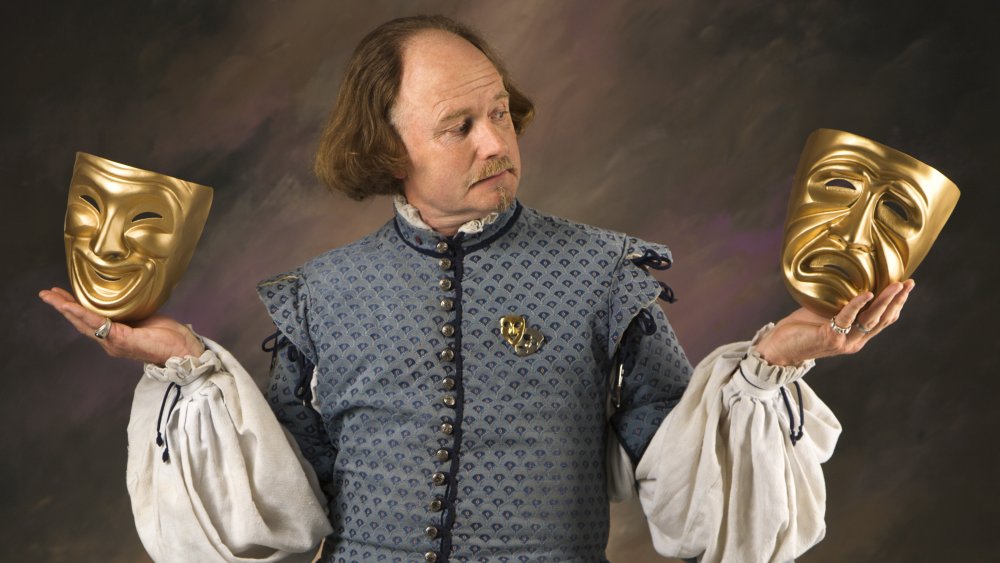 Shutterstock
The issue comes down to how strenuous your exercise is going to be and whether you can properly distance from other people. In a recent interview with Shape, geneticist and chief scientist for PN Medical, Nina Bausek explained, "Changes in the breathing pattern can cause imbalances in the oxygen/carbon dioxide gas exchange, leading to either too low levels of carbon dioxide (hypocapnia) or higher than normal levels of carbon dioxide (hypercapnia) [in the blood]." When these gas imbalances occur it can result in a bevy of worrisome side effects, including, "fatigue, headaches, shortness of breath, and muscle weakness," according to Bausek. The more intense your workout (think HIIT), the more intense your breathing. The problem is, the more intense your breathing, the more potentially contaminated droplets you expel into the air.
In a recent Q & A with athletic apparel company, UnderArmour, Dr. Daniel J. Durand, Chief Innovation Officer for LifeBridge explained, "... proximity to others is the most important factor to consider when deciding whether to wear a mask while working out." He goes on to state, "When it comes to physical activity, you breathe more, and the more you breathe, the more virus you will project if you have it, so it's very important for those exercising to wear a mask where social distancing is difficult to maintain."
When in doubt, wear a mask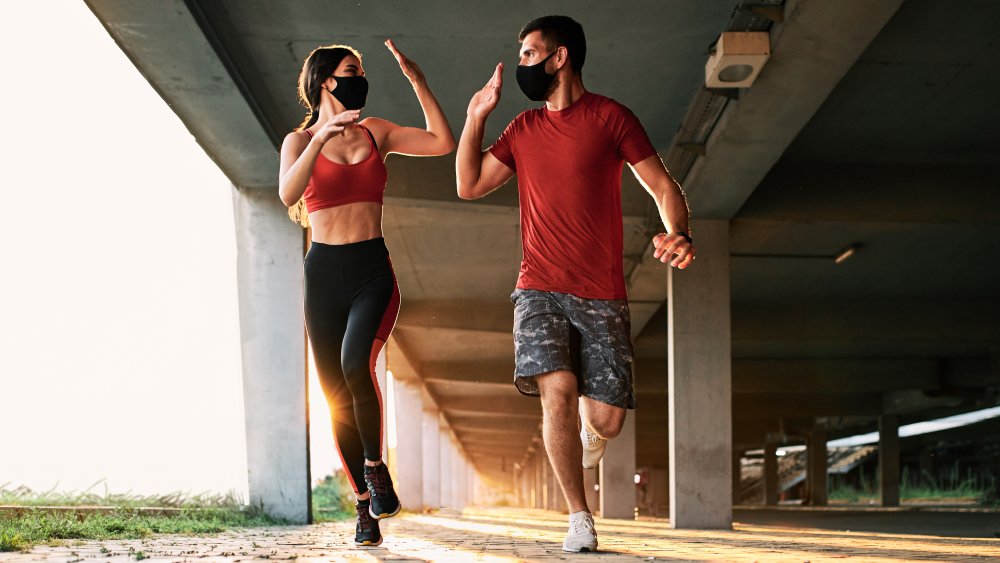 Shutterstock
According to Grayson Wickham, a physical therapist and certified strength and conditioning specialist at Movement Vault, "Most people can perform every and all exercises with a face mask on," he explained in an interview with Cnet. Just keep in mind, if you have any underlying health conditions or are just starting a workout routine, talk to your doctor first about what you should be doing, where the safest place for you to workout is, and whether wearing a mask is a good idea.
And lastly, buy the right mask. Workout friendly masks are everywhere nowadays, but Christa van Rensburg, a sport and exercise physician, rheumatologist, and head of sports medicine at the University of Pretoria in South Africa, told Shape, you should look for "... a mask made with a lightweight blend of spandex — which gives a bit of stretch — and polyester that's sweat-wicking and breathable. Lighter cotton, polyesters, or performance fabrics are also acceptable and safe to use."