Why Movie Theaters Remain A High-Risk Activity Despite Precautions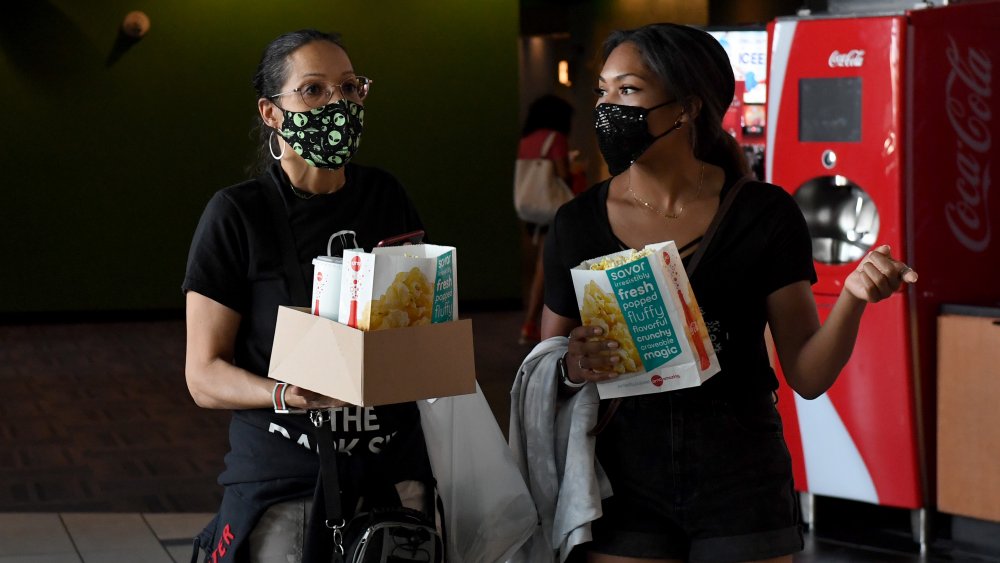 Ethan Miller/Getty Images
It's an experience we remember fondly from pre-pandemic days: sitting shoulder-to-shoulder in the dark, in a sea of strangers, tossing buttery kernels of popcorn in our open mouths, waiting to see what happens next. There are tears in our eyes, either from laughter or sadness, and when there's a plot twist or a mic drop moment or a monster lurches out of the closet, a loud gasps escapes us all. This collective sense of enthrallment is what makes going to the movies — as opposed to binging Netflix at home, alone — so special. But according to experts, it's also what makes the movie theater the ideal environment to transmit coronavirus.
"The virus is transmitted through droplets when we talk, laugh, and breathe," Anne Rimoin, Ph.D., MPH, professor of epidemiology at UCLA Fielding School of Public Health, told Health. "A movie theater is a place where you sit with a room full of strangers eating and drinking for two to three hours with sub-optimal ventilation. It's exactly the type of scenario we need to be avoiding to reduce opportunity for the virus to spread."
To prevent the spread of COVID-19, the National Association of Theatre Owners recently announced voluntary nationwide health and safety protocols, including requiring masks, reducing capacity in theaters, enforcing social distancing, improving air filtration, and other measures. But some experts are concerned that even if these measures are followed perfectly, moviegoing is still a risky endeavor.
If you do go to the movies, don't even think about not wearing a mask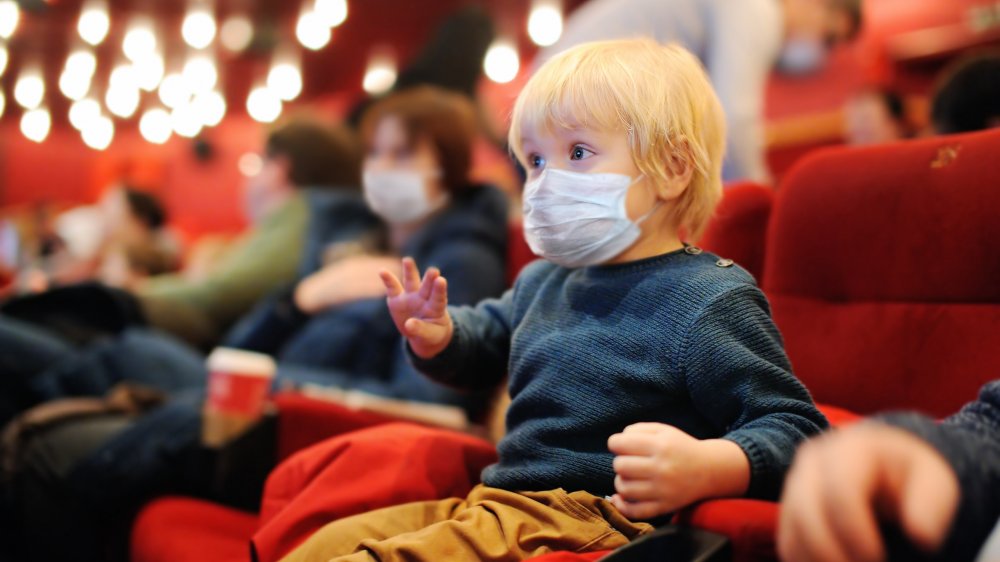 Shutterstock
Maybe you've decided to take your chances anyway, feeling reassured by the safety protocols theaters have announced. Nevertheless, experts urge you not to let your guard down, or take your mask off. It would be a huge mistake to not to wear a mask, Dr. Robert Lahita, chairman of medicine at St. Joseph's Health in New Jersey, told Vulture. "You're with a group of strangers," she said. "Unless you're sitting 20 or 30 feet from the other person, you run the risk of being infected. There's no question about it. You know how the air is in a theater: It's not circulated very well. If you don't wear a mask, you take your chances."
Plus, you should stay away from movie theaters that are doing the bare minimum to prevent the spread of transmission — you can call the theater in advance and grill them about whether they're enforcing social distancing and mask-wearing, and whether they've reduced capacity, said Dr. Chaitanya Mandapakala, a pulmonologist and intensive care doctor with St. Elizabeth Healthcare in Kentucky (via Healthline). Even if his local cinema enforces safety guidelines, though, you won't see Mandapakala at the movies anytime soon. "[T]here is no movie that is good enough for me to risk going to a movie theater at this point," he said.