A Surprising Benefit Of Having Acupuncture Before Surgery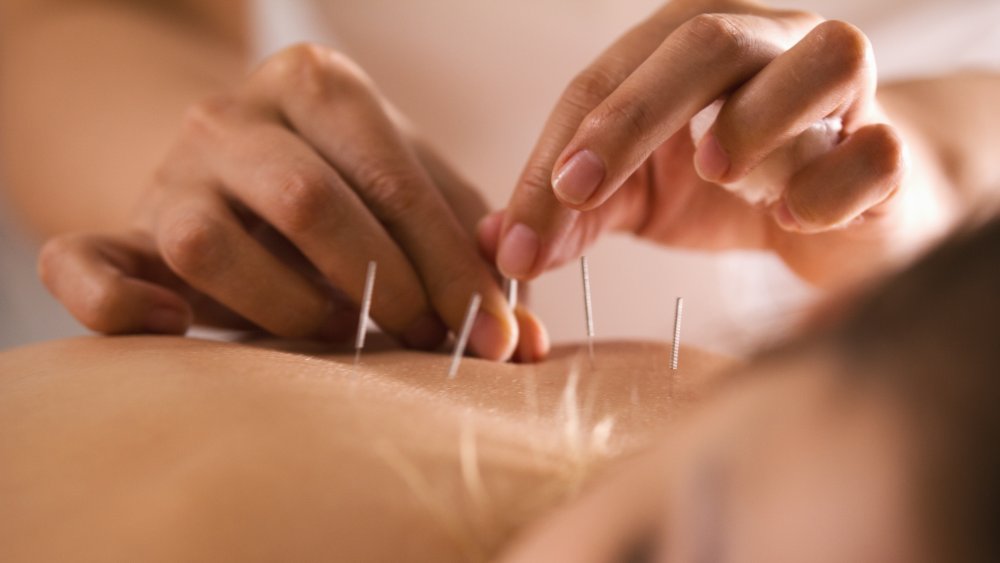 Shutterstock
Even if you're not fond of needles, trying acupuncture before surgery can significantly reduce your pain afterward, according to a new study presented before the American Society of Anesthesiologists in Chicago, Illinois (via ASAHQ).
Researchers who treated military veterans who underwent surgery at the John D. Dingell VA Medical Center in Detroit, Michigan, noted that those who used acupuncture needed three times fewer opiates after surgery than a control group (via Healthline). In addition to less pain to manage, the veterans who used acupuncture before surgery had other positive results: 14 percent reported less anxiety after surgery. In addition, only 3 percent experienced nausea and vomiting compared to 38 percent of the control group.
Researchers wanted to highlight reducing the use of opiates such as morphine. "Six percent of patients given opioids after surgery become dependent on them, and veterans are twice as likely to die from accidental overdoses than civilians," said Brinda Krish, D.O., lead author of the study and an anesthesiology resident at Detroit Medical Center. "Clearly, it is crucial to have multiple options for treating pain, and acupuncture is an excellent alternative. It is safe, cost-effective, and it works."
Acupuncture reduces inflammation and pain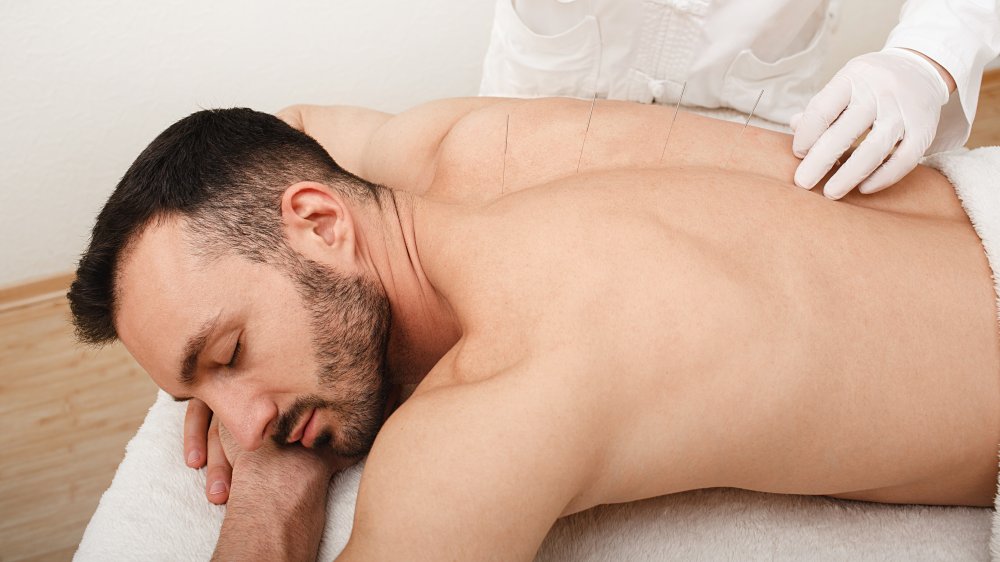 Shutterstock
People have used acupuncture to relieve pain for 5,000 years, Dr. Michael D. Seidman, FACS, the director of otologic/neurotologic/skull base surgery at AdventHealth in Florida, told Healthline. But even though Seidman himself has had success with acupuncture's effectiveness, colleagues would joke about it being "voodoo."
Others have been skeptical, saying that acupuncture is "placebo medicine," added Brad Whisnant, LAc., a doctor of Chinese medicine who runs Pinpoint Acupuncture Clinics in Oregon. Whisnant has found that acupuncture before surgery helps with swelling, inflammation, and blood flow. When used after surgery, acupuncture can hone in on pain pathways. "I've seen using both cut down on recovery time by 50 percent," he told Healthline.
The study has not yet been peer-reviewed or published in a scientific journal. But co-author George McKelvey, Ph.D., a research associate at NorthStar Anesthesia at the Detroit Medical Center, said that the data is strong enough to show that the "placebo effect" likely is not a major contributor to the results.
"Battlefield acupuncture" uses fewer needles and only in the ear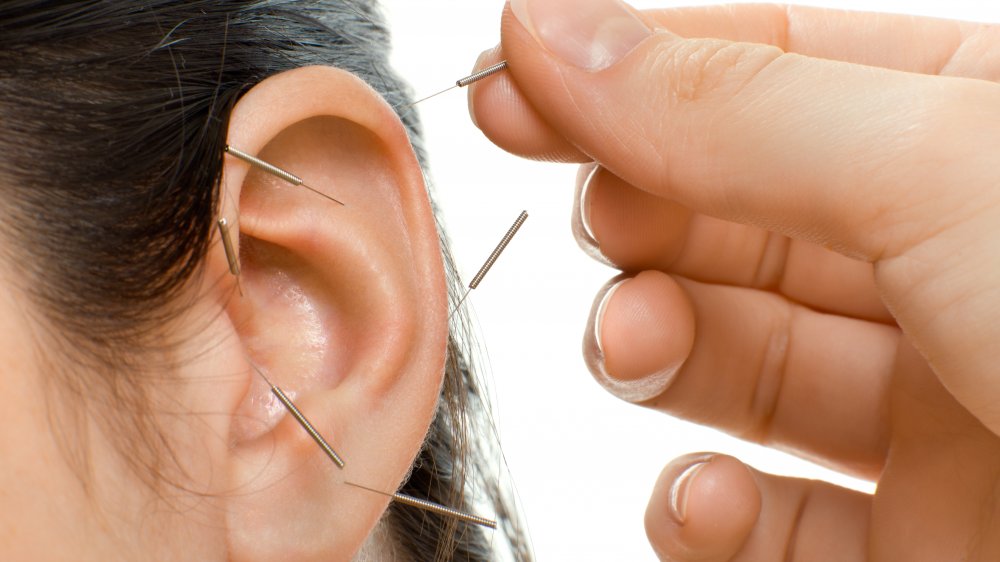 Shutterstock
The veterans in the study used either traditional acupuncture or "battlefield acupuncture." Traditional acupuncture relieves pain by inserting thin sterile needles into specific points around the body. "Battlefield acupuncture" follows a similar concept but inserts five tiny needles at various trigger points in the ear.
U.S. Air Force Dr. (Col.) Richard Niemtzow developed "battlefield acupuncture" in 2001 as a way to reduce pain quickly in the field. Niemtzow later applied the technique to wounded service members and local patients at a hospital in Germany, where many patients said their pain was reduced by 75 percent (via Acupuncture Today).
Researchers said that because this form of acupuncture uses such small needles and only in one ear, patients can leave them in place for three to five days for maximum benefits and can sleep on their opposite side. Veterans in the study who initially were skeptical about acupuncture were more open to trying "battlefield acupuncture" because a doctor in the armed forces developed it, they added.
The National Center for Complementary and Integrative Health notes that acupuncture in a number of studies has eased often-chronic pain such as osteoarthritis, tension headaches, migraine headaches, neck pain, and lower-back pain (via NCCIH).