Why The Flu Vaccine Won't Impact Your COVID Chances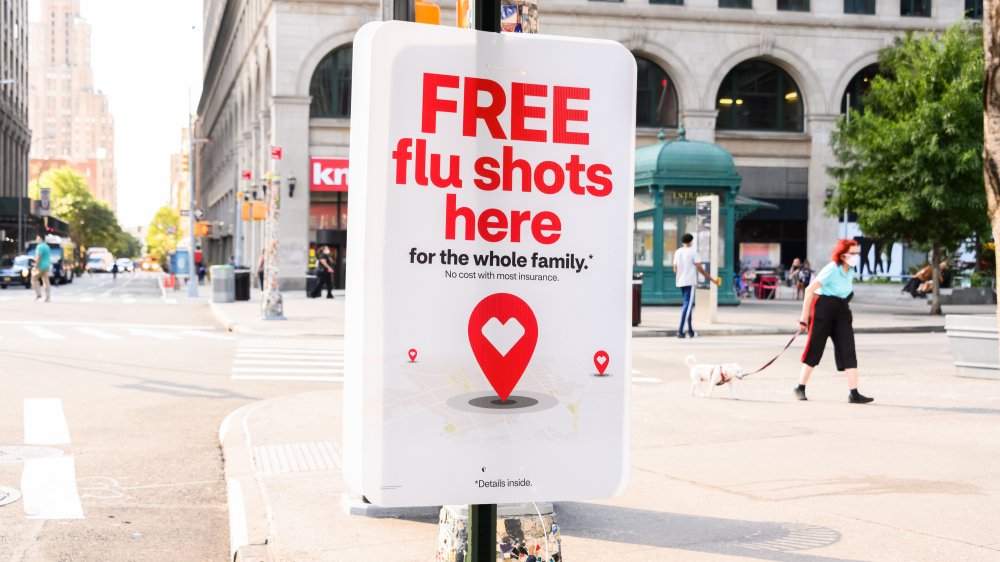 Noam Galai/Getty Images
The flu vaccine won't protect you against the coronavirus — but it won't make you more vulnerable to catching COVID-19, either, say the Centers for Disease Control and Prevention (via the CDC). However, health officials emphasize that the worldwide coronavirus pandemic makes receiving a flu vaccine essential this year so as not to overwhelm the medical system (via UCSF).
"The worry is that with the onset of the flu season, you're going to get peaks of flu and COVID-19 cases at the same time," said Charles Chiu, M.D., Ph.D., an infectious disease expert at the University of California San Francisco. "Even with a mild flu season, the convergence with a COVID surge could very rapidly overwhelm our hospital system."
The flu season peaks from December to February. During an active season, 40 million to 50 million Americans may catch the flu, with as many as 800,000 people requiring hospitalization, Chiu said. The CDC estimates that 38 million people became sick from influenza during the 2019 to 2020 flu season, causing 18 million medical visits, 405,000 hospitalizations, and 22,000 deaths (via CDC). 
More than 40 million people have contracted the coronavirus worldwide; the United States has the most reported cases with 8.2 million, according to the Johns Hopkins Coronavirus Resource Center. COVID-19 has killed more than 1 million people worldwide, more than 220,000 in the United States (via Johns Hopkins University of Medicine).
The flu shot won't make you vulnerable to COVID-19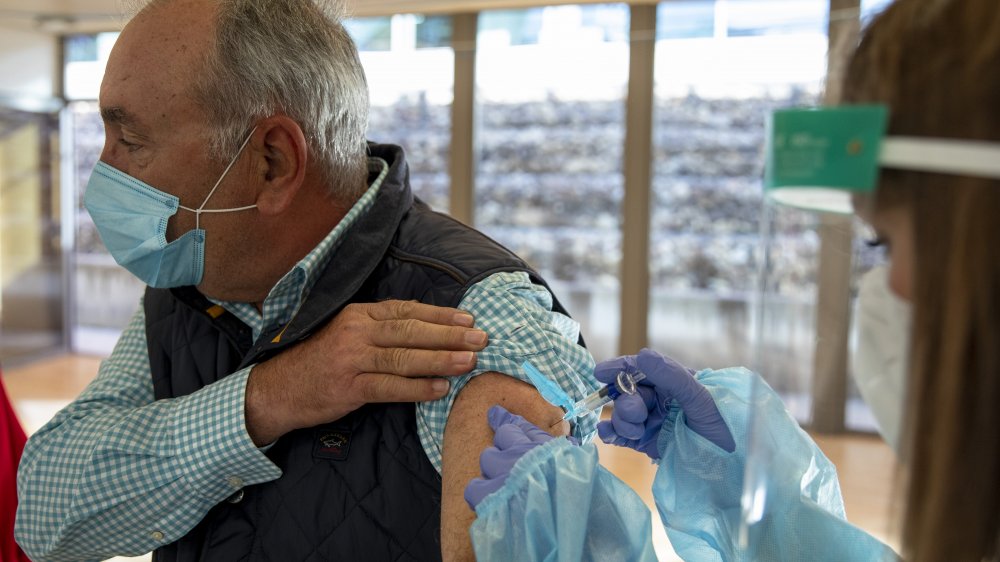 Pablo Blazquez Dominguez/Getty Images
The CDC recommends that everyone ages 6 months and older receive a licensed, age-appropriate, annual influenza vaccination, such as standard-dose flu shots, a nasal spray, or high-dose shots for people ages 65 and older. Because of the worldwide coronavirus pandemic, the CDC has increased the availability of the vaccine, purchasing an additional 9.3 million adult doses and an additional 2 million pediatric doses.
Some consumers have wondered about the benefits of receiving the shot this year. One study published in January noted that receiving a flu vaccine may increase a person's risk of contracting other respiratory viruses. But additional analysis and research in Canada published in May found no such link (via Oxford University Press).
"Our findings provide reassurance against the speculation that influenza vaccine may negatively affect COVID-19 risk. Addressing such speculation is important to maintain influenza vaccine coverage through the ongoing COVID-19 pandemic," the researchers wrote.
You can safely get a flu vaccine at multiple locations including doctors' offices, local health departments, and pharmacies, the CDC says, and you can find a nearby provider using VaccineFinder. To protect yourself from COVID-19 while getting the vaccine, practice everyday preventive actions such as washing your hands often, covering your mouth and nose with a mask when around other people, and keeping a distance of about six feet between yourself and other people.