Study Reveals Scary Statistic About Grocery Workers And COVID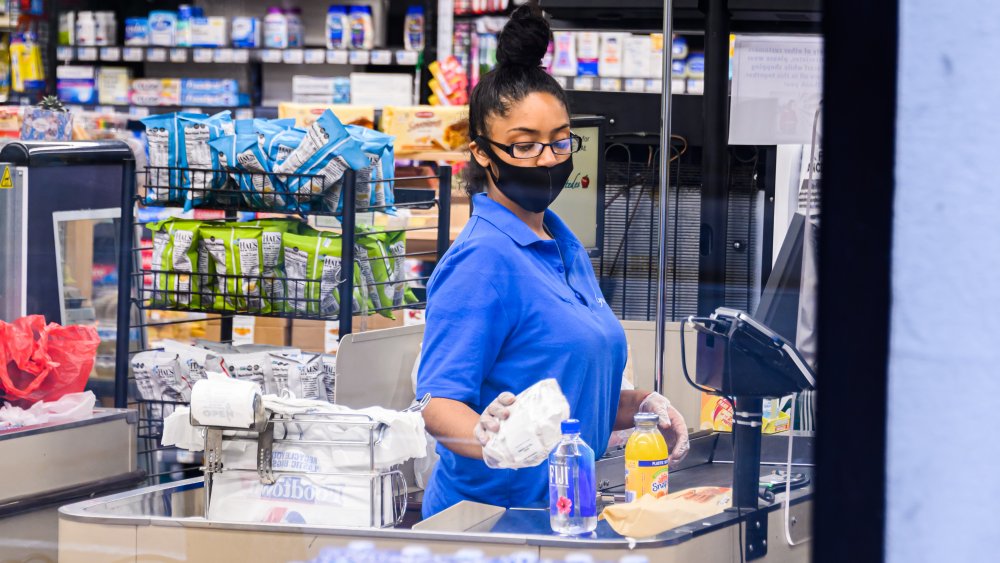 Noam Galai/Getty Images
A new study of grocery workers in Boston, Massachusetts, suggests that grocery store employees are at greater risk of contracting COVID-19 (via CNN). What's more, because the majority of those in the study showed no symptoms, these workers could be a "significant transmission source" of the coronavirus, researchers said.
Researchers from the Harvard School of Public Health conducted the study, published in October in the journal Occupational and Environmental Medicine. Although the sample size is small — 104 grocery workers at one Boston store — the findings support the exposure risks for these employees, as well as their psychological stress, Dr. Justin Yang, a study researcher and an assistant professor at Boston University School of Medicine, told CNN.
Twenty percent of the workers in the study tested positive for COVID-19 through nasal swabs in May, the study shows. However, three out of four of those who tested positive had no symptoms, Yang said. The most common symptoms among health-care workers have been fever, cough, and myalgia, or aches and pains in the muscles and ligaments (via the National Institutes of Health).
"This is definitely very alarming as it means that retail grocery store employees are exposed to customers and sort of serve as a middleman for the virus — like a super-spreader almost," Yang told CNN.
Study supports concerns about grocery workers' exposure and stress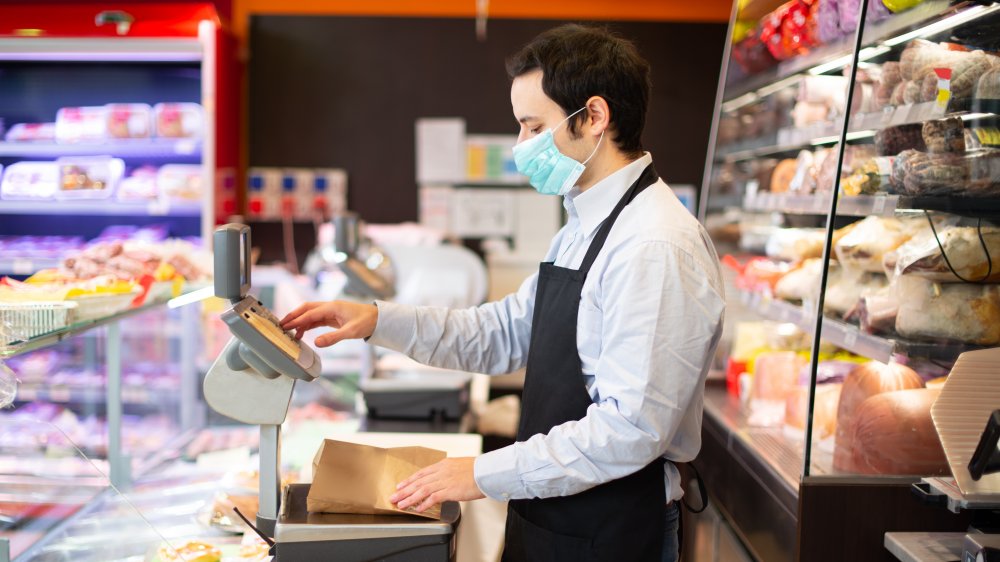 Shutterstock
Nearly all of the workers in the study (91 percent) said they wore face masks at work while 77 percent said they also wore them off-duty. However, only about 66 percent said they could practice social distancing consistently on the job, resulting in significant stress. Nearly one-quarter of the workers in the study in customer service positions said they experienced depression and anxiety.
Yang told CNN that this was understandable. "If you are in an environment when you're literally in front of a customer, you can't be more than 6 feet [away], and that is really stressful for essential employees," he said.
The study's rates of infection seem higher compared to a different study published in June about the rate of infection among Dutch health-care workers (about 10 percent), Yang said. Regardless, he told CNN that he hoped that the findings prompted store owners and government officials to provide better testing and workplace protections for grocery workers.
The United Food and Commercial Workers International Union, which represents 1.3 million employees, says that at least 108 grocery workers have died and more than 16,300 have been exposed to or infected with COVID-19.