Is It Safe To Go To The Dentist During The Pandemic?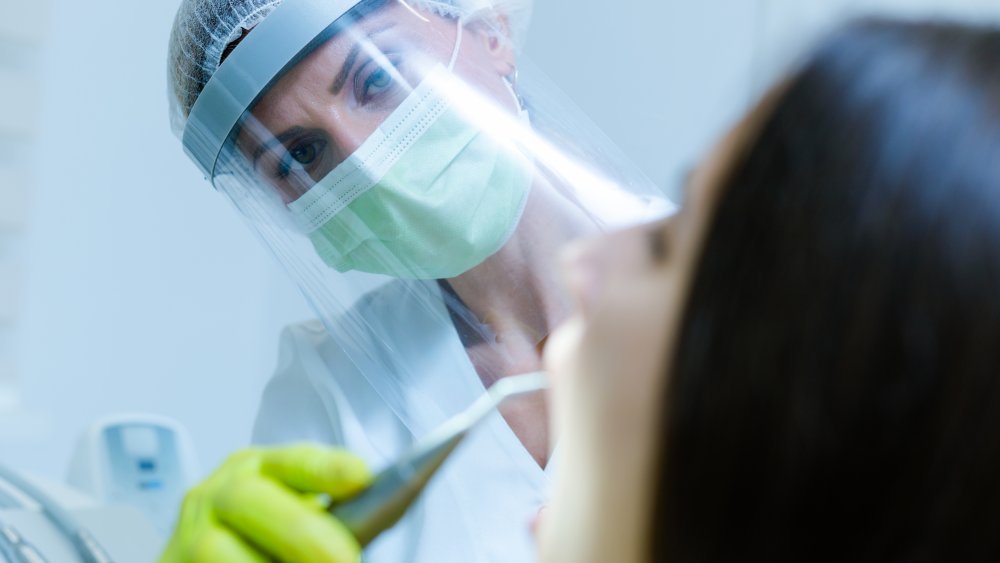 Shutterstock
On March 11, 2020, the director-general of the World Health Organization (WHO), Dr.Tedros Ghebreyesus, declared COVID-19 a global pandemic (via WHO). In the months since, the entire world has been taken on a rollercoaster ride of stay-at-home orders, quarantine and isolation practices, mask mandates, social distancing, and countless other changes to "normal" life. Perhaps one of the biggest impacts the pandemic has had is on how it's made us hesitant to seek preventative and ongoing routine medical and dental care. In May, hospitals across the country were noticing a significant reduction in the number of emergency room visits for heart attacks, strokes, and other medical emergencies (via Yale Medicine). While it's unlikely the pandemic decreased the occurrence of these emergencies, it is likely that people chose to avoid getting necessary care due to COVID-19 infection concerns. The dental community also noticed a familiar phenomenon.
In March, as COVID-19 cases were rising in the United States, the American Dental Association (ADA) called for dentists to postpone all but urgent and emergency care in an attempt to mitigate the spread of the disease (via ADA). As we started to learn more about the modes of transmission of the virus, it became clear that dental practices were a uniquely high-risk environment. As per the Centers for Disease Control and Prevention (CDC), we know that SARS-CoV2, the virus which causes COVID-19, is spread primarily through respiratory droplets produced when an infected person, regardless of symptomology, coughs, sneezes, or even talks (via CDC). The virus has been shown to persist in aerosol form for hours and linger in the air and on surrounding surfaces. In the field of dentistry, aerosol production is nothing new. 
Changes to dental practice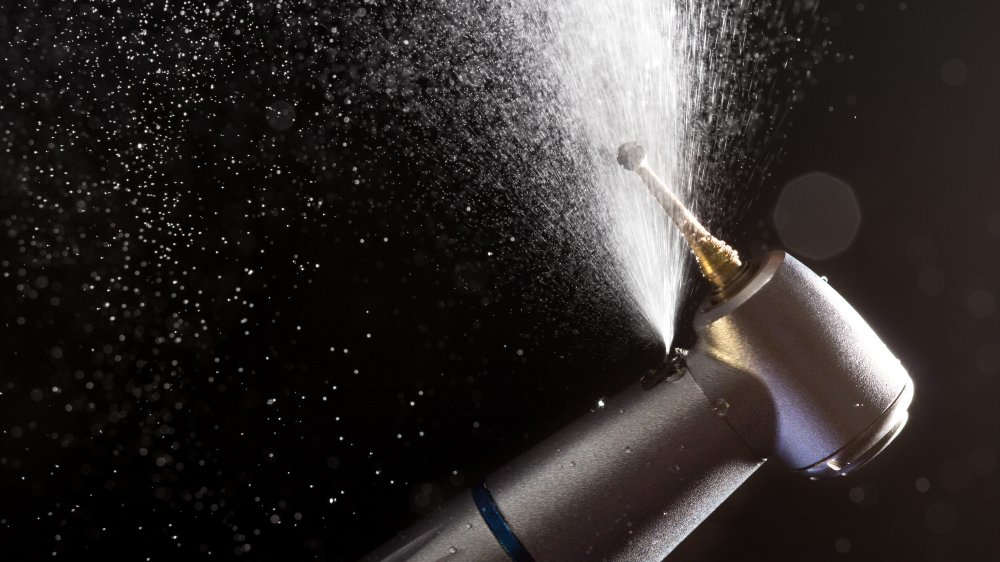 Shutterstock
The practice of dentistry involves the use of rotary dental and surgical instruments, including handpieces and ultrasonic scalers, among others, which can create visible aerosols. These aerosols contain droplets of water, saliva, virus, blood, microorganisms, and more. Thus, strict infection control procedures, which have always been a part of dentistry, have been so crucial in ensuring the safety of both the patients and dental professionals alike.
Caterina Raffa, DMD, a Board-Certified Pediatric Dentist and past president of the Massachusetts Academy of Pediatric Dentistry, spoke exclusively to Health Digest about navigating through the world of dentistry in the age of a global pandemic. "The ADA has provided us with many resources, including the Return to Work Interim Guidance Toolkit, which was essential in preparing to open our practices safely after the shutdown," she said. Dr. Raffa's office in Watertown, MA has gone through extensive changes over the last few months in order to adapt to the pandemic and protect both patients and staff members. The process of scheduling an appointment now begins with pre-screening questions "asking about symptoms, travel and contact with known COVID positive patients," and more. 
These questions are also asked before the appointment itself begins. She explains, "We no longer have a reception area, patients now call from their car when they arrive, the car has become the new waiting room."
Additional safeguarding measures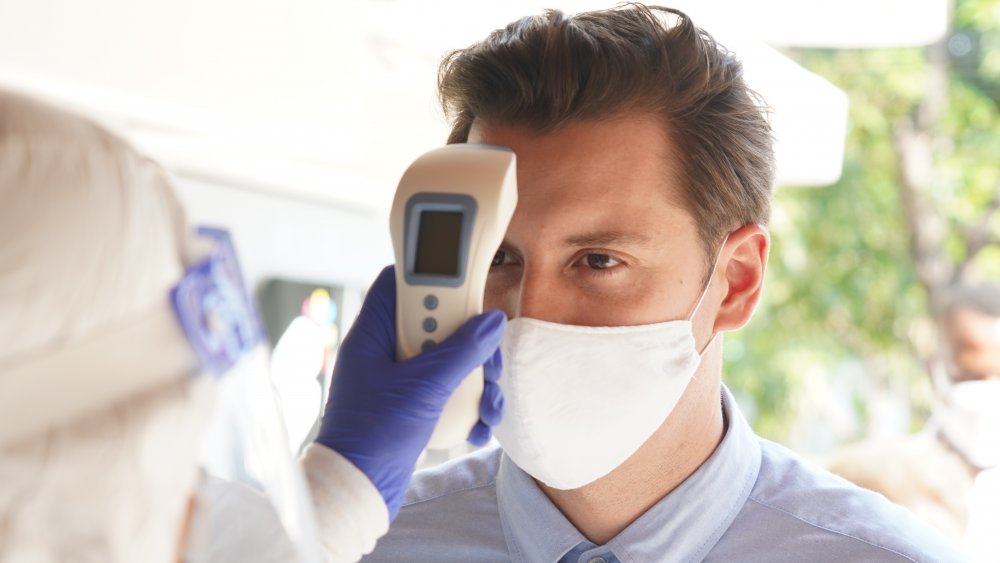 Shutterstock
In addition to providing hand sanitizer and temperature screenings to all patients and parents before they are brought into the treatment areas, Dr. Raffa has also invested in "clean air UV-C HEPA filters throughout the office," aimed at killing germs and virus particles. A one-way traffic flow has also been established to eliminate the potential of crossing paths with others, and all patients are given hand sanitizer prior to leaving the office. 
"Infection control practices have always been at the highest standard in our office as infectious disease is a part of dentistry," she said. "However, we have added some extra measures such as treating all rooms with hypochlorous acid after every single use and using an electrostatic sprayer several times a day throughout the office. All of these new protocols have provided a safe environment for our patients and staff."
Don't avoid your dental needs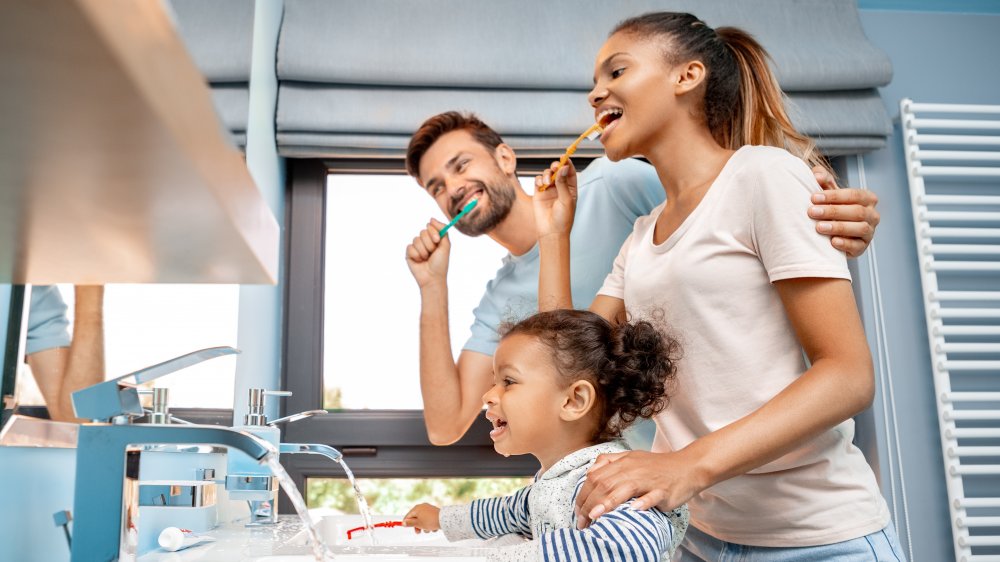 Shutterstock
Dr. Raffa urges people not to disregard their oral health, stating, "Avoiding dental treatment can cause dental infections and other complications that may lead to the need for urgent care. Dental infections can become life-threatening and there is the risk of losing teeth or impairing dental function." Specializing in pediatrics she goes on to say, "Tooth decay is the single most common chronic childhood disease; five times more common than asthma, four times more common than early childhood obesity, and 20 times more common than diabetes." That is why it is so crucial not to discount your dental care.
Despite the widespread infection control practices implemented in dental facilities throughout the country, Dr. Raffa is aware that some patients may still not be ready to visit their dentist. To those individuals, she emphasizes the importance of maintaining good homecare habits. "Homecare routines vary with each patients' needs, but the basics of brushing twice a day and flossing daily is essential," she says. "Teledentistry is also available and we encourage patients to schedule teledentistry appointments if they have any dental concerns."
So while your next trip to the dentist may look a little different, know that it is all with the best and safest intentions, aiming to keep you and everyone you come in contact with during your visit healthy and safe. Don't hesitate to call your local dentist and see how they've adapted to the pandemic and what options they may have for your continued care.