The Safest Way To Go Out To Eat During COVID-19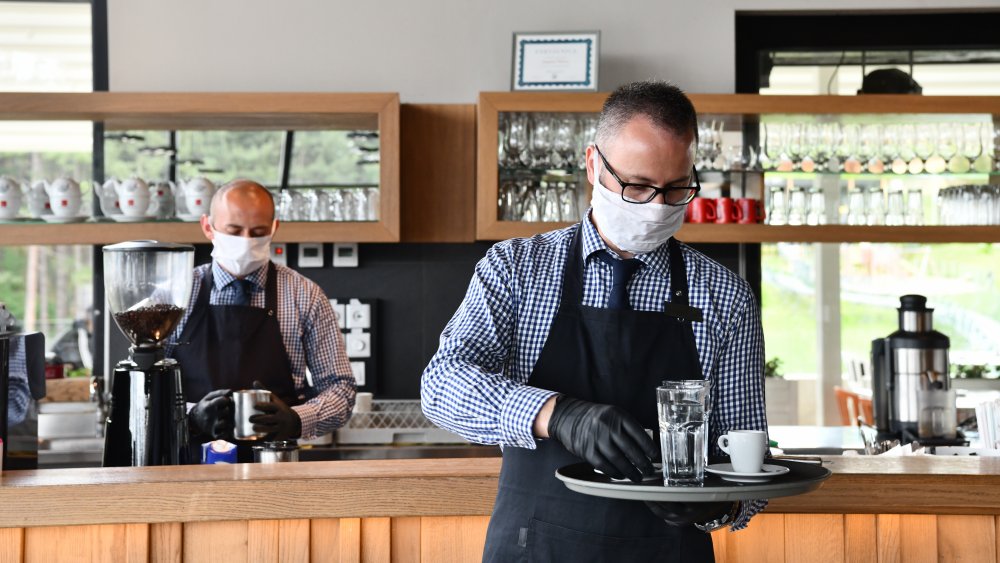 Shutterstock
Eating at a restaurant used to be a simple, everyday activity. But with COVID-19 numbers still on the rise in America, it's unlikely that the typical dining experience will be back anytime soon. That doesn't mean you can never go out to eat again, but if you want to do so safely, here's what you need to know.
According to the Centers for Disease Control (CDC), the option with the least risk is simply ordering takeout or delivery and staying home to eat. You can still create a 'restaurant experience' by setting the table with your best tablecloth and rarely-used cloth napkins, or eating outside in a local park if weather allows for outdoor dining. Check what's available in your area: Some restaurants are offering takeout that includes things like a Korean hotpot, cocktails to go, full silverware and plating for your food, and family-style serving options (via Eater).
Outdoor dining is still the least-risky way to dine, though that option may not be offered as temperatures start to drop. After that, indoor dining, where capacity has been reduced to allow for six feet of social distancing, is the best alternative, but if you want to go into a restaurant, it's important to understand that there are risks associated with a sit-down meal. 
Know your risk tolerance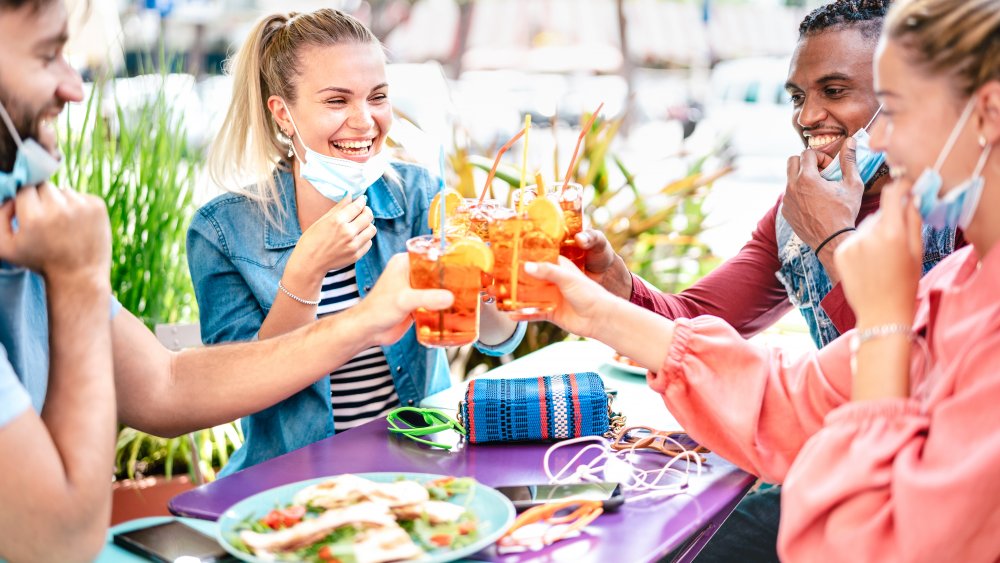 Shutterstock
Depending on your comfort level, you can look for restaurants that offer private rooms for dining or plexiglass screens between tables. You can also inquire about cleaning practices that restaurants are using to mitigate risk — the CDC recommends calling ahead to ask about mask-wearing for employees as well as hygiene practices if you're worried.
You should check your local COVID-19 case numbers, too, before deciding to venture into a restaurant, Eleanor J. Murray, ScD, an assistant professor of epidemiology, told Healthline. If transmission is on the rise in your area, consider takeout or delivery rather than eating out. "I don't think there's any way to make dining out a completely risk-free experience," Murray notes. She recommends choosing restaurants that you know and feel comfortable in, and avoiding high-touch areas as much as possible, including restrooms. 
No matter where you go, expect to wear your mask for the time being. Be prepared to wear a mask when walking to your table and anytime you leave the table during your meal (via the World Health Organization). The dining out experience has changed drastically in the last few months, and it's unlikely to go back to 'normal' anytime soon.