Emma Roberts Opens Up About How Endometriosis Really Affected Her
Ever since she was a little girl, actress and singer Emma Roberts knew she wanted to be a mother one day. In a recent interview with Cosmo, she revealed, "At 16, I thought, by the time I'm 24, I'll be married with kids. And then I was 24 and I was like, remember when I said I would be married with kids by now?" Roberts, now 29, is expecting her first child and is opening up about her struggle with infertility. Like one of as many as 11 percent of American women between the ages of 15 and 44, Roberts was diagnosed with endometriosis in her late 20s, a condition that went unrecognized during her adolescence despite reporting symptoms to her doctor (via WomensHealth.gov).
Endometriosis is a common gynecological condition in which tissue, that looks and acts like the normal endometrial tissue which lines the inside of the uterus, starts growing outside of the uterus (via Johns Hopkins Medicine). Commonly, this endometrial-like tissue surrounds the ovaries, fallopian tubes, or sometimes even travels into the abdominal cavity. During a woman's menstrual cycle, this tissue, like that within the uterus, responds to hormonal changes by building up and then breaking down or "shedding." When the tissue breaks down, it causes small bleeds in the abdominal or pelvic region, which leads to inflammation, swelling, and scarring of the normal tissue.
Symptoms of endometriosis and infertility
Symptoms of endometriosis include excessive pain and cramping during menses, painful intercourse, painful bowel movement during menses, infertility, and more. Endometriosis is considered to be one of the three major causes of female infertility and can be devastating to women and couples seeking to conceive. While it is not exactly understood just how endometriosis affects fertility, it is believed that the excess tissue outside of the uterus may interfere with the release of the egg from the ovary and its pickup by the fallopian tube. Roberts recalls her cramps and periods being so painful that she would miss school some days and cancel meetings later on.
The delay in diagnosis had affected Roberts' fertility, and she remembers being told by one of her healthcare providers, "You should probably freeze your eggs or look into other options." While terrifying at first, she did go through the difficult process of freezing her eggs. To deal with the stunning fertility news, she began opening up and speaking to other women and then, "all of a sudden, there was a new world of conversation about endometriosis, infertility, miscarriages, fear of having kids. I was so grateful to find out I was not alone in this. I hadn't done anything 'wrong' after all."
Pregnancy and endometriosis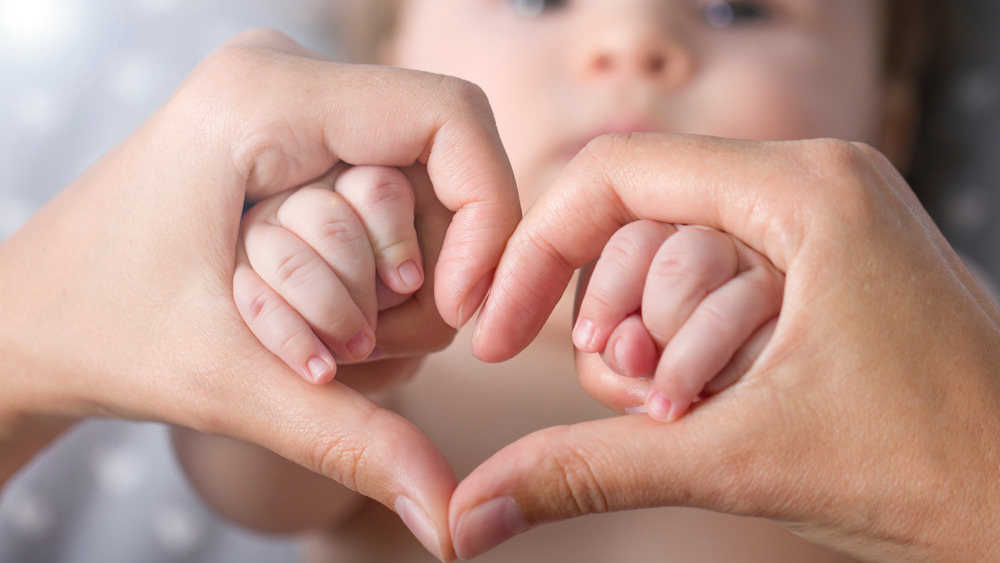 Shutterstock
Roberts continues, "It sounds cheesy, but the moment that I stopped thinking about it, we got pregnant. But even then, I didn't want to get my hopes up. Things can go wrong when you're pregnant. That's something you don't see on Instagram. So I kept it to myself, my family, and my partner, not wanting to make grand plans if it wasn't going to work out. This pregnancy made me realize that the only plan you can have is that there is no plan."
The stress Roberts experienced about her pregnancy is not uncommon. Endometriosis increases the risk of pregnancy and delivery complications (via Healthline). In fact, several studies have documented a higher rate of miscarriage in women with the disease, even in its mildest stage. A meta-analysis also found that pregnant women with endometriosis are 1.5 times more likely to deliver their babies early, or prior to 37 weeks gestation. Despite the increased risk for complications, women with endometriosis give birth safely to healthy babies every day. They are typically followed by "high-risk" OBGYNs and monitored carefully.
With her due date looming, Roberts is eager to be joined by her little man. "Sometimes I think about seeing him in the morning and how I want to say good morning to him and how I want to put him to bed at night, all those things that end up creating your sense of safety," she said. We wish Emma all the best with the upcoming arrival of her little bundle of joy and encourage those who think they may be suffering from endometriosis to speak with their gynecologist.