Why Working Out When You're Sore Is Riskier Than You Think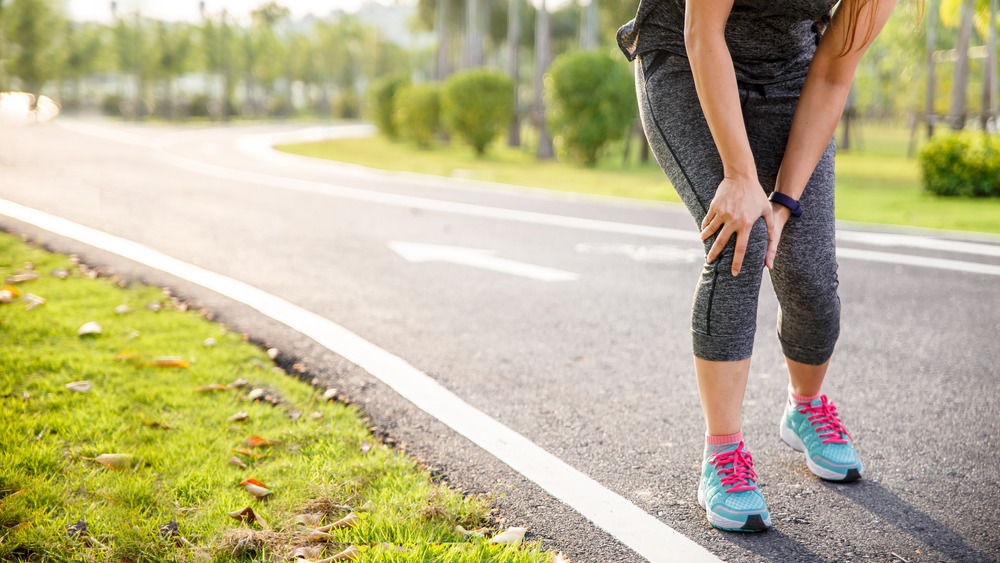 Shutterstock
Everyone gets a little sore after a hard workout — and you might be surprised to find out that doing another workout while you're still aching might be the worst decision for your fitness. A bit of soreness is a sign that your body is repairing and recovering, but if you're hobbling out of bed the day after a CrossFit class, you may have overextended yourself.  
Soreness after workouts is not uncommon — delayed onset muscle soreness, also known as DOMS, can happen 12 to 24 hours after you've put down your dumbbells. But if you experience soreness that starts during a workout in a specific muscle or soreness that lasts for more than a week, it's important to seek medical help (via Harvard Health Publishing).
Intense post-workout soreness can happen if you're new to a certain type of workout, or if you have started to rapidly increase weight, reps, or intensity. "I think a lot of the times people get sore if you ramp into it too soon," physical therapist Maggie Bryant told the Mayo Clinic. To get the most gains from working out — and to create a regular fitness routine — start to build into a program gradually, and listen to your body (via Harvard Health Publishing).
If you're sore, what should you do instead?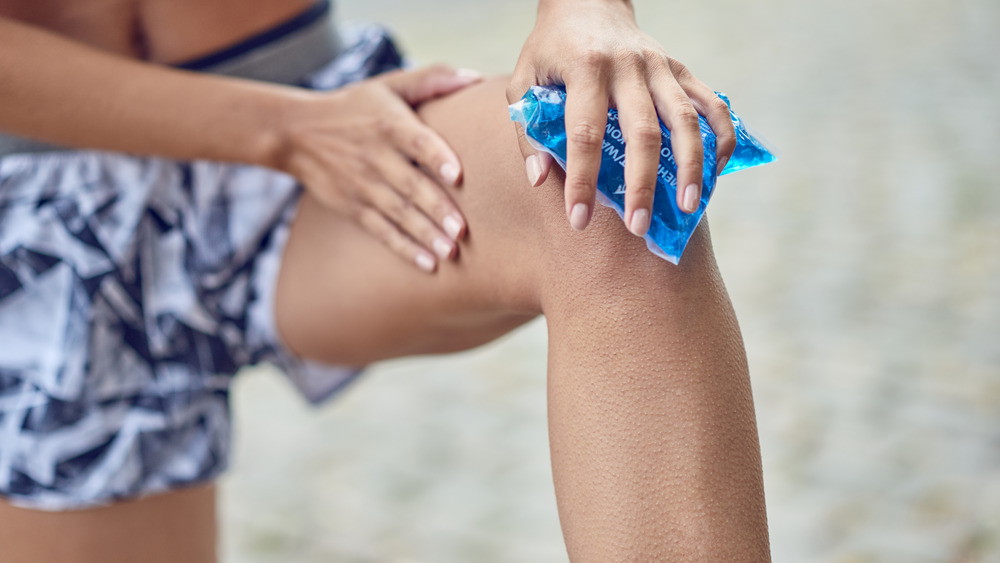 Shutterstock
A single rest day isn't going to make or break your fitness routine, so don't stress about taking a day off. If the act of getting out of bed is painful, if you hobble when going upstairs, if you require a pain reliever to get started in a workout, or if you feel sorer once you get moving, it's time to take a day off, sports medicine surgeon Kirk Campbell told Shape. To help give your muscles some relief, consider icing the sore spots, and ensure that you're staying hydrated throughout the day (via Shape). 
If you're only slightly sore, consider an easier session rather than another intense workout: Walk instead of running, take a yoga class rather than a bootcamp, or opt for an easy bike ride rather than a hard spin class. These easier workouts help keep you on track towards your fitness goals and can actually help decrease soreness temporarily while loosening up those tight muscles. 
According to the Mayo Clinic, warming up properly for your workout might be one of the keys to avoiding muscle soreness the next day. This might mean an easy walk to get ready for a run, or some light dynamic stretching to get ready for a weight-lifting session. It's also important to make sure that you're hydrating well post-workout, eating a balanced meal with protein and carbohydrates, and sleeping enough to let your body recover for your next session (via Mayo Clinic).