Exercising With A Mask Doesn't Affect Performance, Studies Say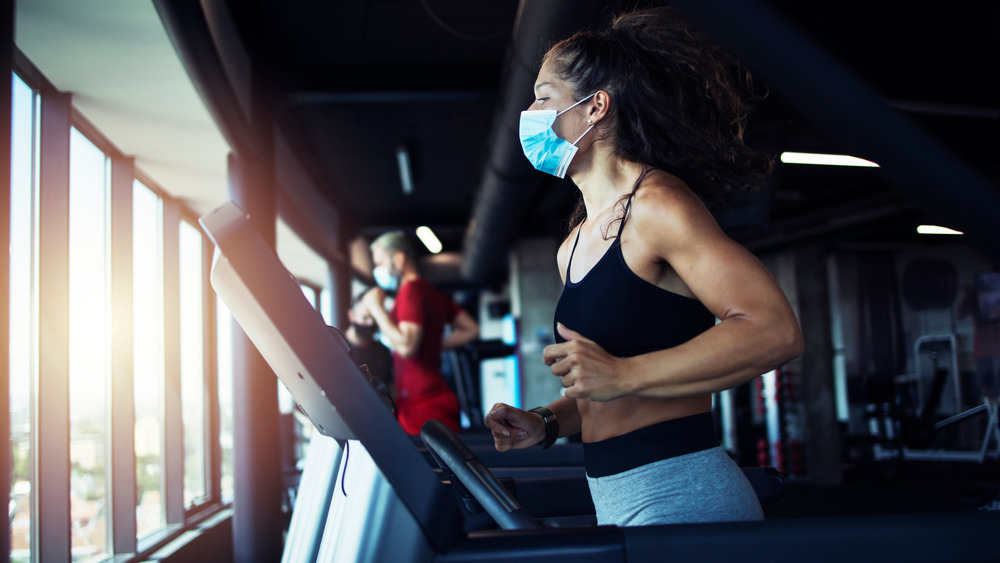 Shutterstock
Two new studies found that wearing a cloth or paper surgical mask does not "negatively affect vigorous workouts," at least for healthy, active adults, surprising participants who expected they would (via The New York Times).
As trails and other outdoor spaces have become more crowded because gyms and parks are limiting capacity for social distancing, some people wanting to remain active have wondered whether masks would make exercise difficult. The studies should offer some reassurance, said the researchers, who encouraged people to wear masks, even when they're outdoors.
COVID-19 cases in the United States reached 14.1 million this week, with more than 276,000 deaths, according to Johns Hopkins University. Americans who traveled for small gatherings over the Thanksgiving holidays and the upcoming Christmas season put the country at risk of a "surge upon a surge," Dr. Anthony Fauci, director of the National Institute of Allergy and Infectious Diseases, said during a livestream video meeting on Tuesday (via MarketWatch).
The studies compared the exertion and performance among two small groups of people while using stationary bicycles. Among the masks tested during the studies, only the N95 mask — a style that experts say should be reserved for health care workers — increased riders' carbon dioxide levels slightly, likely because of the tighter fit. Cloth and paper surgical masks, though, had no discernable effects.
Participants were surprised by the results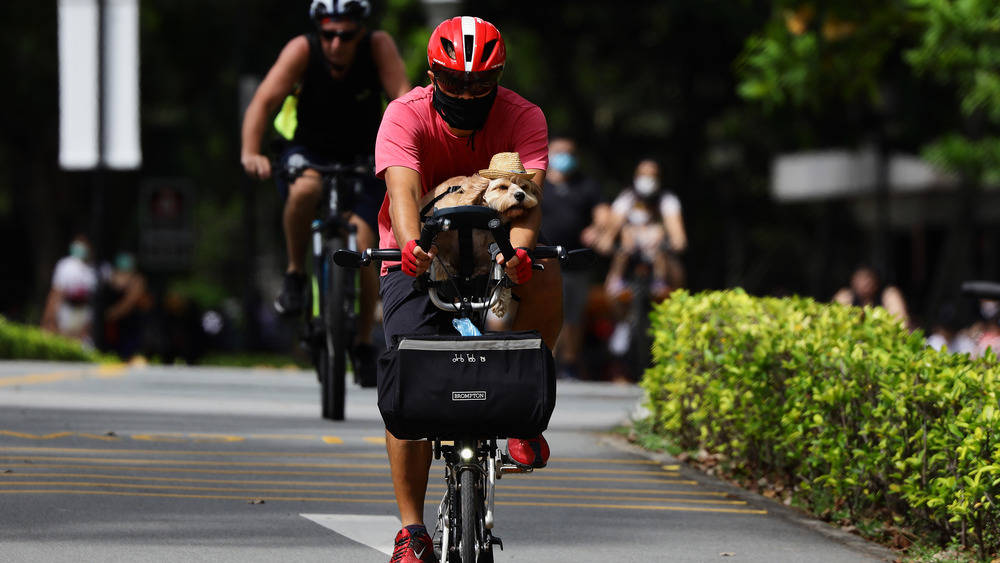 Suhaimi Abdullah/Getty Images
"COVID-19 changes almost every aspect of our lives and makes simple things more complicated. But we can learn how to keep doing the essential things, such as exercise," said Dr. Danny Epstein, an attending physician at Rambam Health Care Campus in Haifa, Israel, which organized one study.
Earlier studies have found that wearing masks did not affect the thinking or other capabilities of health care workers while they walked. But many theories about masks and exercise are "based on anecdotes and preconceptions," noted The New York Times. For instance, Americans in warmer climates notice that a mask can become sweaty and make breathing feel labored. (Walt Disney World's Magic Kingdom and other theme parks have mask-free "Relaxation Zones" where guests safely can remove their masks for a bit in the shade or air-conditioning.)
The Israeli study, published in September in the Scandinavian Journal of Medicine & Science in Sports, involved 16 healthy, active adult men. Researchers compared their blood pressure, heart rates, respiratory rates, oxygen saturation, and carbon dioxide levels during three separate visits to a lab where the men performed "pedal-to-exhaustion" tests on a stationary bicycle. The men's faces were uncovered for one ride, but for the other two sessions, they wore masks. To the riders' surprise, wearing the cloth or paper masks had not made them feel tired sooner or made the ride feel more draining, Epstein told The New York Times.
Although the studies focused on cycling, running and weight-training likely will have similar outcomes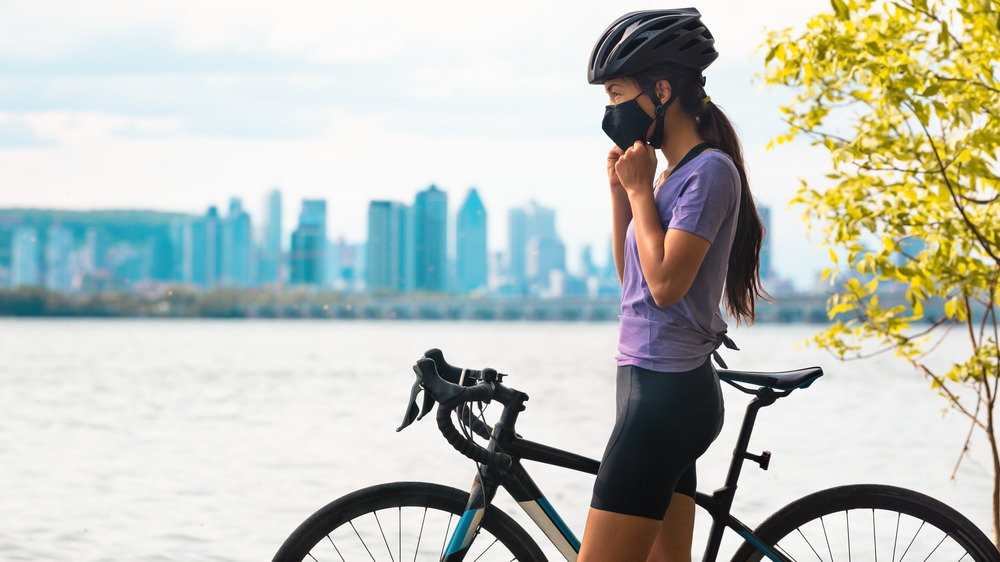 Shutterstock
Those findings are similar to those published this month in the International Journal of Environmental Research and Public Health from a study at the University of Saskatchewan in Canada. The Canadian study involved 14 healthy, active men and women performing the same "pedal-to-exhaustion" test and comparing performance while wearing no mask, a paper surgical mask, or a triple-layer cloth mask.
The Canadian researchers had theorized that wearing masks would make the riders tired and uncomfortable, but afterward, there were no notable differences in their oxygen levels, heart rates, and other data. "From the results of our study, I don't think masks are likely to make workouts feel worse," Philip Chilibeck, a kinesiology professor who oversaw the study, told The New York Times.
It's unclear whether the outcomes would be the same for people who were older or younger than the participants, or if they differed in physical shape or health. However, the researchers predicted similar outcomes for other forms of exercise, such as running and weight training.