This "Great British Bake Off" Host Was One Of The First To Get A COVID Vaccine
While COVID-19 vaccinations officially kicked off in the United States yesterday, last week the United Kingdom became the first nation in the world to begin administering the shots. With a fully approved and authorized COVID-19 vaccination (via CNN), essential healthcare workers and vulnerable populations of people 80 years and older were first in line to receive the Pfizer/BioNTech vaccine.
Among one of the early vaccinated in the U.K. was one its most popular television hosts, Prue Leith. Prue, who is 80 years young, is known to many around the world for her eclectic eyeglass collection, as well as for co-hosting the very popular television series The Great British Bake Off. Leith was filmed receiving the first dose of the COVID-19 vaccine by the BBC News and can be heard saying "Have you done it? God I didn't even feel it!" She later posted a photo to her Twitter account with the caption, "Who wouldn't want immunity from #Covid19 with a painless jab?? #vaccine."
Pfizer/BioNTech vaccine efficacy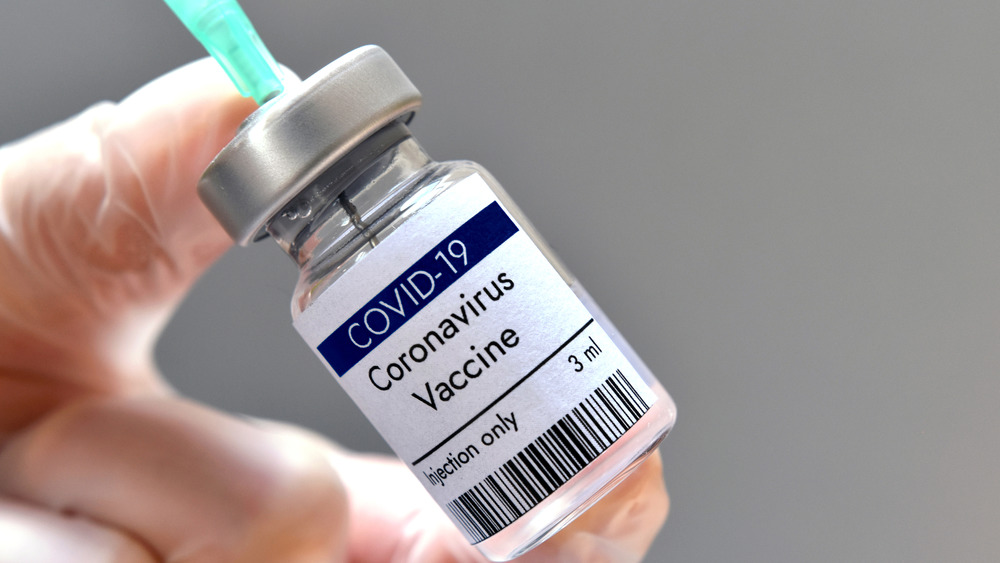 Shutterstock
Leith is not the only famous face from across the pond to be vaccinated: Michael Whitehall, also 80 years young, received the first dose as well (via Deadline). You may know Whitehall from the Netflix documentary series, Travels with My Father, where he stars alongside his son Jack. Whitehall too posted a photo to his Twitter account with the comedic caption, "Here was I worrying about a little prick, no, not @jackwhitehall ... See you for little prick No 2 in January."
The Pfizer/BioNTech vaccine consists of two doses administered 21 days apart, according to the CDC (hence, Whitehall's reference to a "second prick"). Days after the first dose, protection against SARS-CoV2 is approximately 52 percent, before increasing substantially to approximately 95 percent within the week following the second dose. As Dr. William C. Gruber, senior vice president of Pfizer Vaccine Clinical Research and Development, told the The New York Times, "Two doses of vaccine provide maximum protection."