CDC Reveals New Vaccine Guidelines For People With Allergies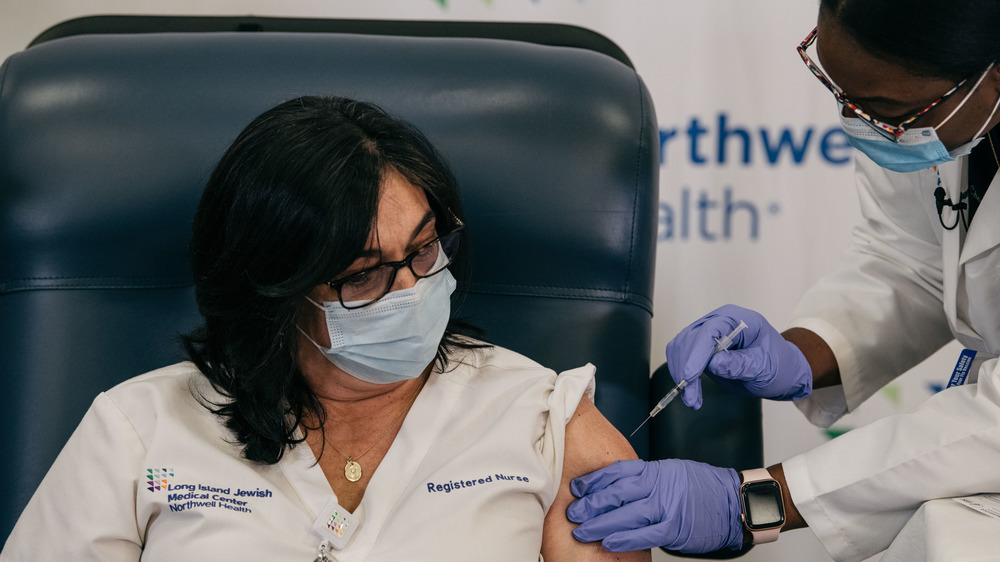 Scott Heins/Getty Images
With the U.S. Food and Drug Administration's recent emergency use authorization of the Pfizer/BioNTech and Moderna vaccines, hundreds of thousands of frontline healthcare workers and long-term facility residents have started getting vaccinated. In what has truly been a year of suffering and tragedy across the world, the hope and light vaccines bring can not be underestimated. Although millions are waiting to receive their vaccines in the upcoming weeks and months, it is not without some mild reservations.
Aside from the spread of blatant misinformation, recent headlines of severe allergic reactions in the U.S and the UK have made some a bit wary. As of today, only six such reactions have been reported in the U.S. out of hundreds of thousands of doses (via Healthline). The reactions occurred in healthcare workers who experienced symptoms varying from shortness of breath, elevated heart rate, and lightheadedness (or dizziness) within 30 minutes of vaccine administration.
Over the weekend, the Centers for Disease Control and Prevention (CDC) issued updated guidelines to address concerns over potential allergic reactions. Currently, the CDC is urging individuals who have had a history of severe allergic reactions to any of the ingredients in either vaccine to avoid that specific vaccination. Those who have had severe allergic reactions to other vaccines, or injectable medications, should consult with their healthcare provider or allergist to help weigh the risk versus benefit ratio for them personally. 
For individuals who have had severe allergic reactions to things other than vaccines and injectable medications, like food, latex, environmental, or pet triggers, vaccine administration is still recommended. The same holds true for individuals with a history of allergies to oral medications or who have a significant family history of severe allergic reactions.
Individuals with some allergy history are still getting vaccinated
In addition to these updates, the CDC also recommends all people receiving vaccines should be monitored onsite for possible reactions for at least 15 minutes. Individuals with histories of severe allergic reactions are to be monitored for 30 minutes total. All sites administering the vaccine are also required to be equipped with the proper medications and medical equipment to handle any adverse reactions.
Dr. Jen Ashton, a practicing OB-GYN and ABC Chief Medical Correspondent, received her first COVID-19 vaccine yesterday according to a post made on her Instagram account. Dr. Ashton is one of the millions of people who have a history of severe allergic reactions, having once required medical treatment in the emergency department. 
After having spoken with her allergist, reviewing the CDC data of only six known reactions out of 272,000 doses administered in the U.S. (at the time of her vaccination, as the numbers are increasing by the minute), and equipped with her two Epi-Pens on site, Dr. Ashton stated, "To me, I balance that rare risk up against the much more likely risk of getting infected with COVID and the possibility, even though it's less, of getting severe COVID disease." As is recommended, Dr. Ashton was observed for 30 minutes after her vaccine and is slated to receive her second dose in approximately three weeks.
So if you have a history of allergies or are still a bit wary of receiving your COVID-19 vaccine, don't turn to the dark and deep worldwide web — instead, talk to your trusted healthcare providers to ensure your health and safety and that of the people around you.