Here's What Type Of Face Mask May Be Best For Teachers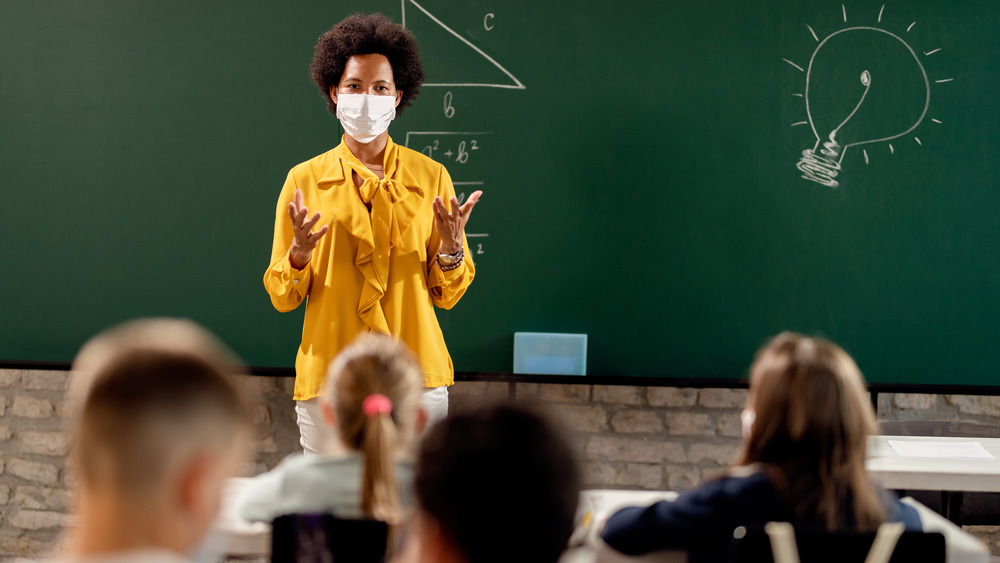 Shutterstock
With the ongoing pandemic, many of us speak louder while wearing a mask in public so that others can understand us clearly. Now researchers have investigated how that translates to classroom instruction. A new study finds that surgical face masks are among the best ones for teachers because they minimally affect intelligible speech while also protecting teachers and their students from the spread of the coronavirus (via Healthline).
Pasquale Bottalico, assistant professor in the department of speech and hearing science at the University of Illinois at Urbana-Champaign, recently compared a three-layer face mask, a surgical mask, and an N95 mask in two different classroom settings. He found that the surgical mask and the N95 mask allow for better comprehension. Fabrics, which are porous, naturally absorb and dampen sound (via the Acoustical Society of America).
Health professionals continue to dissuade people from purchasing N95 masks, which health care workers treating people with COVID-19 need for protection, according to Healthline. Therefore, for better comprehension, teachers should opt for surgical masks instead of fabric ones.
Face shields weren't studied, but the CDC says they're not as protective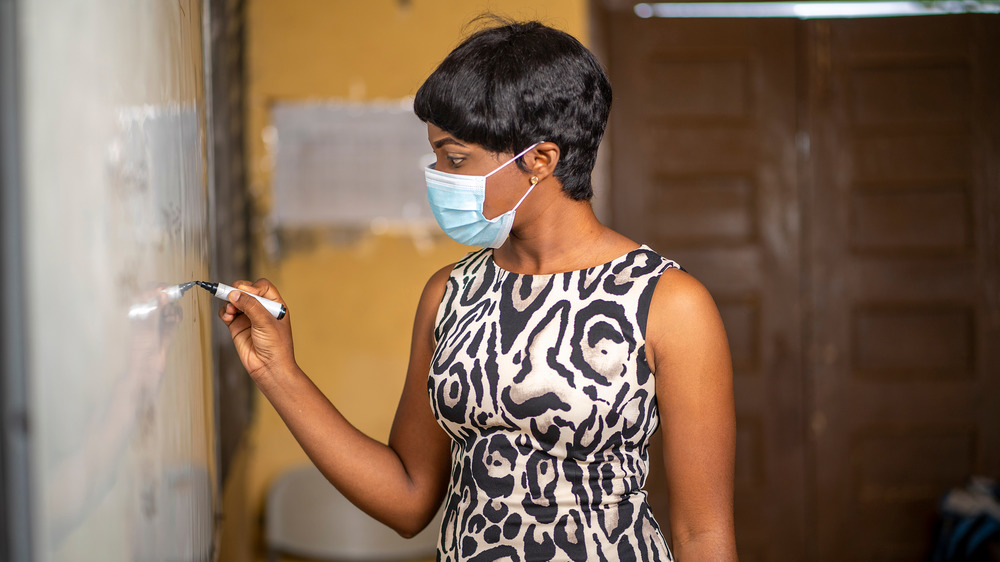 Shutterstock
Bottalico presented his findings virtually earlier this month at a conference for the Acoustical Society of America. "Because of the problems that COVID-19 is forcing us to face, the significance of my study consists in giving recommendations on the best type of masks to wear while teaching to minimize their negative effect on speech intelligibility," he told Healthline.
The Centers for Disease Control and Prevention say that wearing a mask, even if you do not feel sick, prevents respiratory droplets from traveling into the air when you talk, sing, shout, cough, or sneeze. COVID-19 spreads through such respiratory droplets.
The CDC lists on its website various types of recommended masks to help prevent the spread of COVID-19, including non-medical disposable masks. The agency does not differentiate between masks based on how they absorb or muffle sound.
Bottalico did not research whether face shields provided better sound comprehension, but the CDC does not recommend these for the general public. Although people who interact with those who are deaf or hard of hearing use face shields for better communication, the CDC says that respiratory droplets may escape through a face shield's large gaps below and alongside the face.