Does Light Therapy Really Help Acne?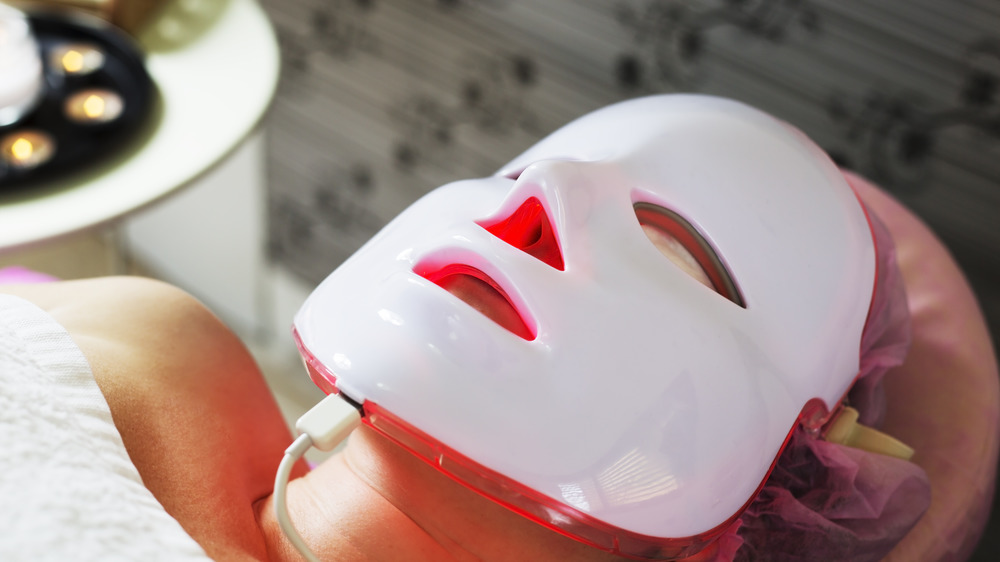 Shutterstock
Many people have struggled at one time or another with annoying or even painful acne. But treatments for the common skin condition aren't one size fits all and finding relief from blemishes can be difficult. Now, a therapy that aims different colored lights at your skin is being hailed as an effective treatment for persistent acne.
According to The American Academy of Dermatology Association, acne is the most common skin condition in the United States. It affects up to 50 million Americans annually, with 85 percent of people between the ages of 12 and 24 having at least minor acne. Billions of dollars are spent each year on treatments. But many people are not satisfied with their results (via Healthline). So what is light therapy, and is it something you should try for acne?
While the LED lights aren't new, their use in skin therapy is a recent development (via Harvard Medical School). In a typical light therapy session, a dermatologist will pulse the skin with red and blue LED light to treat acne. The two colors of light work in different ways and patients may benefit more from one more than another depending on what is causing their acne.
Blue vs. red light therapy for acne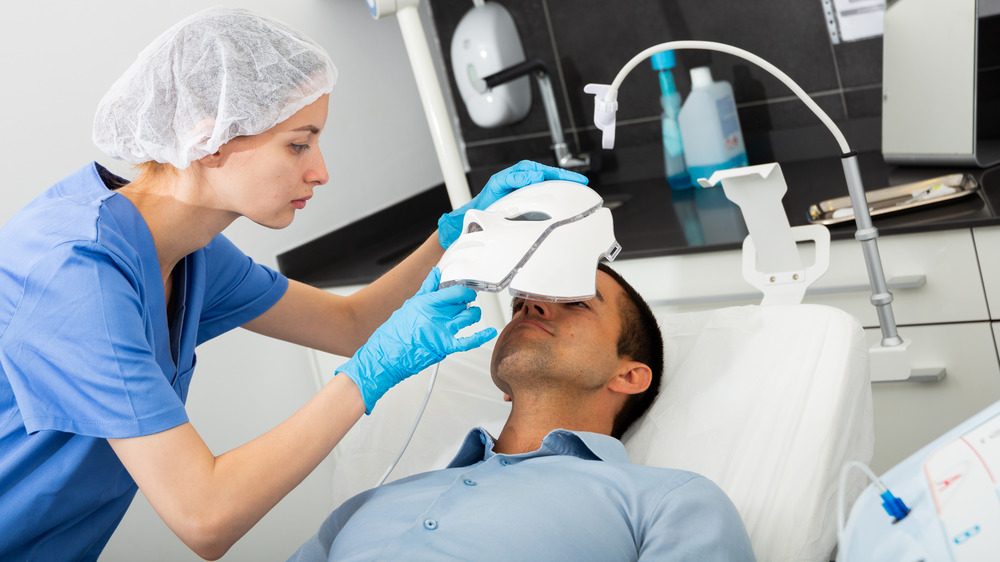 Shutterstock
Blue light therapy is the most common type used to treat acne. This wavelength of light can kill harmful bacteria on your skin and may also reduce activity in the glands that make pore-clogging oil. This treatment can also reduce free radicals that can cause aging on your skin, and the anti-inflammatory effects of blue light can reduce redness and irritation.
Red light therapy is less frequently used. Where blue light works on the surface of the skin, red light penetrates deep below the skin's surface to promote tissue repair. It may also reduce visible acne scars and can work as an anti-inflammatory.
Even though light treatment has produced results for many people, more studies need to be done about its long-term efficacy. The AAD advises that it can take several weeks and several light treatments to see results. It also does have some risks. Neither type of light is ultraviolet, so there is no chance for skin damage from radiation. But side effects like peeling, bruising, and some irritation are common. If not properly cared for, treated acne could become infected.
Overall, light therapy can be an effective acne treatment for many people. While it may not completely get rid of your acne, it may significantly improve symptoms. If other treatments haven't worked, a dermatologist can help determine if light therapy is a good option for you.