The 5-Minute Workout That A Study Shows Melts Belly Fat
Shutterstock
If you have trouble motivating yourself to exercise, one study might have just the jolt you need to get moving: you can burn fat in about five minutes just by consistently taking the stairs.
A study from The Korean Journal of Sports Medicine tracked four sedentary overweight people over three weeks of climbing stairs twice a day for more than five minutes (via Eat This, Not That!). The participants — two women in their 30s, a man in his 30s, and a woman in her 50s — had no other underlying health conditions. The researchers told them that they were to climb the stairs in their apartment buildings or workplaces without rest, although they could take their time or take another route traveling back down (via The Korean Journal of Sports Medicine).
After three weeks, the researchers found that the group lost an average of 7.3 pounds (or 3.35 kilograms) of body weight and 5.5 pounds (or 2.53 kilograms) of body fat mass. The exercisers also improved strength in their lower extremities slightly (about 5 percent) and lost a slight amount of thigh fat. "Although only four people may not be representative as targets ... it is suggested that stair climbing has sufficient utility as an easily accessible exercise," the researchers wrote.
Try a swift pace ascending for five minutes and descend a bit slower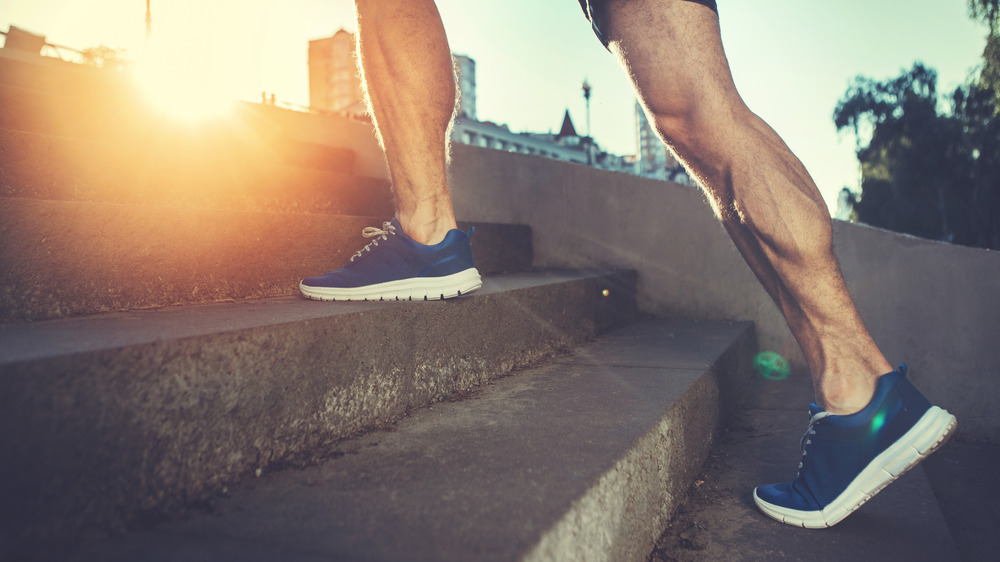 Shutterstock
However, other research has shown that "exercise snacks," or brief but consistent bouts of exercise, can improve cardiorespiratory fitness (via Applied Physiology, Nutrition, and Metabolism). Canadian researchers in 2019 noted that sedentary young adults — men and women about 19 and 20 years old — who ascended three flights of stairs (60 steps) three times a day and three days a week improved their cardiorespiratory fitness, or CRF, about 5 percent after six weeks. Although a modest increase, this was "significantly higher" when compared with a control group, the researchers said.
"Habitual physical activity increases CRF but many individuals do not perform sufficient amounts as recommended by public health agencies, often citing 'lack of time' as a perceived barrier," these researchers wrote. Training in brief bouts with a few minutes of recovery "... increases CRF similar to traditional moderate-intensity continuous training despite reduced time commitment."
Stairs have a grade or incline of about 65 percent, so they make walking harder on your legs and your lungs than when you travel over flat ground, says Eat This, Not That! Try hitting the stairs at home, at your workplace, or even the bleachers of an athletic stadium, ascending at a brisk pace and descending at a moderate pace for five minutes. Rest for a few minutes, then repeat for another five minutes if possible. If you'd like to boost the resistance, take every other step as you climb. Be sure to warm up beforehand and stretch and cool down afterward.