These Countries Are Taking A Stronger Stand Against COVID-19 Variants. Here's How
Shutterstock
With the recent revelation of new COVID-19 strain(s), some European countries have issued improvised mask-wearing regulations in hopes to better combat the virus. Germany has now mandated the surgical masks, KN95 or FFP2, be worn when in public places and on shared transportation (via NPR). According to CNN, these surgical-grade masks, or category one masks, provide greater protection than cloth masks and prevent 90 percent of particles from passing through (via The Local).  
The German state of Bavaria took it one step further and has mandated surgical grade respirator masks be worn in public, as these masks block up to 95 percent of particles. The German federal government will distribute these masks to the high-risk population, including those over 60 and with compromised medical conditions (via The Local). Chancellor Angela Merkel expresses the urgency of taking precautions with the new variants of COVID-19, stating, "We must slow the spread of this variant as far as possible."
Surgical grade masks provide more protection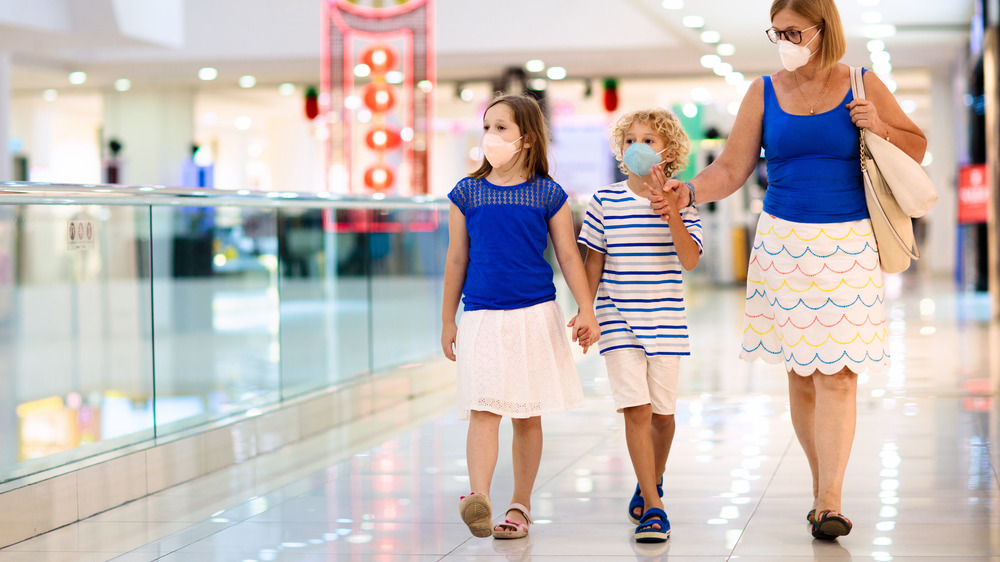 Shutterstock
Austria has also adjusted its regulations, requiring people to wear the FFP2 mask in public, even in outdoor public spaces such as markets, and to assist the residents, more than 1 million of these masks will be distributed at grocery stores. France has implemented the same mask-wearing recommendations as Germany and Austria, and will issue a fine for those who are found wearing their masks incorrectly (per The Local). A member of France's health advisory council explained, "We don't have any new weapons against the new strains, the only thing we can do is to improve the weapons we already have."
In regard to the new mask mandates, CNN reports that Bavarian Prime Minister Markus Söder states, "We also want to make everyday life safer." A recent study shows that the surgical-grade masks, such as the N95, provide better protection than common cloth masks. Still, the World Health Organization suggests cloth masks are acceptable for the general population and they continue to recommend surgical masks for the at-risk and healthcare population.