This Devastating Neurological Condition Is Affecting COVID Patients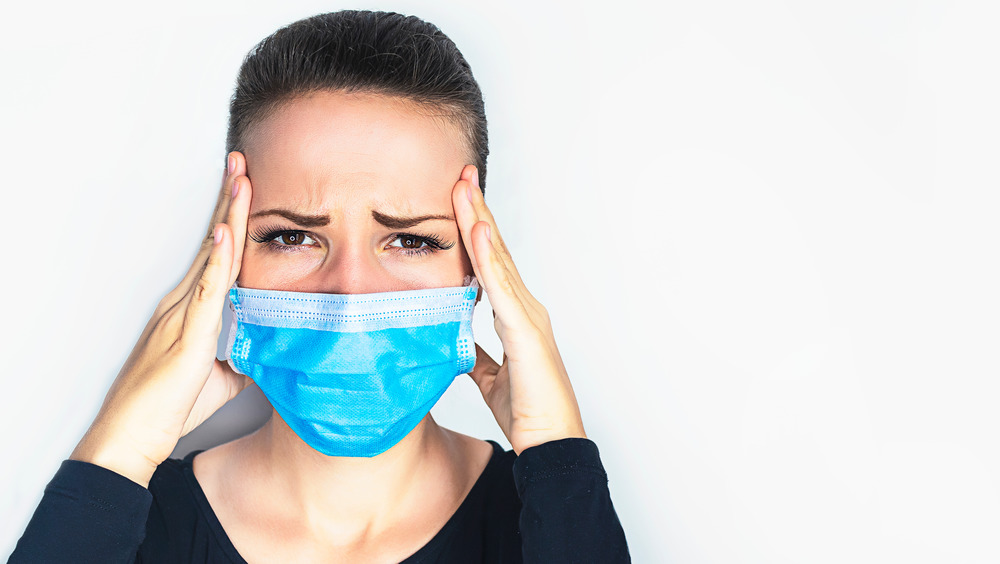 Shutterstock
Though primarily considered a respiratory disease, COVID-19, caused by the SARS-CoV-2 virus, has been known to affect multiple other organs and systems such as the brain, heart, and circulatory system (via MayoClinic). COVID-19 infection has been associated with stroke and heart attacks, and one of the more devastating non-pulmonary effects of COVID-19 has been the development of encephalitis, or inflammation of the brain.
Dr. Ava Easton, CEO of the Encephalitis Society, tells Health Digest, "We are sadly seeing cases of encephalitis linked to COVID. Early data suggests up to 13 in every 100 people who have COVID-19 and who have neurological complications may go on to experience some form of encephalitis." Development of encephalitis does have some dire consequences, as Dr. Easton goes on to say the condition has a high mortality rate. While some may survive, those that do, "can be left with a brain injury that can result in life-changing difficulties such as difficulties with how they think, feel, and behave." She also noted some survivors may go on to develop epilepsy, memory problems, and other long-term neurologic conditions.
When it comes to COVID-19, we are still learning so much about this novel disease and its complications, even one year later. Dr. Easton notes that up to 80 percent of hospitalized COVID-19 patients experience neurologic symptoms, which can include headache, loss of smell, and loss of taste, to name a few. She goes on to share, "some recent papers estimate that up to 30 percent of patients affected by COVID-19 who have neurological complications will have some kind of brain syndrome, including encephalitis." So can anything be done to prevent or effectively treat the encephalitis linked to COVID-19?
COVID-19 vaccinations may be key in prevention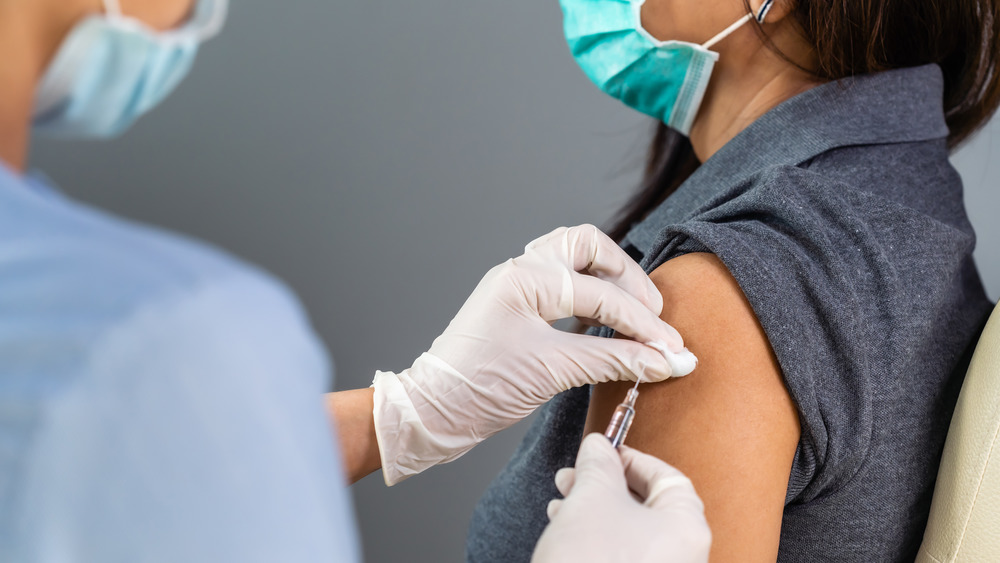 Shutterstock
Historically, encephalitis is a difficult condition to treat. Dr. Easton says in many cases there is very little which can be done. While some treatments are being studied for COVID-19-related encephalitis, such as corticosteroids and therapeutic plasma exchange, some cases of the condition can be prevented. And prevention comes in the form of vaccines.
According to Dr. Easton, "measles causes encephalitis and is now a vaccine-preventable disease." The same is true for other vaccine-preventable condition, such as Japanese encephalitis and tick-borne encephalitis. She encourages all who are eligible and able to receive their COVID-19 vaccine to get it. "If we can prevent encephalitis and the resultant death and disability, then this must be a priority." Although the vaccine rollout around the world has been a little choppy, this week the U.S. Food and Drug Administration gave emergency use authorization to Johnson & Johnson COVID-19 vaccine, making it the third on the U.S. market and increasing availability and accessibility to millions.
Top health officials in the nation are urging all residents to get their COVID-19 vaccines to help slow the spread, decrease mortality, and decrease the rise in mutations of COVID-19. Dr. Easton shares these sentiments, adding, "vaccines are one of the safest, most effective ways of preventing it [disease] and historically they've have saved countless people from disease, disability and death."