The Healthy Green Bean Casserole Your Family Will Beg For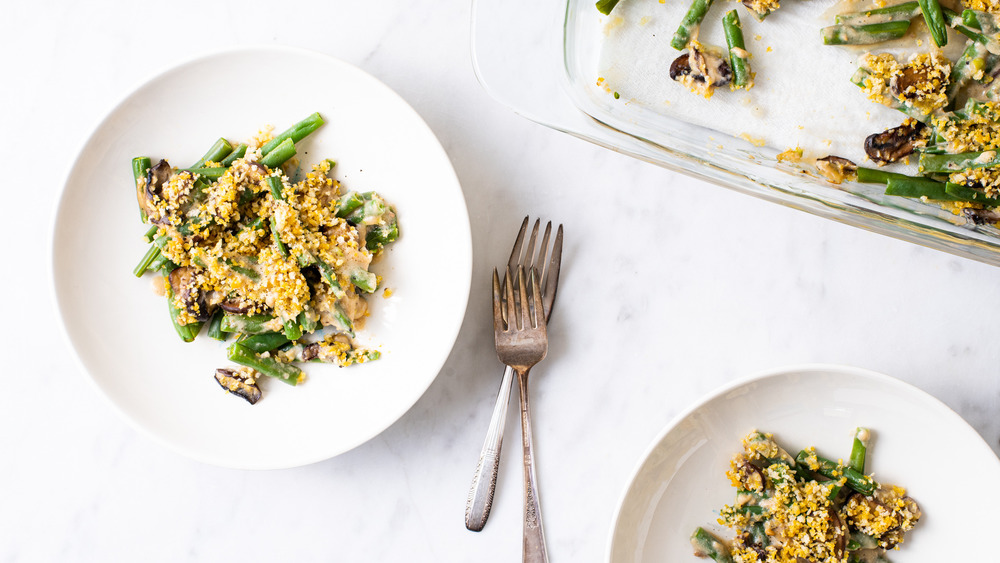 Alexandra Shytsman/Health Digest
This green bean casserole is an incredibly delicious, entirely made-from-scratch rendition of the time-honored holiday dish. With a couple of ingredient swaps and an updated technique, the recipe is transformed into a much healthier, entirely vegan version, all while retaining its signature flavor.
Traditional green bean casserole uses canned cream of mushroom soup and store-bought, tinned fried onions. For our updated version, we're starting with blanched, brightly-colored green beans. Boiling the beans for just a couple of minutes ensures most of their nutrients (and color, and crunch!) will remain intact.
Next, we have a creamy, garlicky mushroom sauce — made of actual mushrooms — as well as a crunchy, "cheesy" Panko breadcrumb topping. Together, these elements create a crave-worthy, festive dish sure to become a family favorite. No canned soup, mushy beans, or overly processed ingredients here, folks! This tasty recipe comes courtesy of Alexandra Shytsman from the plant-based blog, The New Baguette.
Gather the green bean casserole ingredients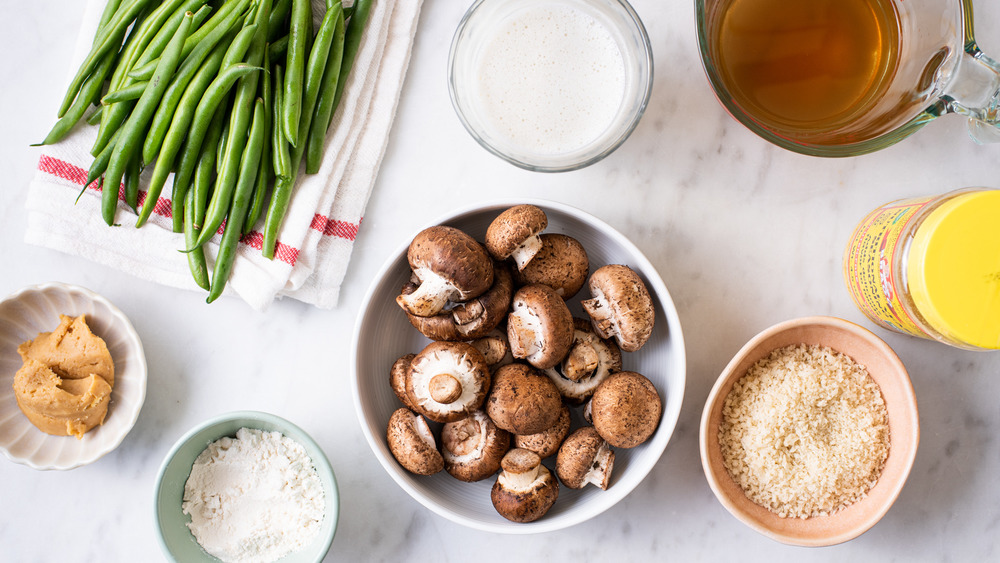 Alexandra Shytsman/Health Digest
For this healthier version of green bean casserole, you'll need some fresh green beans, cremini mushrooms, non-dairy milk, vegetable broth, flour, Panko breadcrumbs, miso, and nutritional yeast.
The milk is the base of the sauce, so it's important to choose the right one. We recommend unsweetened oat milk, which tends to be the creamiest. Unsweetened cashew milk is another great option. It's best to avoid almond milk here — its nutty flavor can be overpowering in savory dishes. We recommend a low-sodium or "no salt added" vegetable broth so you can control the amount of salt in the casserole. Many store-bought broths are simply too salty.
Make the mushroom sauce for green bean casserole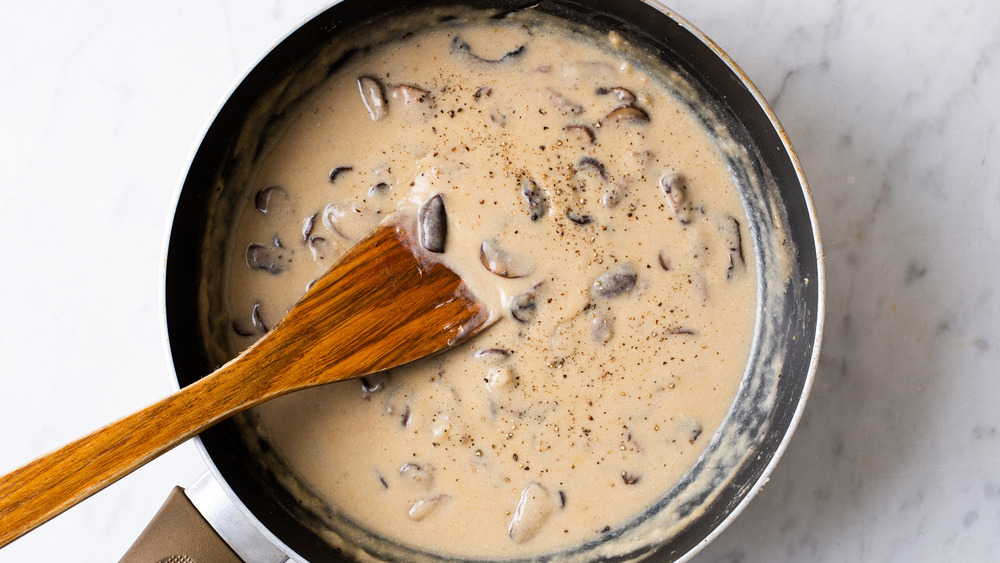 Alexandra Shytsman/Health Digest
Begin by preheating your oven to 400ºF and bringing a medium pot of water to a boil for the beans. While that happens, start the sauce. Thoroughly browned mushrooms build the foundational flavor of the sauce, so don't rush this step. Miso amps up the saltiness and savoriness of the dish and lends an almost cheese-like background flavor.
We like to be generous with the amount of coarsely ground black pepper in the sauce. The spiciness adds something unexpected to this traditional dish.
Blanch the green beans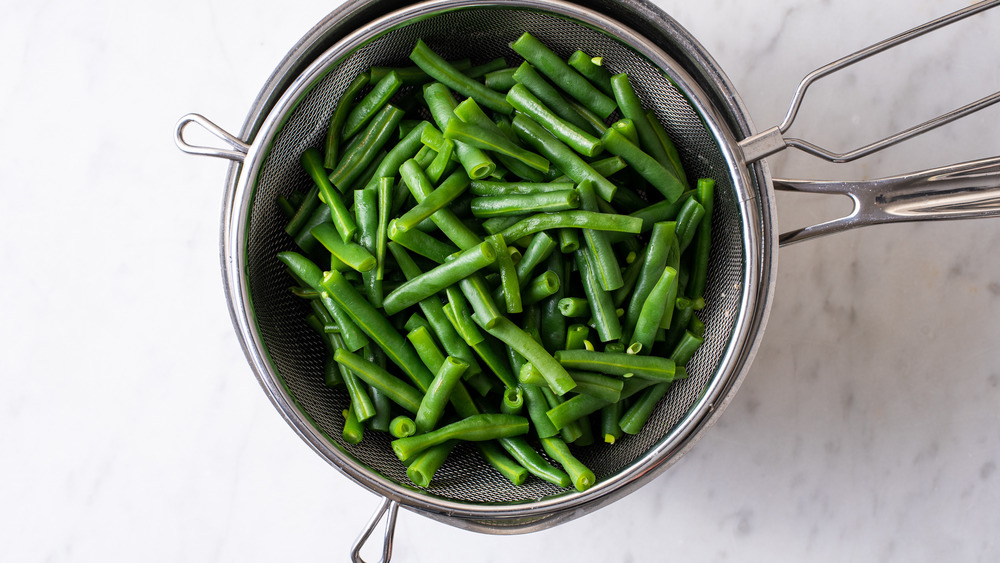 Alexandra Shytsman/Health Digest
"Blanching" is a classic technique that refers to briefly cooking vegetables in boiling water and then "shocking" them with cold water, as to not overcook them with residual heat. This technique is used to par-cook vegetables while preserving their color and texture. Liberally salting the cooking water will make blanched green vegetables bright green.
Do not overcook the beans at this point — they only need to simmer for 1-2 minutes, so watch them carefully. After blanching, the beans should feel neither too waxy nor too mushy.
Make the green bean casserole's crunchy topping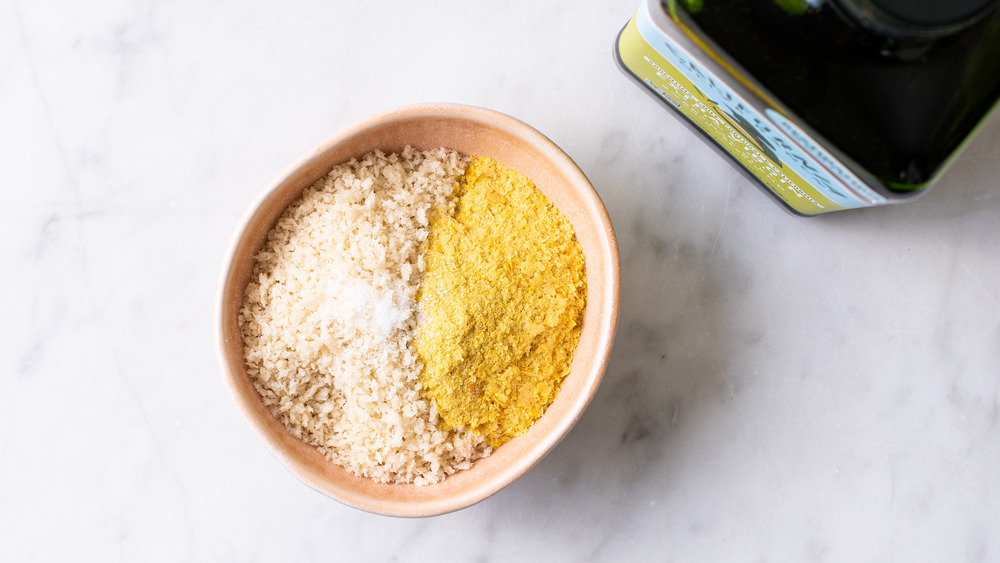 Alexandra Shytsman/Health Digest
A traditional green bean casserole features tinned fried onions on top. For our healthy version, we use Panko breadcrumbs as the base of the topping. (Panko are Japanese-style breadcrumbs typically used in dishes like tempura and katsu.) Panko have larger granules than American-style breadcrumbs, which makes them crunchier and so satisfying to eat with these beans.
We fortify the Panko with nutritional yeast, which also lends a "cheesy" note to the casserole. The two are bound together with olive oil, allowing the topping to become golden brown in the oven.
Assemble and bake the green bean casserole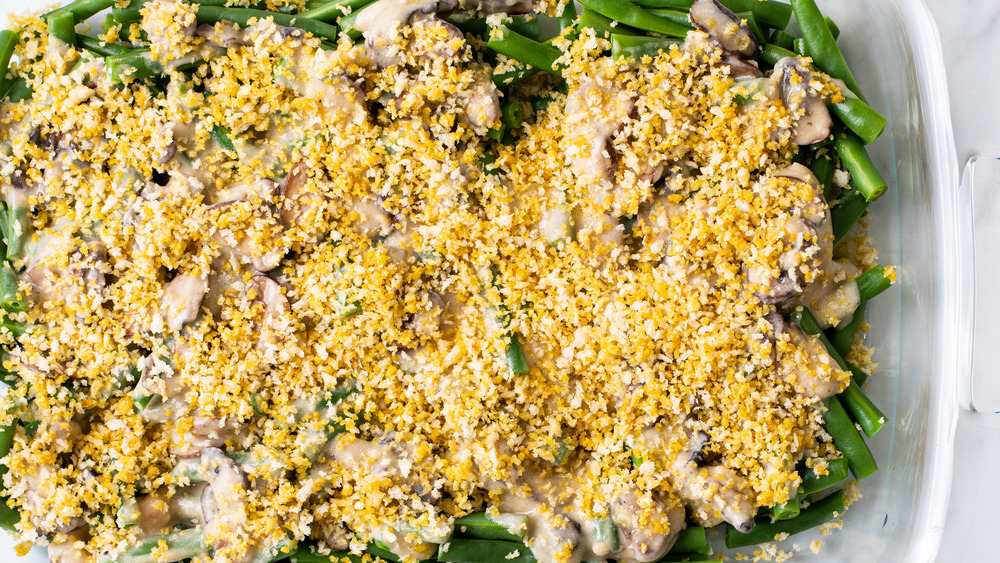 Alexandra Shytsman/Health Digest
Place the green beans in a 9x13 casserole dish, drizzle the sauce over the top, and sprinkle on the Panko topping. The casserole then needs about 20 minutes in the oven to marry the three elements and create that signature crunchy, golden brown top. The end result is absolutely addictive! The creamy sauce envelops the crunchy beans, and the Panko becomes irresistibly crunchy.
This recipe makes a relatively small casserole, but it should easily serve 4 or 5 people. You can easily double the recipe though, which would still fit in a 9x13 dish.
The Healthy Green Bean Casserole Your Family Will Beg For
Green bean casserole is a beloved holiday dish, but it's not exactly health food ... until now. This updated recipe delivers full flavor, only now healthier.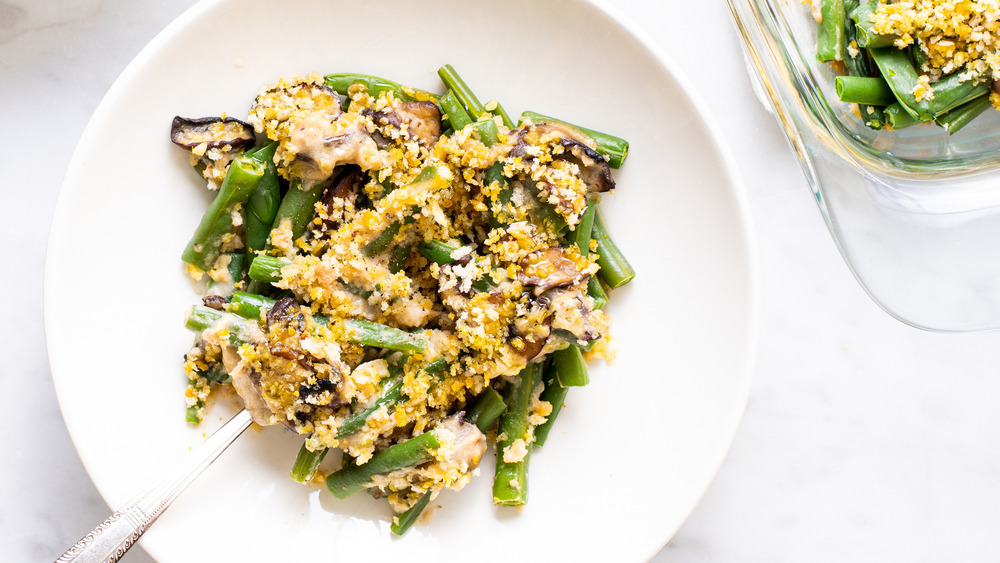 Ingredients
3 tablespoons extra virgin olive oil, divided
8 ounces cremini mushrooms, sliced
fine sea salt, to taste
freshly ground black pepper, to taste
1 cup mushroom or vegetable broth
1 cup unsweetened unflavored non-dairy milk (we recommend oat milk)
2 tablespoons white miso
1 ½ pounds green beans, trimmed and halved
1 medium garlic clove, minced
2 tablespoons all-purpose flour
½ cup Panko breadcrumbs
1 tablespoon nutritional yeast
Directions
Bring a large pot of water to a boil for the beans and preheat the oven to 400ºF.
Heat 2 tablespoons oil in a large skillet over medium-high heat. Add the mushrooms, with a pinch of salt and pepper, and cook until they're browned all over, stirring occasionally, about 8 minutes.
Meanwhile, in a bowl or measuring cup, combine the broth, milk, and miso, and whisk to dissolve the miso. Set aside.
Stir the garlic into the mushrooms and cook for 30 seconds. Stir in the flour and cook for another 30 seconds. Then add the broth mixture. Bring to a simmer and cook until the sauce is thick enough to coat the back of a wooden spoon, 5 to 8 minutes. Turn the heat off.
Meanwhile, in a small bowl, combine the Panko and nutritional yeast with the remaining tablespoon of oil and a pinch of salt. Rub together with your fingers to distribute the oil evenly. Set aside.
Season the boiling water generously with salt and add the beans. Simmer for 1-2 minutes, just until the beans are bright green. Drain immediately in a colander and run the beans under cold water. Shake off all the excess water and transfer the beans to a 9x13-inch roasting pan.
Pour the mushroom sauce over the beans and sprinkle with the Panko mixture. Bake until golden brown, about 20 minutes.
Nutrition
| | |
| --- | --- |
| Calories per Serving | 261 |
| Total Fat | 12.6 g |
| Saturated Fat | 1.7 g |
| Trans Fat | 0.0 g |
| Cholesterol | 0.0 mg |
| | |
| --- | --- |
| Total Carbohydrates | 30.9 g |
| Dietary Fiber | 7.4 g |
| Total Sugars | 10.0 g |
| Sodium | 884.2 mg |
| Protein | 10.8 g |