What Does Vaccine Efficacy Mean?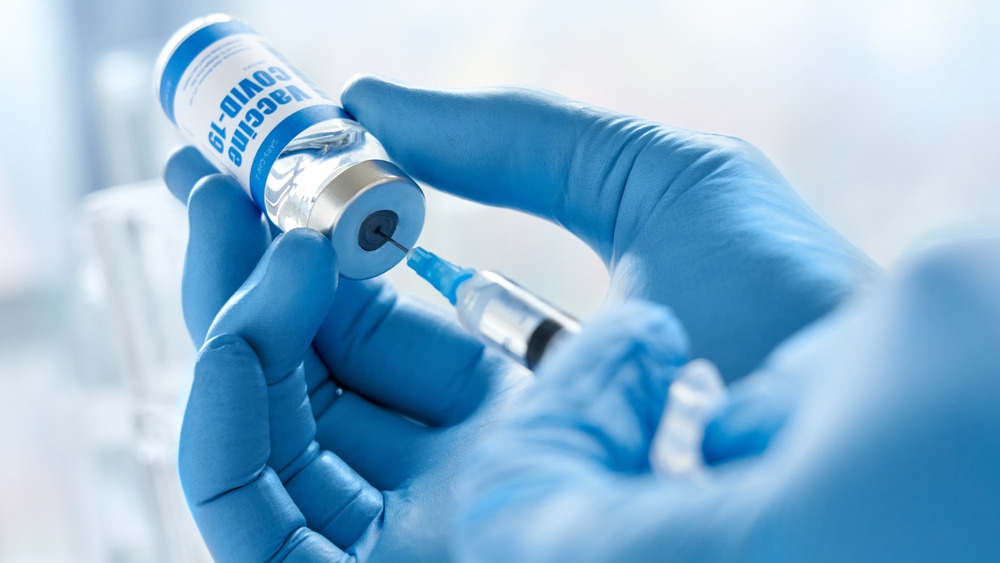 Shutterstock
Vaccine efficacy refers to how well a vaccine works during the clinical trial phase. This is determined by measuring the percent reduction of disease incidence in both the vaccine and placebo groups of a clinical trial, according to the Centers for Disease Control and Prevention (CDC). If a vaccine has an efficacy rate of 95 percent, like the Moderna and Pfizer-BioNTech vaccines, it means that the participants in the vaccine group had a 95 percent lower risk of contracting COVID-19 than participants in the placebo group (via Live Science).
It does not mean that only 95 percent of vaccine recipients were protected from COVID-19, while the other 5 percent were not. Only 0.04 percent of vaccinated participants in the Pfizer clinical trial ended up contracting the virus. "That's why we have to compare the vaccine arm with the placebo arm, because the placebo arm is what tells us how much exposure and infection there would have been, if they weren't immunized with the vaccine," Akiko Iwasaki, an immunobiologist and leading virus expert at Yale University, told Insider.
What about vaccine effectiveness?
Shutterstock
Although it might seem like vaccine efficacy and effectiveness are one and the same, they are actually two different metrics. While vaccine efficacy measures how well the vaccine works during a clinical trial, vaccine effectiveness measures how well the vaccine works on the general public (via Insider). Vaccine effectiveness is measured in observational studies, which allow researchers to observe and assess the effectiveness of a vaccine under real-world conditions.
According to a recent observational study conducted by the CDC, both the Pfizer and Moderna vaccines are 90 percent effective at preventing COVID-19 infections (via CNN). This percentage includes both symptomatic and asymptomatic infections. The study followed nearly 4,000 health care workers and first responders over the course of 13 weeks and found that the two vaccines provided substantial protection, even after the first dose.
"This study is tremendously encouraging," Dr. Rochelle Walensky, the director of the CDC said during White House COVID-19 briefing on Monday. "These findings also underscore the importance of getting both of the recommended doses of the vaccine in order to get the greatest level of protection against COVID-19, especially as our concerns about variants escalate. Our national vaccination efforts are working."