Are Salads From Fast Food Chains Actually Healthy?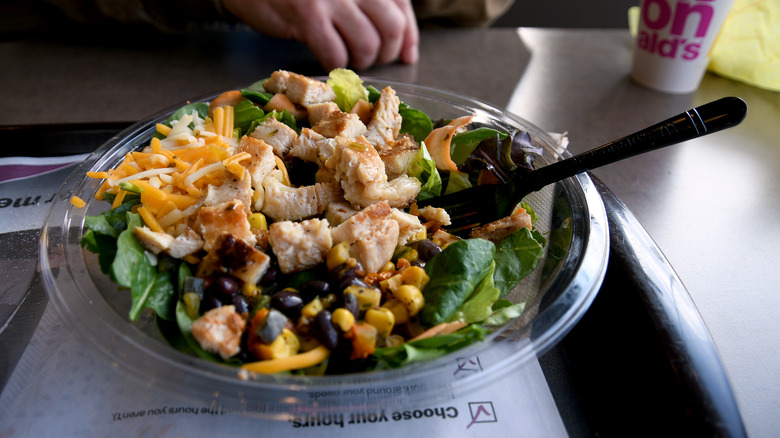 Shutterstock
Salads are usually ranked high on the list of healthy lunch or dinner options. It makes sense, then, to feel proud of yourself for ordering a salad at a fast food restaurant while everyone else munches on burgers and fries. But those salads probably aren't as healthy as you think they are.
Fast food restaurants want their food to taste good. And let's be honest, a handful of plain spinach and a few tomatoes, while healthy, isn't that appetizing. Restaurants make their salads more appealing by adding a variety of mix-ins, toppings, and dressings. These taste great, but can pack a lot of calories.
Chili's Quesadilla Explosion Salad, for example, packs a whopping 1340 calories, 87 grams of fat, and 2140 milligrams of sodium, according to their menu. That's the equivalent of eating two full bags of potato chips (via HuffPost)! Other salads that contain over 1000 calories, according to Eat This, Not That!, include California Pizza Kitchen's The Original BBQ Chicken Chopped Salad (1180 calories), Buffalo Wild Wings' Santa Fe Salad With Cilantro Lime Ranch Dressing & Soft Tortillas (1080 calories), and IHOP's Crispy Chicken Cobb Salad With Grilled Chicken (1070 calories).
How to find a healthy salad at a fast food restaurant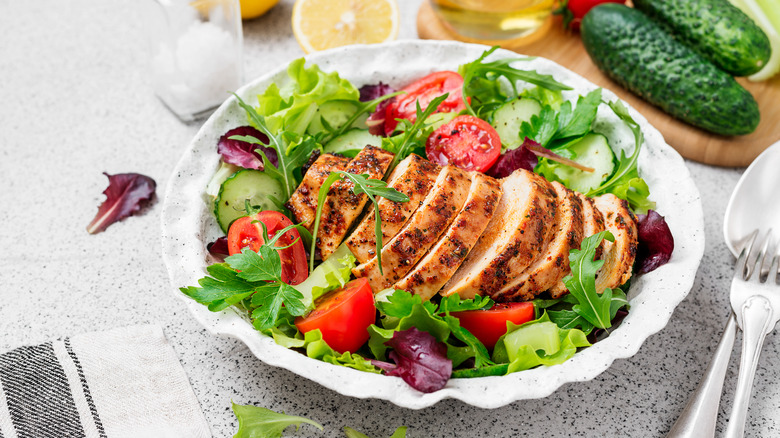 Shutterstock
Fortunately, it isn't impossible to find a healthy salad option at most restaurants. You can approach it one of two ways: find a salad that has good nutritional content the way it's served at the restaurant or ask for substitutions to make an unhealthy salad a bit better for you.
According to TODAY, some of the best fast food salads include Arby's Roast Turkey Farmhouse Salad (240 calories), a half portion of Wendy's Southwest Avocado Chicken Salad (300 calories), and Panera's Modern Greek Salad with Quinoa (320 calories). These all have high amounts of protein and relatively low amounts of fat and sodium, especially compared to other items on the menu.
If you're dining somewhere that doesn't offer a better-for-you salad, you can make a few substitutions instead. To cut down on fat and calories, opt for grilled chicken instead of crispy chicken and order your dressing on the side and use it sparingly. You can also ask for a low-calorie dressing alternative, like a balsamic vinaigrette. And finally, enjoy salad toppings sparingly. Carb-heavy add-ins like croutons and roasted nuts can quickly bump that calorie count into the sky.