What You Should Know About Nurx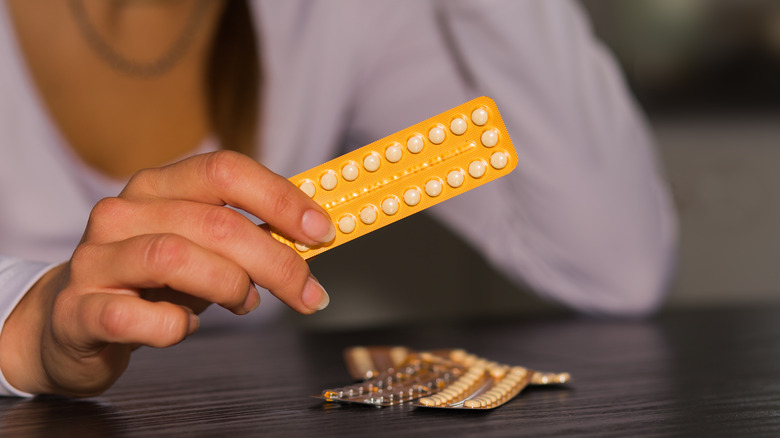 Shutterstock
Our current age of technology has made virtually anything available online. With the click of a button, you can order takeout, clothing, and even birth control. Nurx is a company that allows you to get birth control prescribed at home and delivered to your door.
Founded by Hans Gangeskar and Dr. Edvard Engesaeth in 2015, Nurx has been called the "Uber for birth control" (via NBC News) and was created to simplify women's lives around various health needs. In addition to birth control, they offer treatment for herpes, migraines, and acne. They also provide at-home tests for HPV and STIs. Nurx accepts many forms of insurance but you can still use their service without it.
The convenience of Nurx is by far its biggest draw. Instead of finding a provider on your own, scheduling an appointment, and going to an office, the telehealth company allows you to go through a small list of steps from the comfort of your home. This convenience was important to the founders from the start. "We want to put the user in the front seat and let them see what's happening, and why it's happening, and ask questions. Putting the patient in control is core to the company," Dr. Edvard Engesæth told Brex.
How Nurx works
Shutterstock
Accessing Nurx is about as easy as telemedicine can be. According to Healthline, users log on to Nurx's website or app and choose which service they'd like to access, whether it is birth control or another treatment. Then, they'll answer some questions about their health history and insert insurance information if applicable. Next, users will need to pay a $15 consultation fee for a medical professional in their state to review their health information.
After a professional has looked over a patient's intake form, they will write a prescription for the birth control or other treatment product. Then, the prescription will be shipped to the user's home in 3 to 5 business days. After paying the consultation fee, Nurx users also have access to a medical provider for an entire year if they have any questions about their prescription or treatment.
Overall, Nurx is a popular company that meets a need many women have. Their website is easy to access and their pricing is competitive. However, it is currently only available in 29 states and the District of Columbia, so not everyone will be able to use it unless the company is able to expand to all 50 states.