What Is The Naturally Slim Diet?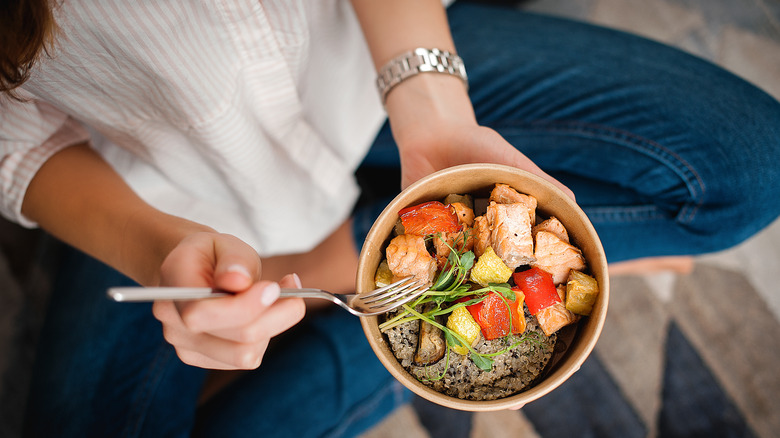 Shutterstock
The Naturally Slim Diet is a paid, year-long program that counsels people on healthy eating habits (via Healthline). The diet aims to help users replace unhealthy habits with those of people who, as the name suggests, are naturally slim. A main way to achieve this is through mindful eating, a strategy that focuses on listening to hunger signals, only eating at mealtimes, eating slowly, savoring foods, and recognizing signs from your body that you're full. The eating plan requires no special foods, supplements, or supplies and does not involve counting points or calories or restricting certain foods (via Medical News Today).
The Naturally Slim Diet is completely online, so you need reliable internet access to participate. The program costs $50 monthly or $450 for the year. It is divided into three phases. The first phase consists of 10 weeks of basic lessons on nutrition, fitness, and mindful eating. Next comes 10 weeks of biweekly lessons tailored to your specific needs. The final phase is 32 weeks of monthly lessons focused on helping you maintain a healthy lifestyle. In addition to the lessons, users are also able to connect to a community of other members following the Naturally Slim Diet. Counselors are available to answer questions via email at any time during your program.
Will the Naturally Slim Diet help me lose weight?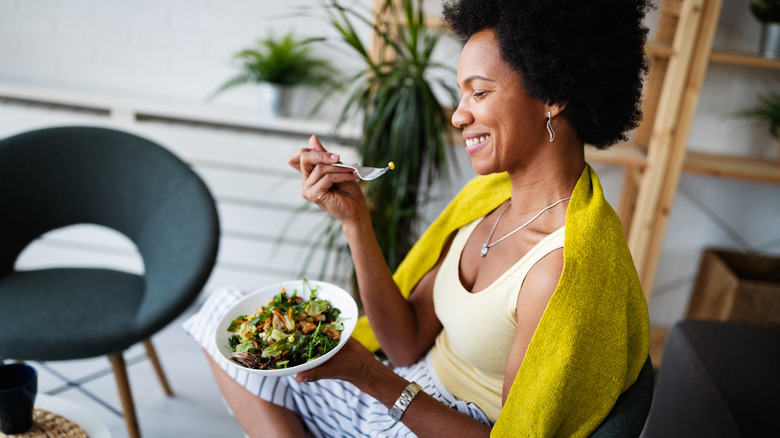 Shutterstock
There is some research that supports claims that the Naturally Slim Diet is effective for weight loss. One study, published in the journal Metabolic Syndrome and Related Disorders, of more than 3,800 adults who followed the program found that women lost about nine pounds and men lost around 13 pounds after 10 weeks. Another study that included data from more than 140,000 people following the diet plan for 10 weeks found that women lost 2% of their body weight, while men lost 2.4%. However, this study was conducted by one researcher who works for Naturally Slim, Inc. and another who is a paid consultant for the company, so the results may be biased.
Other research suggests mindful eating principles can result in weight loss. One review of nine studies concluded that mindful eating resulted in more weight loss than no interventions at all and may result in similar weight loss to commercial diets. Preventing obesity and maintaining a healthy weight has numerous health benefits, including a lower risk of heart disease, diabetes, sleep apnea, and even certain cancers.