Indians Pitcher Zach Plesac's Brutal Finger Injury Explained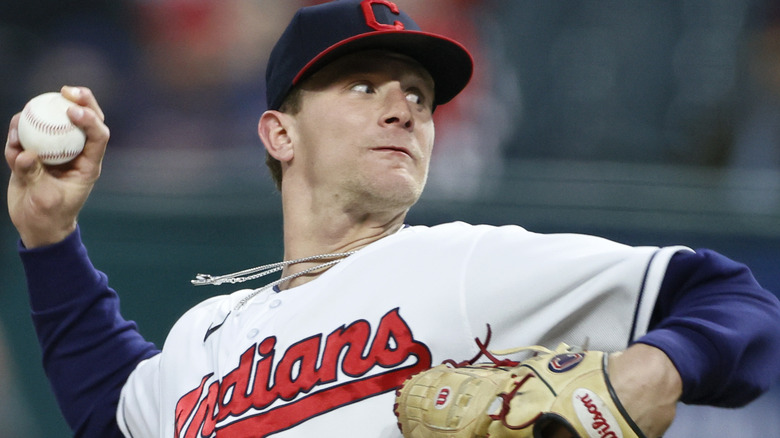 Ron Schwane/Getty Images
Cleveland Indians star hurler Zach Plesac injured his pitching hand in a bizarre accident Sunday, May 23, following a frustrating outing against the Minnesota Twins. The starter was put on the 10-day injured list after he was diagnosed with a non-displaced fracture in his right thumb.
Cleveland manager Terry Francona told Indians beat reporter, Mandy Bell, that the injury came about as Plesac was "rather aggressively ripping off his shirt" and smacked his thumb hard on a chair (via CBS Sports). Plesac had three solid innings but fell apart in the fourth when the Twins scored five runs. As a result, Plesac was taken out of the game — and this began the series of events that led to his injury. "It was pretty swollen yesterday, so we sent him for X-rays last night and got them back about the sixth inning," Francona revealed (via Yahoo).
This isn't the first time that Plesac has made the news in relation to a health issue. In August 2020, he was accused of violating MLB'S COVID-19 protocols at the time. Plesac's actions required the Indians to place him on the restricted list so he could quarantine and get tested for coronavirus before returning to the team (via WKYC).
How serious is a non-displaced fracture?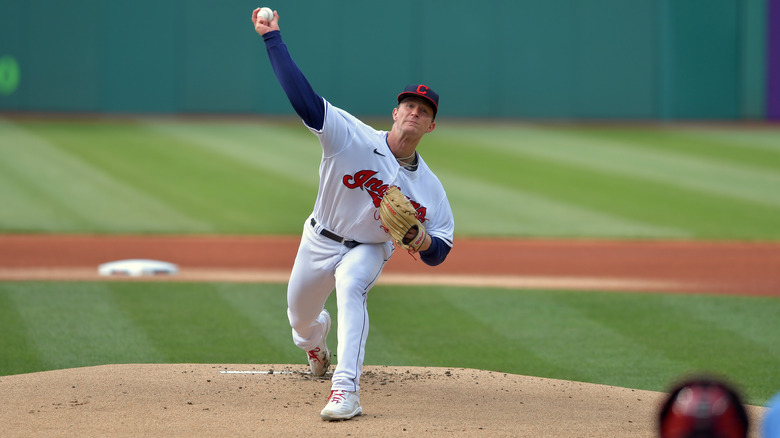 Jason Miller/Getty Images
A bone fracture, or a broken bone,  is a fairly common occurrence. It's so common, in fact, that you are likely to experience a bone fracture twice in your lifetime (via WebMD). Given that you have numerous bones in your body, you could suffer many possible types of bone fractures; however, two of the main kinds are displaced and non-displaced.
A displaced fracture occurs when your bone snaps in at least two places and the ends don't line up straight. So, in this instance, the position of your bones has shifted from their natural position. If you experience a non-displaced fracture, like Zach Plesac, your bone will crack either part-way or entirely, but, unlike a displaced fracture, the bone does not shift from its position, it stays properly aligned (via WebMD).
As far as the healing process for a bone fracture, a medical professional will usually treat the injury using a cast or splint, depending on the kind of protection the injury requires and where the injury is located. Both casts and splints will help the bone to stay in a straight, fixed position, allowing it to heal. Healing time can vary depending on how severe the injury is, the location of the injury, the person's age, and other factors. As the Cleveland Clinic explained, though, it generally takes six to eight weeks to heal.