Surprising Benefits Of Using Ice On Your Face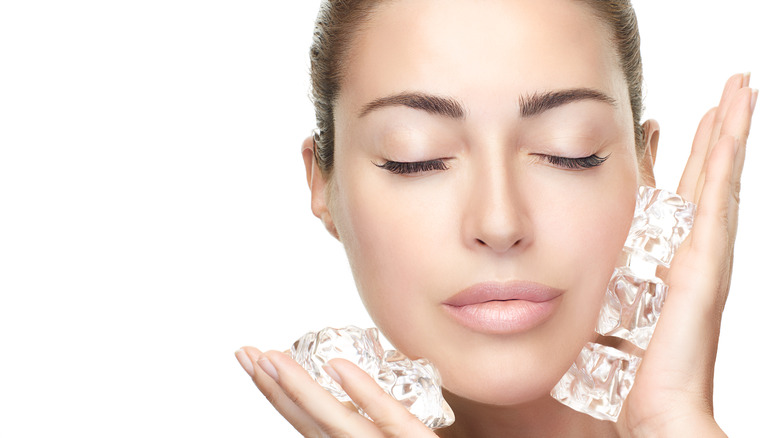 Shutterstock
If you're on the quest to find a new skincare routine, you may have seen this one floating around the internet. Ice facials are part of a new craze that some beauty experts swear by for a natural boost of healthy, glowing skin. While the science behind it is not clear, this affordable facial option has skyrocketed in popularity to battle puffiness, breakouts, and inflammation. 
The benefits of ice can vary by skin type. If you have naturally oily skin, applying ice to your face can reduce the amount of oil your skin produces, therefore possibly reducing acne and breakouts (via Dermovia). If you apply ice to an existing pimple or blemish, it can reduce swelling and inflammation by restricting the blood flow to the area. Some beauty experts recommend pairing the ice with a warm compress, stimulating the body's immune system response to clear out blemishes and cysts (via Vogue).
Puffiness is another reason you might want to try ice facials. Some celebrities find it beneficial to submerge their face in a bath of icy water in order to combat puffiness in the morning, while others say the ice facials give them a more "youthful" appearance by reducing wrinkles.
How you can do an ice facial at home safely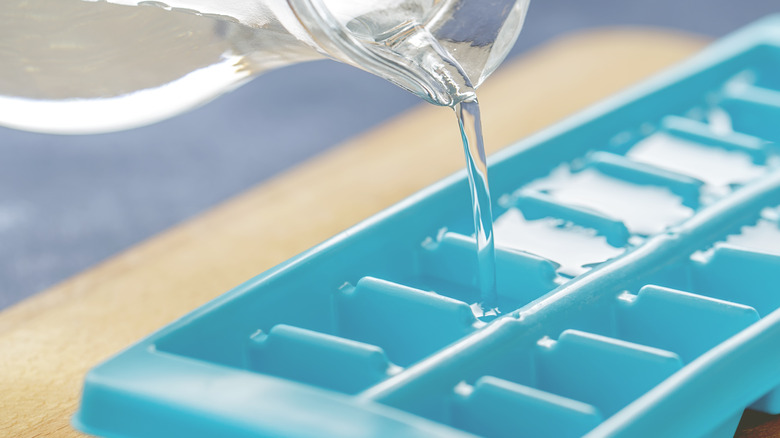 Shutterstock
This new facial trend offers options that go beyond just plain old ice. Some facialists recommend using frozen milk cubes to sculpt your cheekbones, or infusing green tea or rosehip seed tea to pack antioxidants into your skin, improving circulation and providing a nice glow (via Vogue). Other tips include using chamomile tea or coffee in your ice cubes to target bags under the eyes or reduce unwanted swelling.
So how do you do an at-home ice facial? It can be as simple as wrapping a few ice cubes into a towel and softly rubbing your face in a circular motion. Focus areas can include the cheeks and forehead, as well as the chin, jaw line, lips, and nose. Applying ice directly to your face is not recommended, as it could be too harsh on your skin. You should also ensure your face is clean before beginning any skincare routine, according to experts at Dermovia.
Not convinced to take the plunge and try an ice facial just yet? You can always consult with your dermatologist or esthetician for how you can safely work ice into your already established skincare routine — especially if you have sensitive skin.