Paleo Sweet Potato Toast Recipe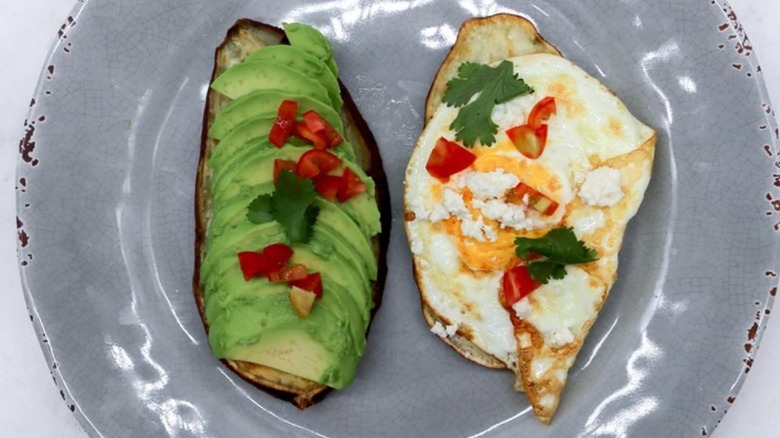 Maren Epstein/Health Digest
One of the toughest parts of adopting a paleo, Whole 30, or another type of carbohydrate-restrictive eating plan comes when you realize just how much you miss the kind of crunch you can only get from carbs. There are all kinds of delicious dips and spreads that are permitted on a low-carb diet, but what are you going to use for dipping, dunking, or spreading when crackers, chips, and toast are all off the table? 
Well, that's where you will need to make a few creative menu swaps. One such swap is using these healthy, yet tasty low-GI sweet potato toasts from recipe developer Maren Epstein of Eating Works. It's easy to replace toasted bread with this recipe. In this recipe, sweet potatoes are sliced thin and cooked until, as Epstein describes them, they're "crispy on the outside and creamy on the inside." They can be enjoyed plain or with a wide variety of delicious, nutritious toppings.
Why you can eat sweet potatoes on a paleo diet
Shutterstock
While sweet potatoes have just as many carbs as do white potatoes, they are permitted on paleo, Whole 30, and even certain less-restrictive types of keto diets (via Women's Health). As Epstein tells us, "Sweet potatoes are paleo-friendly because they have a much lower glycemic index than regular potatoes."
She goes on to explain that "they still have the same number of carbs, but complex carbs from fruits and vegetables are allowed on a paleo diet." Epstein calls carbohydrates "almost unavoidable because our bodies burn carbs for fuel." Epstein also notes that sweet potatoes, if eaten in moderation, are also good for diabetics, adding "especially if they (the diabetics, not the potatoes) are missing sweets!"
How to prepare these sweet potato toasts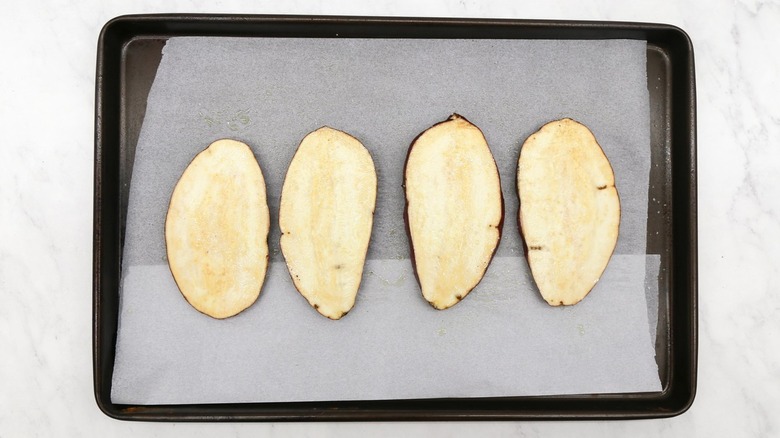 Maren Epstein/Health Digest
All you need to do to make sweet potato toasts is to cut one or more large sweet potatoes into slices a quarter-inch to half an inch thick — no need to peel them! Spray both sides of the potatoes with olive oil cooking spray, then place them on a parchment-lined or greased cookie sheet, sprinkle them with salt and pepper, and bake them at 350 degrees for 10 minutes. Remove the pan from the oven, flip each sweet potato slice, then return them to the oven to bake for another 10 minutes until they're done.
Epstein says these sweet potato toasts "taste just like roasted sweet potatoes," but says "the flavoring depends on how you top them." While you can top the toasts with any healthy ingredients that strike your fancy, we'll get you started by sharing a few of our favorites.
Egg-topped sweet potato toast makes a delicious breakfast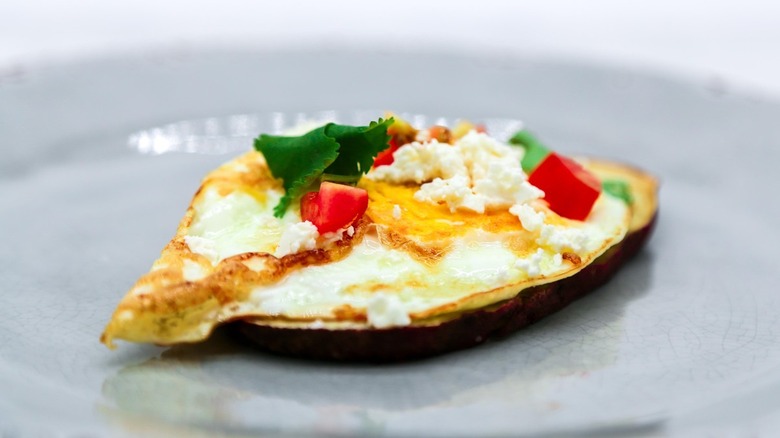 Maren Epstein/Health Digest
To make an egg-topped sweet potato toast, Epstein suggests frying an egg in a non-stick skillet sprayed lightly with olive oil. Once the white is cooked all the way through, flip the egg and cook it another minute to make an egg fried "over-easy." When it's done cooking, slide a spatula under the egg and then lift it up and on top of the sweet potato toast. Epstein enjoys her eggs on sweet potato toast topped with feta cheese, chopped cherry tomatoes, and cilantro, although you could also cover the eggs with a slice of melted jack or cheddar cheese or go Southwestern with a spoonful of salsa.
Avocados also pair well with sweet potato toast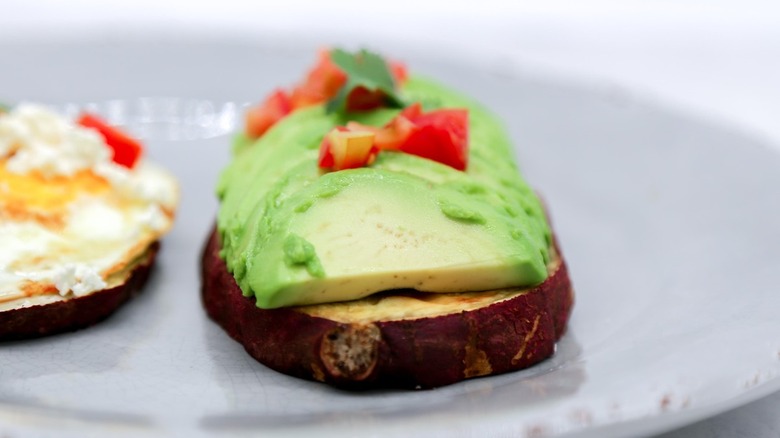 Maren Epstein/Health Digest
If you're a fan of avocado toast, you really need to try sweet potato avocado toast. With these two veggies teaming up to make a super-breakfast, what's not to love? Just top your sweet potato toast with sliced avocado or even guacamole. This dish also tastes great topped with feta cheese, sliced tomatoes, and cilantro. In fact, you could even put a fried egg on top of the avocado for an extra-special, yet entirely guilt-free, breakfast. "This dish is pretty filling," says Epstein, and you shouldn't need to serve this avocado toast with anything more than a cup of tea, coffee, or your morning beverage of choice.
Paleo Sweet Potato Toast Recipe
We love these paleo sweet potato toasts because they can be enjoyed plain or with a wide variety of delicious, nutritious toppings.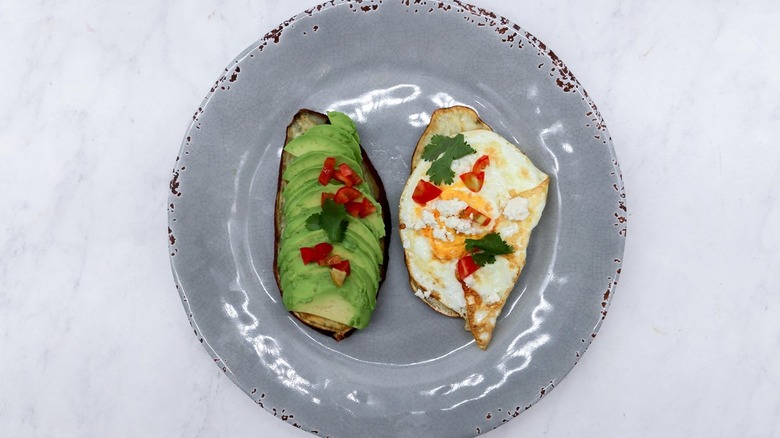 Ingredients
1 large sweet potato
Salt and pepper
Optional Ingredients
Olive oil cooking spray
Eggs
Chopped cilantro
Chopped cherry tomatoes
Crumbled feta cheese
Sliced cheddar or jack cheese
Salsa
Sliced avocado
Guacamole
Directions
Preheat the oven to 350 degrees Fahrenheit.
Slice sweet potatoes into ¼- to ½-inch thick slices.
Spray both sides of the potato slices with olive oil cooking spray.
Spread potato slices on a parchment-lined baking sheet and season with salt.
Bake potato slices in the oven for 20 minutes. Flip halfway through.
Serve with desired toppings.
Nutrition
| | |
| --- | --- |
| Calories per Serving | 35 |
| Total Fat | 0.0 g |
| Saturated Fat | 0.0 g |
| Trans Fat | 0.0 g |
| Cholesterol | 0.0 mg |
| | |
| --- | --- |
| Total Carbohydrates | 8.3 g |
| Dietary Fiber | 1.2 g |
| Total Sugars | 1.7 g |
| Sodium | 94.8 mg |
| Protein | 0.7 g |