How Much Does It Cost To Hire A Personal Trainer?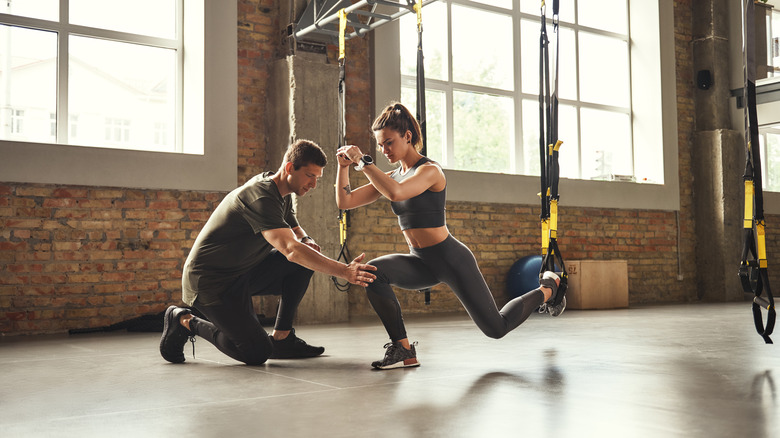 Shutterstock
Whether you're new to working out or need an accountability partner, a personal trainer can be a great way to improve your fitness routine. But many people are hesitant to spend a lot of money on a trainer, especially if they're already paying for a gym membership or fitness program. According to Women's Health, the cost of working with a professional can vary greatly. Some trainers charge less than $50 per hour while others ask for over $500 per session.
Many trainers today work through gyms to find their clients. This is a convenient option if you're already enrolled at a gym. However, the price of those private training sessions will vary depending on your gym. According to Women's Health, one personal training session costs $110 to $160 per hour at Equinox, $100 to $155 per hour at Crunch, $80 to $130 at BRICK CrossFit, and $60 to $100 at Life Time Fitness.
Independent trainers will usually charge between $60 and $150 per session. You'll often find higher prices in larger cities because the cost of renting equipment or a studio to train in will be higher in these areas.
Is a personal trainer worth it?
Shutterstock
The answer to this question will depend on a variety of factors. If you're comfortable in the gym or happy with your workout routine, you don't need to feel pressured to hire a trainer.
However, there are many reasons a professional might be the best way for you to reach your fitness goals. If you feel like you need to be challenged more in your workout routine or you aren't seeing the results you want, a trainer can push you past your plateau (via Verywell Fit). On the flip side, a personal trainer can help you feel more confident in the gym or with whatever workout routine you'd like to start. Trainers are experts in their field and will be able to show you how to safely perform each exercise to avoid injury. If you are currently recovering from an injury or surgery, they can also create a routine that will allow you to stay in shape without risking your health.
Most personal trainers do not require a long time commitment, so you can try out their services without locking yourself into an extended contract. Many also offer free sessions so that you can figure out which trainer is going to be the best fit for you.