What Is Telemedicine And When Should You Use It?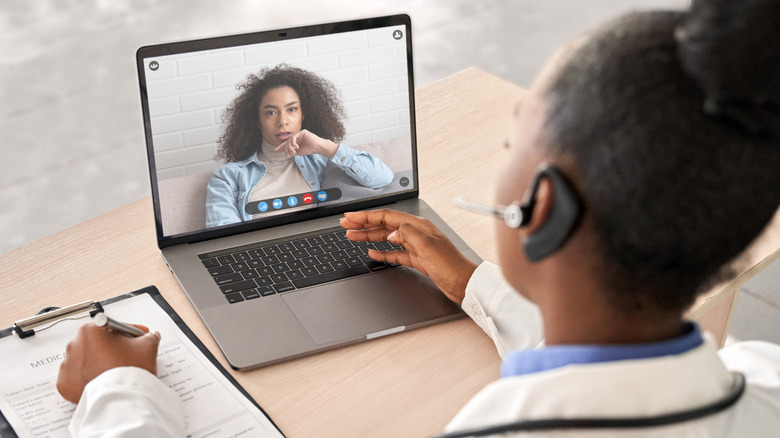 Shutterstock
Have you ever felt so sick that you didn't want to get out of bed? Luckily, advancements in technology and patient care services mean now you don't necessarily have to. According to the World Health Organization, telemedicine is "healing from a distance." Using telemedicine, a patient can stay home and receive diagnoses and prescriptions by communicating with their doctor via webcam, email, or online portals. Not only is telemedicine convenient, it is also cheaper, with the average cost per session in 2020 being $79 compared to $149 for the average doctor's visit and $1,734 for the average stay in an emergency room (per GoodRx).
The COVID-19 pandemic normalized the use of telemedicine as many people avoided hospital visits unless absolutely necessary. According to Amwell's Physician and Consumer Survey, 80% of doctors reported using telemedicine in 2020, compared to 22% in 2019 (via Becker's Hospital Review). More than half of patients reported having their first telemedicine session during the pandemic, and fortunately, 91% reported satisfaction with their experience.
This is when to set up a telemedicine session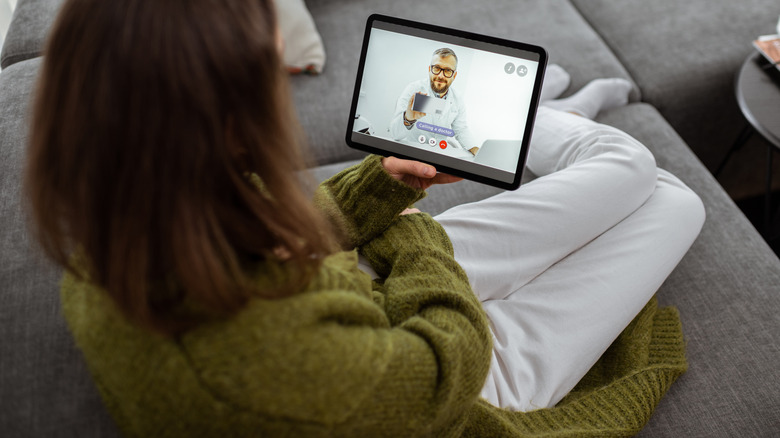 Shutterstock
If you are suffering an emergency situation or anything that requires hands-on care, you should see a doctor in-person. On the other hand, if all you need is to discuss mild symptoms or get a prescription, then telemedicine is a convenient option. Some issues commonly treated with telemedicine include allergies, flu, rashes, vomiting, asthma, conjunctivitis, and mental illness (per eVisit). In rare circumstances, the doctor may tell you that you need to come to the hospital for treatment, but more likely, the doctor will tell you how to safely manage your symptoms at home (per Centers for Disease Control and Prevention). 
All in all, telemedicine is a good option to keep in mind if you are suffering from health issues that require diagnosis or treatment but are not urgent. By using telemedicine when it is feasible, you can save time and money, as well as reduce the spread of infectious diseases such as flu and COVID-19 by staying at home (per Johns Hopkins Medicine).