Pfizer Could Release A COVID-19 Booster Shot. Here's Why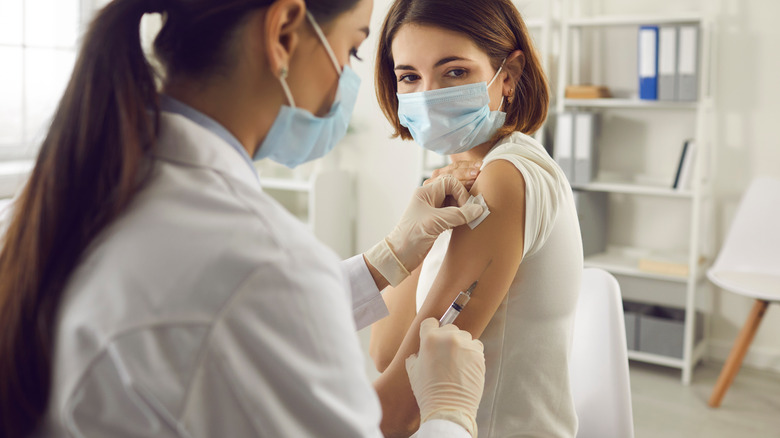 Shutterstock
In late 2020, Pfizer shocked the world (in a good way) with the results of its COVID-19 vaccine trials. While many people would be grateful for a COVID-19 vaccine being even 60% effective, Pfizer reported its vaccine being upwards of 95% effective at preventing symptomatic cases of COVID-19, and even more effective at preventing complications and death. Needless to say, it quickly became the first COVID-19 vaccine to receive an emergency use authorization from the U.S. Food and Drug Administration (per Yale Medicine).
In general, the vaccine continues to hold up well against the COVID-19 variants that have since begun to spread across the globe. It is over 95% effective at preventing complications and death from the Alpha and Beta variants, according to Yale Medicine. However, the Delta variant may pose a threat to our current vaccines. This is one reason why Pfizer is considering releasing a specialized booster shot.
Pfizer is developing a booster shot to protect against the Delta variant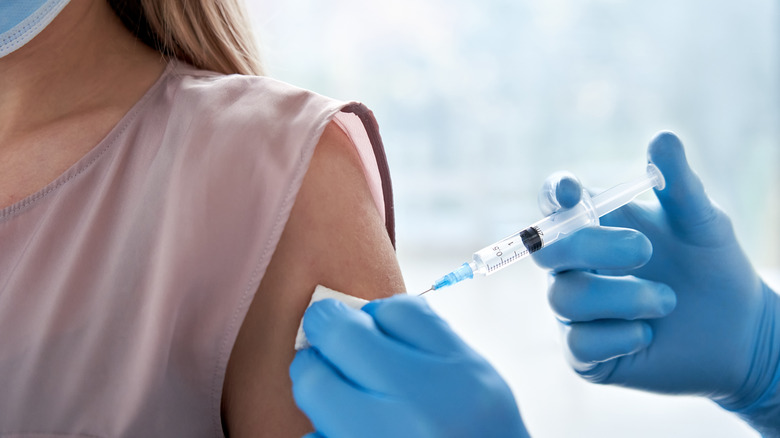 Shutterstock
According to Dr. Anthony Fauci, director of the National Institute of Allergy and Infectious Diseases at the National Institutes of Health, COVID-19 booster shots may become necessary if breakthrough infections start to exceed expectations (via PBS). Executives at Pfizer fear that this will begin to happen with their vaccine (per CNBC News). Research in Israel found that with the passage of time and the emergence of the Delta variant, the Pfizer vaccine has become less effective at preventing symptomatic infection and viral spread (per Reuters). This is especially alarming because the Delta variant has become the dominant strain of COVID-19 in the United States, according to the CDC.
While the vaccine remains highly effective at preventing COVID-19 complications and death, Pfizer is considering releasing a booster shot out of an abundance of caution. Pfizer execs report that "a third dose may be needed within 6 to 12 months after full vaccination," and that an ongoing booster trial has delivered promising results. Pfizer also plans to develop a version of the shot that specifically targets the Delta variant, and if approved, clinical trials could begin in August 2021.
Needing to receive an annual vaccine shot is not unheard of. For example, the CDC recommends that all Americans receive a flu shot every year. However, the CDC and FDA released a joint statement on July 8 saying that fully vaccinated Americans do not need a COVID-19 booster shot "at this time" (via NPR). Only time will tell if Pfizer's booster shots and updated vaccines will become necessary in the future.