Country Singer Ashley Monroe's Rare Cancer Diagnosis Explained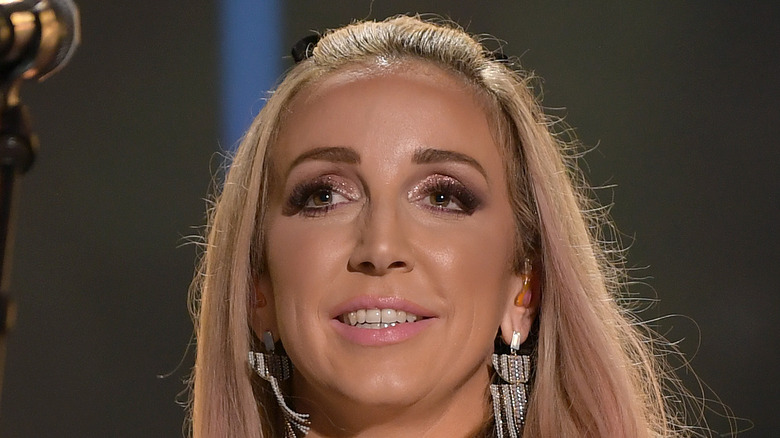 Jason Kempin/Getty Images
Country singer Ashley Monroe took to Instagram Tuesday and told her followers that she had recently been diagnosed with a rare blood cancer called Waldenstrom macroglobulinemia. The Pistol Annies singer, 34, also said after considering all of the options for treating the disease, she would begin chemotherapy on Wednesday.
As Monroe said in her post, Waldenstrom macroglobulinemia is rare. In fact, the Leukemia and Lymphoma Society reports that there are about six cases per million in the U.S. annually. Moreover, the disease generally strikes men over the age of 65 (via Mayo Clinic).
Monroe thought she was simply anemic, but a bone marrow biopsy revealed Waldenstrom macroglobulinemia, which is a form of non-Hodgkin's lymphoma cancer. It begins in the blood with an overproduction of abnormal white blood cells, which eventually displace healthy blood cells in bone marrow. The cells produce a type of protein that the body cannot use, which eventually causes problems and hinders blood circulation.
Waldenstrom macroglobulinemia: symptoms, treatment, and prognosis
Shutterstock
Symptoms of Waldenstrom macroglobulinemia include shortness of breath, weight loss, lack of an appetite, fever, night sweats, tingling in hands and feet, a swollen abdomen and swollen lymph nodes. Other complications can lead to headaches, vision problems, confusion, nose bleeds, bleeding from the gums, and feeling light-headed (via International Waldenstrom's Macroglobulinemia Foundation).
There is no cure for Waldenstrom macroglobulinemia. Some people diagnosed with the disease do not receive treatment right away. Interestingly, some people are diagnosed with it before they show any signs, and they do not receive treatment until they begin to have symptoms. One reason for beginning treatment right away is anemia, which is one of Monroe's symptoms. (via American Cancer Society).
The median survival rate for those diagnosed with Waldenstrom macroglobulinemia is anywhere from 8 to 15 years. Doctors place patients in a low, medium, or high risk group depending on how their age and other risk factors, such as platelet count and hemoglobin levels, play a part (via Healthline).